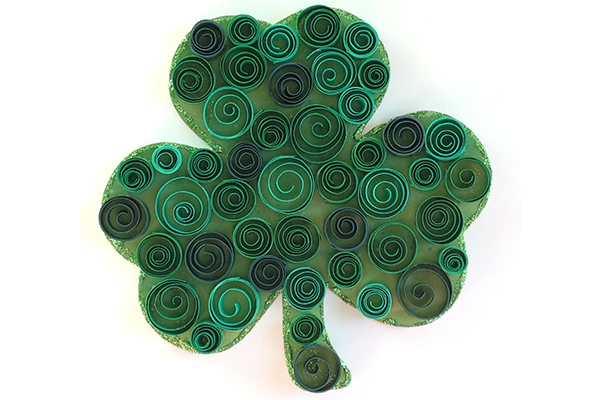 Craft this cute shamrock for St. Paddy's Day with green paper, glue and a little glitter.
You'll Need:
4 sheets of 8 1/2 x 11 green cardstock or construction paper
Pencil
Ruler
Scissors
White glue
Transparent tape
Toothpick
Green glitter


Here's How:
1.| Draw a large shamrock shape on one sheet of paper and use scissors to cut it out.
2.| Next, use a ruler to measure and cut a 1/2" strip off the long side of another piece of paper.
3.| To start the paper strip curling, run it along the sharp edge of a table; then wrap one end around a toothpick and tightly roll the entire strip of paper around it.
4.| Remove the toothpick, loosen the roll of paper to the desired size and use a small piece of transparent tape to attach the end of the strip down to the roll.
5.| Place the rolled paper down on the shamrock shape.
6.| Repeat the last 4 steps to make enough swirls to fill the shamrock, making some rolls tighter or looser to create different sizes.
7.| Arrange all the swirls as desired on the shamrock and then use small dabs of white glue to adhere them one at a time.
8.| After the glue has dried, outline the shamrock with a thin line of white glue and then cover it with glitter.
9.| Shake off the excess glitter and find a fun spot to stick the swirly, sparkly shamrock!
More ideas and tips:
• The technique of rolling paper strips to create designs is called quilling, and there are tools available for holding and curling the paper.
• A craft knife can be quicker than scissors for cutting the paper strips, but it is an adult's job.
• For quicker and easier paper rolling, larger items like pencils or chopsticks can be used instead of toothpicks.
• Make these shamrocks in all different sizes; make the paper strips smaller for smaller shamrocks.
• Use this technique to make other lucky shapes like rainbows and pots of gold.
• Pinch the rolled circle to create teardrop or oval shapes instead.
• Use quilled shapes to spell out a seasonal message on a sign or card.
• Make tiny swirly shamrocks to craft pins, magnets or napkin rings.
• Make a fun mobile with a several of these shamrocks.
• Make a bunch to hang on an indoor St. Patrick's Day tree.
• Use this idea to make decorations and ornaments for other holidays!

---------------------
Pamela Maxwell is an artist, author and mother of two growing boys. Her craft and scrapbooking projects have appeared in numerous books and magazines. Photos by Pamela Maxwell.