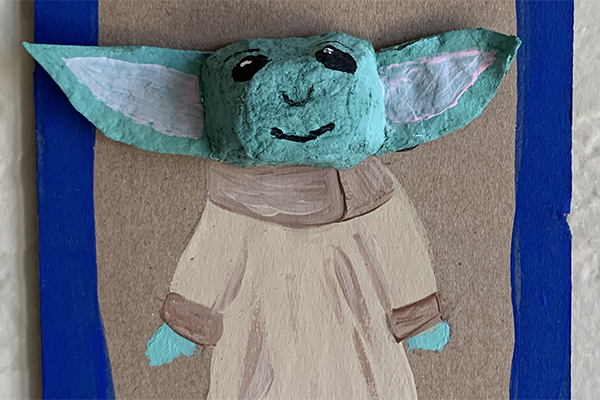 This fun Star Wars-inspired art project uses paint and an egg carton to create a three-dimensional portrait of Baby Yoda. It serves as whimsical décor for "May the Fourth Be with You" celebrations (Star Wars Day is May 4) or as a unique craft for a Star Wars or Mandalorian-themed party. There are even directions to make place cards for a Star Wars themed table setting, if desired.
Supplies
*Cardboard egg carton (NOT plastic or Styrofoam)
Scissors (plus smaller, pointed scissors, if desired)
Pencil
Paint (acrylic or tempera)
Paintbrush
Black marker
Flat cardboard (I used a 4x6 rectangle) OR thick 5x7 cardstock for place cards
White craft glue
Optional: googly eyes, small plastic gems to create galaxy, colorful pipe cleaner to make a light saber
*NOTE: Egg cartons come in various shapes and styles. Some cartons have pointed dividers between the eggs and some have flatter dividers. You'll want a carton that has flatter dividers to make Baby Yoda's face.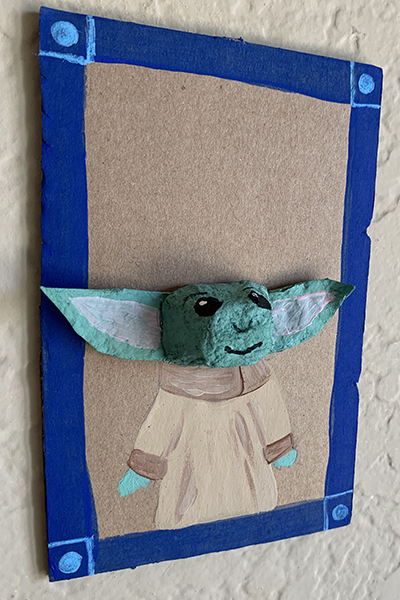 Directions
Remove the top half of the egg carton and save for making ears.
For Baby Yoda's face, use the protruding divider part of the egg carton that sits between the eggs (not the part the egg sits in). Cut roughly with larger scissors to separate the cup and divider from the carton. Once removed, it's easier to cut closely (with optional small scissors) to get the desired face shape.
Using the photo as a guide, sketch pointed ear shapes onto the carton top. Note that Baby Yoda's ears are similar in width to his head. Cut out the ears.
Paint the face and ear cut-outs light green; add light pink to the center of the ears; paint or draw black eyes, nose and mouth on the face. Optional: glue on googly eyes, if desired.
Paint a decorative border around the edge of the cardboard rectangle (round corners first, if desired) to create the portrait frame. Use whatever color you like.
Place Baby Yoda's face and ears onto the cardboard and lightly trace where you want it. Set face and ears aside for now. Lightly draw Baby Yoda's body (in this case, his robe) and paint as desired (I used beige and brown paint to create Yoda's robe and painted light green "hands" at the end of the sleeves). Glue on optional details such as plastic gems to create a galaxy and/or a piece of pipe cleaner for a light saber.
Allow to dry.
Glue the Baby Yoda's face and ears right above his robe, covering the tracing marks you made earlier.
To hang, tape a loop of ribbon to the back of the cardboard.
Baby Yoda Place Cards
If you're hosting a Star Wars or Mandalorian-inspired dinner or party, consider making place cards for your guests. Create place cards by folding 5x7 pieces of cardstock in half. Make one Baby Yoda face and pair of ears for each place card. Mostly follow the instructions above, but draw/paint the body off center (on the folded cardstock), so there is room to write someone's name or whatever message you desire. Consider drawing a border around the edge instead of painting one.
This style of artwork was inspired by the work of a French artist (IG: @allmad.e.here) and art teacher Nylah Khan.
Alyssa Navapanich is a nationally recognized and award-winning art educator who is San Diego Family Magazine's "Art with Alyssa" contributor. She teaches art to elementary school kids in East San Diego County.
________________