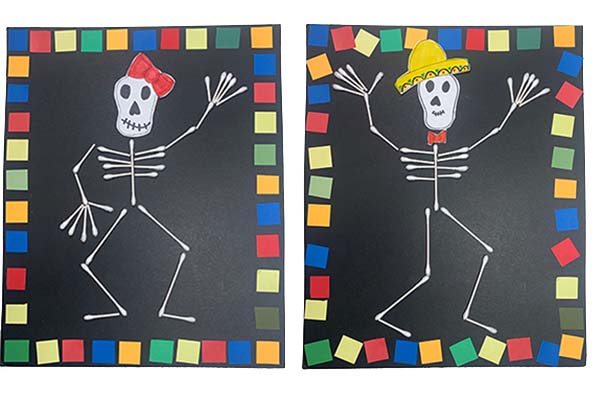 Skeletons (or calacas) seen during Día de los Muertos (Day of the Dead) often represent the happy afterlife of loved ones who have passed away. The skeletons are whimsical, fun and are usually shown doing normal everyday activities. Here's how to make a skeleton craft using cotton swabs or white chenille stems—a fun Day of the Dead craft for kids and families.
Supplies
Black construction paper
17 Cotton swabs (or substitute white chenille stems/pipe cleaners)
Scissors
White paper scraps
Colored paper scraps
Pencil
Markers
White glue or hot glue
Optional: crayons or oil pastels
Directions
For the ribs, cut four cotton swabs in half.
For the sternum, place one full swab vertically in the top third of the black paper.
Add the rib cage by arranging four swabs with the puffy sides facing out on each side of the full swab. (see photo)
Cut two swabs in half for the arms, arrange on either side of the top ribs.
Cut five swabs in half for fingers. Cut two of those half swabs shorter than the rest for the thumbs. Arrange at the end of the arms.
Use two full-length swabs for each leg. Arrange at the bottom of the sternum.
For the feet, cut one swab in half and place one half at the end of each leg.
For the head, draw a skull shape on a scrap of white paper, draw two black dots for eyes, an upside-down heart for the nose and a curved line with perpendicular lines for the mouth and teeth. (see photo)
Arrange arms, legs, and other parts until you have an arrangement you like. Glue in place with white or hot glue. Allow to dry.
Create accessories with scrap paper, such as a hat, bow or a flower crown or fancy hat for La Catrina.
Around the edge of the black paper, arrange and glue one-inch squares of colorful paper or draw shapes with oil pastel or crayons.
Explore More with Kids Books about Día de los Muertos:
Day of the Dead by Greg Paprocki
La Catrina: Emotions – Emociones by Patty Rodriguez
Rosita y Conchita by Eric Gonzalez & Erich Haeger
Alyssa Navapanich is a nationally recognized art educator who teaches art to elementary school kids in East San Diego County. She is the contributor to San Diego Family Magazine's award-winning column, "Art with Alyssa."
_____________