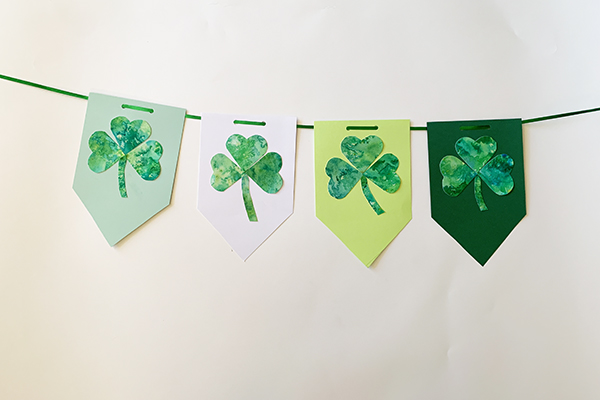 Here's a St. Patrick's Day art project the whole family can get excited about! Make beautiful watercolor designs and cut them into shamrock shapes to make a decorative banner or cards for loved ones. Alyssa has included directions for both below. Aren't we lucky?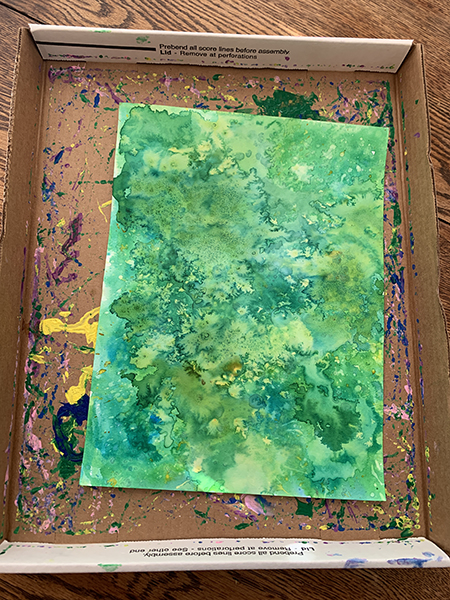 Supplies
8 ½ x 11 white cardstock or watercolor paper
8 ½ x 11 white or colored cardstock
Paintbrush
Water cup
Liquid watercolor paint (green, blue and yellow) OR liquid food dye
3 small cups for paint (empty/clean yogurt cups work well)
Plastic tray, shallow box or foil baking dish
Eye dropper or teaspoon
Heart shape for tracing (2" cookie cutter works well)
Pencil
Scissors
Glue
String
Directions
Put about ¼ cup of each paint color into separate cups.
If colors are too dark for your liking, add one teaspoon of water (at a time) to dilute until satisfied with color.
"Paint" paper lightly with water.
Using an eye dropper, paintbrush or teaspoon, drop drips of paint onto various areas of the paper, moving the tray around so colors blend. The idea is to blend colors to make different shades of green.
Allow to dry completely.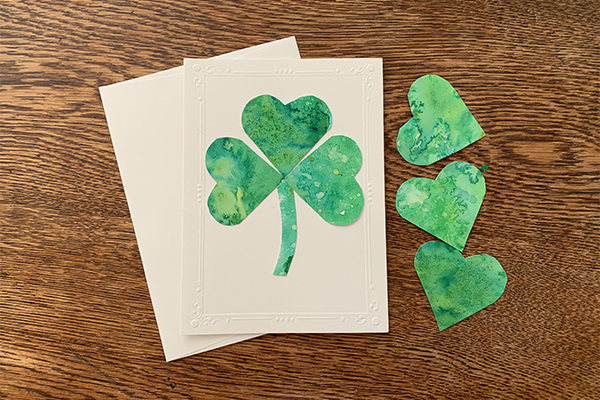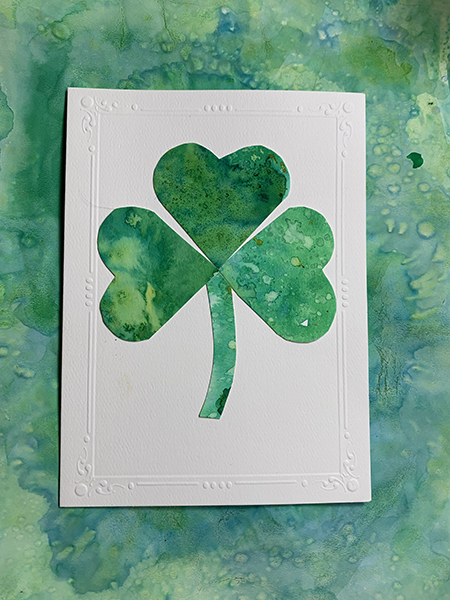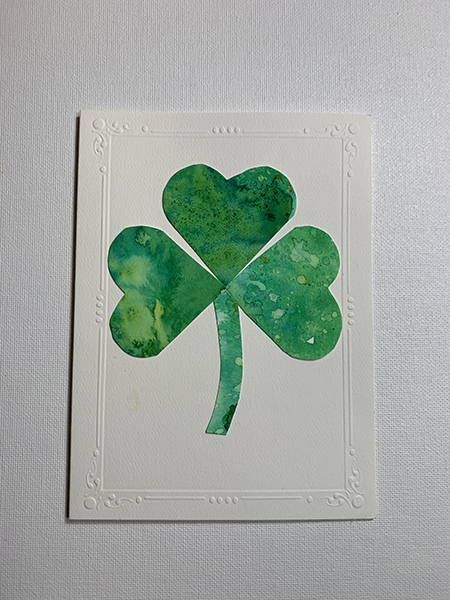 To make cards:
Fold a second piece of cardstock in half to make a card.
On the back of the colored paper, trace and cut out three hearts for each card.
Arrange hearts in a shamrock shape (points touching) and glue to the front of the card.
Cut a stem from the painted paper (or draw one with a marker) and adhere to card.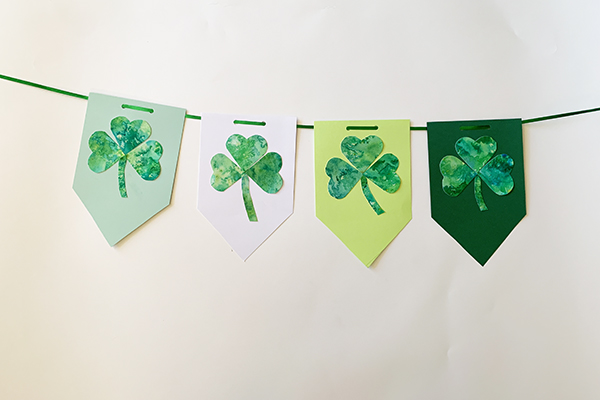 To make shamrock banner (bunting):
Cut two pieces of cardstock in half to make four 5 ½ x 8 ½ rectangles.
Find the center of the short end of each rectangle and cut an angled line on each side to make pointed "flags." (see banner photo for reference)
Punch two holes at the top of each "flag" and add string to form a banner.
Glue painted hearts and stems to each flag (see instructions above in "to make cards").
More to Learn
Historians believe that watercolor painting mimics the cave paintings of the Paleolithic period.
Watercolor has been used to illustrate manuscripts since ancient Egyptian times.
The widespread use of watercolor as an art medium began in the Renaissance period.
The three-leaf clover is often thought of as a symbol of Ireland and the unofficial national flower of Ireland.
Alyssa Navapanich is a nationally recognized and award-winning art educator who teaches art to elementary school kids in East County.
For more St. Patrick's Day crafts and ideas, check out our St. Paddy's Day Round-Up at www.sandiegofamily.com/things-to-do/seasonal-happenings/st-patricks-day.
_____________