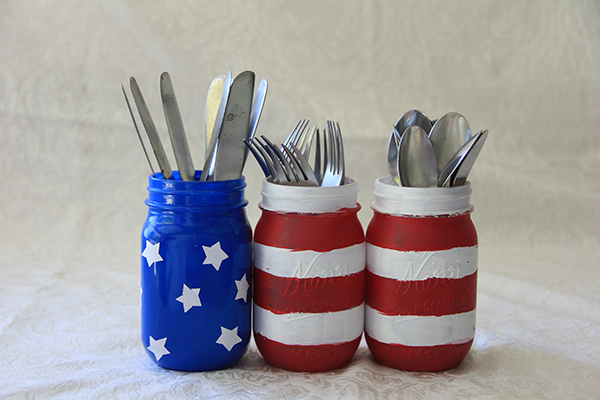 Dress up your summer barbecue with these Red, White & Blue Utensil Holders, perfect for any July 4 or Memorial Day celebration. Glass mason jars were used for this project, but use whatever jars you have on hand (or even metal cans).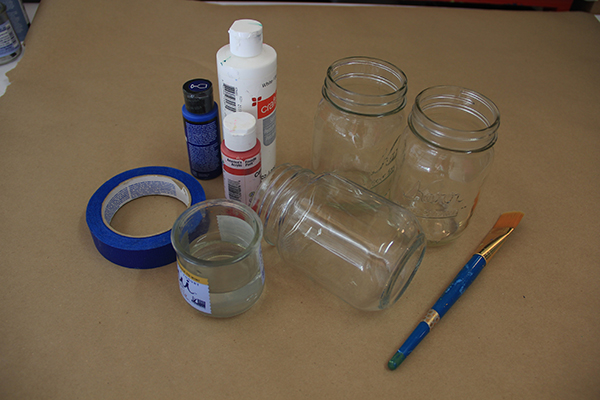 Supplies
3 clean, dry jars or cans (slightly shorter than the utensils—canning jars are perfect)
Red, white and blue acrylic paint
Masking or painter's tape
Paintbrush
Water cup
Something to cover your work area
Optional: white star stickers (or paint them on)
Directions
Use masking or painter's tape to cover striped sections on two jars. The number of stripes will vary depending on the height of the jar and the width of the tape (¾ inch tape was used for this project), but try to make them even.


Paint the glass that is exposed with white paint. It may take multiple coats. Once completely dry, remove the tape.


Paint even red strips in between the white stripes. It may take multiple coats.


Paint the entire third jar blue. It may take two coats. Allow to dry completely.


Add white star stickers or paint white stars over the blue.


Arrange in a row with the blue jar on the left; fill with utensils.
Continuing the discussion (for parents/teachers):
Link arts and crafts to literature to enhance a themed project or lesson. Here are suggested books for Fourth of July:
Happy Birthday America by Mary Pope Osborne
Apple Pie 4th of July by Janet S. Wong
Celebration by Jane Thomas
___________
Alyssa Navapanich is an art enthusiast who teaches art to elementary school kids in North County.
___________