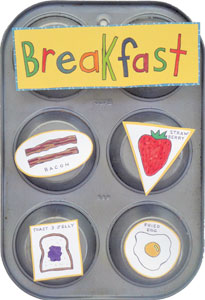 Makes breakfast planning easy!
This fun magnetic menu will involve kids and encourage even the fussiest of eaters to have healthy meals on hectic mornings! It's no secret that the kiddos get more excited about meals when they are part of the planning process.

Supplies:
Regular size muffin tin
Sheet of heavyweight white paper
Sheet of heavyweight colored paper
Pencil
Black pen
Colored markers
Magnet business cards
Permanent glue stick
Scissors
Clear contact paper (optional)

Here's How:
1.
Repurpose an old muffin tin for this project. If you don't have any, you can buy an inexpensive one at a dollar or thrift store.

2.
Write "Breakfast" onto light-colored paper, color it in and then cut around it in a rectangle shape.

3.
Use a pencil to draw several of each shape—oval, triangle, square and circle onto the white paper. Cut all the shapes.

4.
If desired, use a glue stick to adhere all the shapes to colored paper, and trim them, leaving some of the colored back piece showing around the edges.

5.
Next, talk about choosing foods that make a nutritious meal, and brainstorm favorite items for each group. Assign each of the four shapes a food category (for example: oval for protein, triangle for fruit, square for carbs/grains and circle for dairy), and brainstorm favorite meal items that belong to each group.

6.
Draw each food item on each shape, and then color them all in with markers. (Erasable pencil guidelines can be drawn first, and then traced over with the permanent pen.) The name of each item can be written on the shape, too.
7.
An option at this point is to "laminate" each finished shape with clear contact paper to make the pieces more durable.
8.
Trim thin magnetic business cards into smaller pieces that will fit on the back of each shape.

9.
Glue the trimmed magnets onto the back of each shape.
10.
Now the menu is ready to use. Hang or prop the muffin tin (openings down, back side up) in an accessible place in the kitchen. Place the shapes in a small box or envelope next to the menu, and every night kids can choose one item of each shape to place onto the morning's menu. Younger kids may need some help from Mom or Dad, while older kids may be able to prepare the breakfast themselves. In addition to having some say about what they eat, kids will learn about shapes, spelling, healthy eating, cooking and organization!
••••••••••••••••••••••••••••••••••••••••••••••••••••••

More Ideas:
• Instead of drawing the shapes by hand, use a stencil.
• Parents can do some parts of the project for younger children. Older children will enjoy completing it entirely themselves.
• Words, stickers or magazine pictures of foods can be used in place of the drawings.
• If the bond from the glue stick isn't strong enough to hold the magnets on the back of each shape, use double-sided tape instead.
• If the pantry is missing one of the items, simply remove that magnet before the kids choose.
• No muffin tin available? Present the menu on a cookie sheet or simply on the fridge instead.
• Make the menu more colorful by spray painting the muffin tin (a parent's job).
• Make menu magnets for lunch and dinner, too.
• Add different choices from time to time to introduce new foods into the diet.
• After choosing the menu the night before, use it as a guide to get everything ready for its preparation in the morning.

---------------
Pamela Frye is an artist, author and mother of two busy little boys. Her craft and scrapbooking projects have appeared in numerous books and magazines. Her most recent book is "Memories in Miniature." Photo by Pamela Frye.