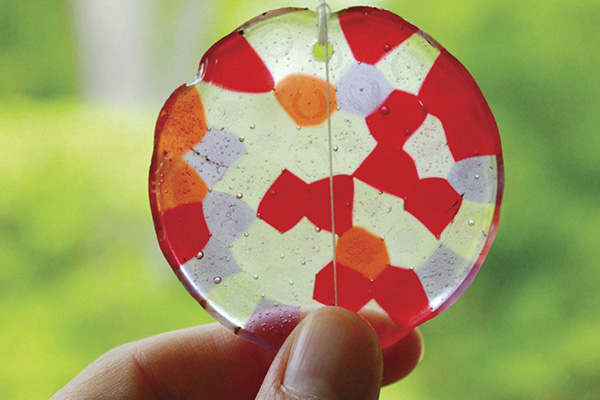 Melted-Bead Suncatchers
Here's a fun summer art project: Melted-bead suncatchers by Jean Van't Hul are surprisingly easy to create, but very durable. These will withstand the elements for extended outdoor use.

Materials
Translucent plastic pony beads
Old metal baking dishes such as muffin tins and cake pans
Grill or toaster oven
Power drill or metal grommets (see note below)
String

Instructions
1. Arrange the pony beads (in desired shape) in a single layer in old metal baking dishes. You can also use old metal cookie cutters on a metal dish to create specific shapes.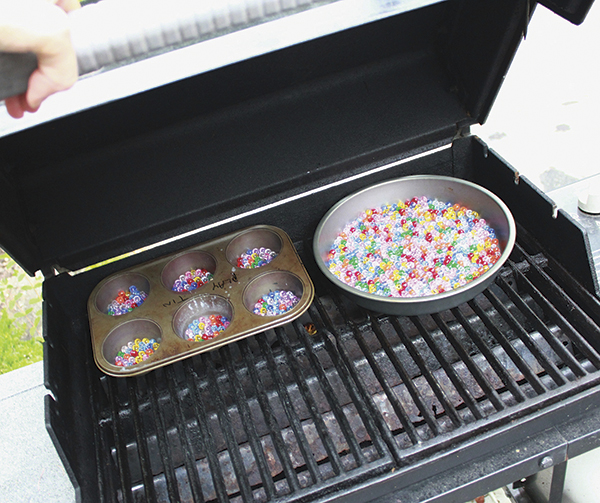 2. Place the baking dishes on a hot grill for 5–15 minutes or until the beads are melted (start checking after 5 mins.). This is best done outdoors because of the plastic fumes. If you don't have a grill, consider using a toaster oven outside.

3. Let the melted beads cool completely, then pop the suncatchers out of the pans.

4. Drill a small hole in each suncatcher, tie some string through the hole, and hang your new suncatcher. You can create individual suncatchers or try connecting several together.

Note: If you don't have a power drill, include a metal grommet among the beads before melting them. The plastic beads will melt around the grommet, leaving the grommet hole open. (Thanks to one of my blog readers for this suggestion.)

-------------
Reprinted from The Artful Year (copyright 2015) by arrangement with Roost Books, an imprint of Shambhala Publications Inc. www.roostbooks.com
Published June 2015