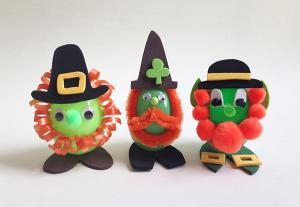 This St. Patrick's Day create some cute leprechauns from plastic eggs and craft scraps.

Supplies
Green plastic Easter eggs
Scraps of craft foam, felt or paper
Small, miscellaneous craft items (ribbon, pom poms, googly eyes, yarn, etc.)
Pencil
Scissors
Adhesive circles or double-sided tape

Directions
1. Use a pencil to draw a simple shape of two feet together onto craft foam, felt or paper.
2. Use scissors to cut the piece out.
3. Adhere the feet to the bottom of the egg with adhesive circles or small pieces of double-sided tape so it will stand up.
4. Draw and cut out a hat and adhere it to the top of egg.
5. Use craft supply scraps to create a cute beard and other mischievious features.
6. Attach everything to the leprechaun with adhesive.
7. Find a fun spot for the little leprechaun to perch for St. Patrick's Day!

More tips and ideas:
• Instead of a plastic egg, use any other kind of rubber or plastic toy ball.
• Make larger leprechauns using green soda bottles or water bottles.
• Hot glue can be used to assemble the leprechauns, but it is an adult's job.
• Add arms holding a little sign with a St. Paddy's Day message.
• Add a name to the leprechaun and use him as a party table place marker.
• Hide candy, a gift (or gold!) inside the egg and give as a party favor.
• For a quicker project simply draw facial features on with permanent markers.
• Incorporate the little guy into a leprechaun trap to try and trick a real leprechaun!

----------
Pamela Maxwell is an artist, author and mother of two growing boys. Her craft and scrapbooking projects have appeared in numerous books and magazines. Photos by Pamela Maxwell.
Published: February 2015