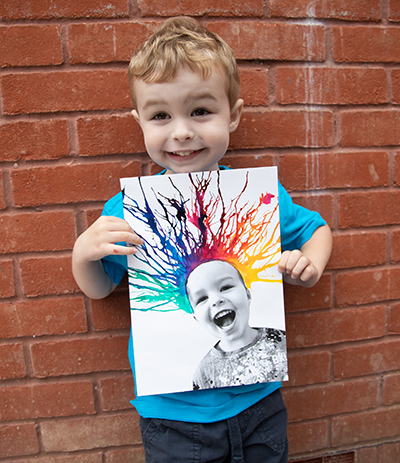 Give yourself a new crazy hairstyle with this fun blow-painting project. Start with a photograph of your face or draw a picture of it—whatever you prefer. You won't be able to stop giggling as you blow paint in all directions to give yourself crazy rainbow hair.
SUPPLIES
Camera
White printer paper
Printer
Scissors
White glue
1 sheet white mixed-media paper
Pipettes
Liquid acrylic paints or liquid watercolors in rainbow colors
Straw
STEP 1: TAKE AND ATTACH A PHOTO
Ask someone to take a photograph of you that includes your head and shoulders. Print the photo out in black and white; then cut it out so there is no background. Glue the photo onto the mixed-media paper, making sure there is lots of room above it. Note: It's more fun to use a photograph of your face, but if you don't have one, you can draw a picture of your face instead.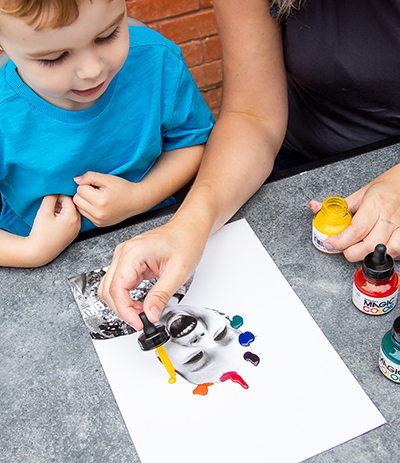 STEP 2: ADD DROPLETS OF PAINT
Using a pipette, squirt a small droplet of each paint color along the top of the photograph of your face. Start above the left ear with green paint, followed by blue, then purple, red, orange and finally yellow above the right ear. Space the drops out evenly. Note: If you prefer, mix up the order of the colors so you have various colors all over your head.
STEP 3: BLOW!
Now for the really fun part! Grab a straw and, with the photograph facing you, carefully blow the droplets of paint upward, one at a time, and outward, away from the face. As you blow the paint, it will create crazy lines that wiggle in all directions. Note: Make sure you only blow through the straw (be careful not to suck up the paint instead)! Younger children may need an adult to help.
Once you have blown all the droplets of paint, you can add more paint for "fuller" hair, if you'd like.
Project and photo reprinted with permission from "Fun Painting Projects for Kids" by Louise McMullen. Page Street Publishing Co. 2022. Photo credit: Jen Allan Photography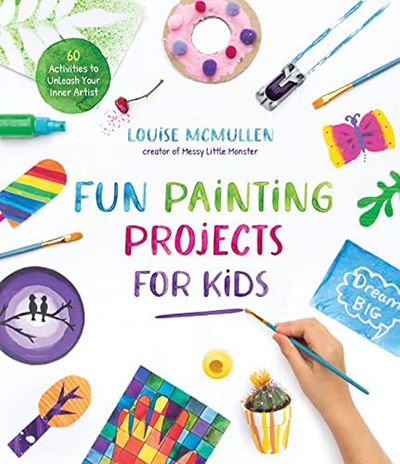 Find more great projects from Louise McMullen on IG @MessyLittleMonster; Order her book at www.messylittlemonster.com/2022/03/fun-painting-projects-for-kids.html.
_____________