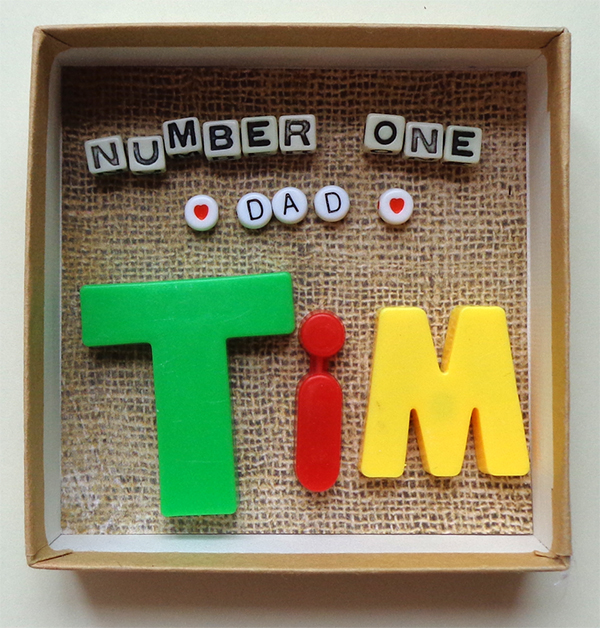 This Father's Day tell Dad how much he is loved with handmade placards to display on his desk or dresser.
Supplies

Small gift box(es)
Plastic letter magnets
Alphabet beads
Small pieces of patterned paper
Pencil
Scissors
Toothpick
Double-sided tape
Tacky glue


Here's How:
1. With a pencil, trace around the outside of the box onto the back of patterned paper, and then cut out the shape just inside the pencil lines.
2. Attach double-sided tape to the back of the paper and then adhere it to the inside of the box.
3. Repeat the last two steps for any additional boxes being used.
4. If more than one box is being used for the plaque, attach their touching sides together with double-sided tape.
5. Next, arrange the letter magnets inside the boxes to spell the main message or name.
6. Then, add other nice words that describe Dad by arranging the alphabet beads.
7.|Glue all the letters into place with tacky glue. (A toothpick can be a handy tool for applying the glue to the back of the small beads.)
8.| Allow the project to dry completely and then it will be ready to wrap up and delight Dad on Father's Day.
More ideas and tips:
• Instead of lining the boxes with paper paint them with bright colors, or draw a custom background with crayon or markers.

• For a plaque that can be freely arranged, don't adhere the boxes together.

• Attach the boxes together vertically instead of horizontally.

• Add a small hanger to the back of the plaque so Dad can hang it on a door or wall.

• The big alphabet letters can be painted to change their colors.

• Beside letter magnets and beads, alphabet stickers, rubber stamps, paper, felt, air-dry clay or markers can be used to create the lettering.

• Spell out Dad's name with one letter per box, then surround each letter with words that describe him.

• Decorate the outside of the box too, if desired.

• For fun holiday gifts, make signs like these for all the family.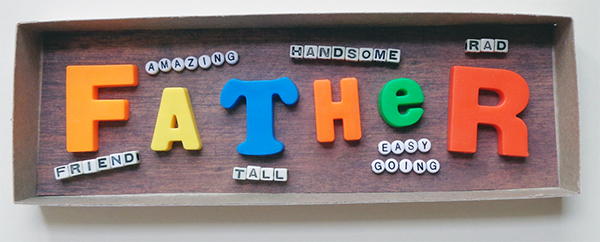 Pamela Maxwell is an artist, author and mother of two boys. Her craft and scrapbooking projects have appeared in numerous books and magazines. Photos by Pamela Maxwell.
____________