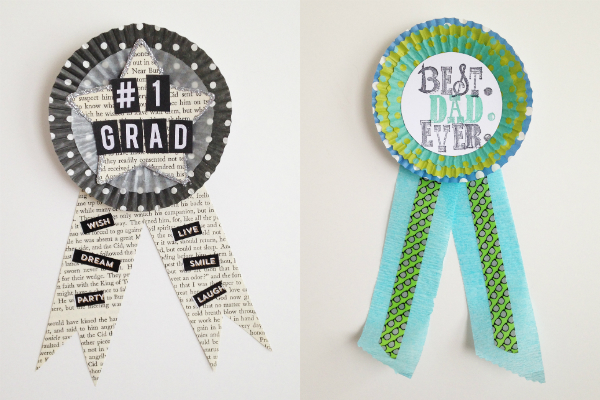 This June award Dads and Grads with custom badges made from cupcake liners!

Supplies
Cupcake liners
Scraps of paper and/or old book pages
Crepe paper or ribbons
Alphabet stickers or stamps
Scissors (plain or decorative)
Cookie cutters or shape templates
Assorted embellishments: printed tape, stickers, glitter glue (optional)
Double-sided tape
Paper tape
Pencil
Safety pin

Directions
1. Flatten 2-3 cupcake liners and use scissors (plain or decorative) to trim one or two of them into slighlty smaller circles.
2. Use double-sided tape to adhere the liners together, with the largest one at the back, and the trimmed ones centered on top.
3. Use a pencil to trace inside a cookie cutter or template shape onto paper, then cut the shape out with scissors.
4. Use alphabet stickers or stamps to write a message onto the paper shape; then adhere it to the center of the stacked liners.
5. Cut two or more crepe paper or ribbon "tails" and attach them with tape to the back of the liners. (Consider using old book pages for the Grad badge.)
6. If desired, decorate the badge with stickers, printed tape, sequins, buttons or glitter.
7. The badge is ready to decorate a gift box, bag or basket, or attach a safety pin to the back so the recipient can wear it proudly!

More tips and ideas:
• Try using other materials for the project, such as gift wrap, tissue paper, comics, magazine pages, felt, foam or fabric.
• Simply write the message on the badge with pens or markers.
• Put a name on the badge instead of a message.
• Add a secret message on the back of the badge.
• Make a mini badge to be worn as a brooch.
• Create a more natural-looking badge by using kraft paper, burlap, twine and wood
• Make a more subtle badge by using only one color for all the liners and papers
• Attach a magnet instead of a safety pin, so the badge can be displayed on a fridge or filing cabinet.
• Add lots of curling ribbon tails for a very festive badge.
• Use magazine pictures or papers with designs that feature the recipient's interests, hobbies or career.
• Use glow in the dark materials or even little LED lights for an extra impressive badge.
• These are great to make for birthday or teacher gifts, too!

----------
Pamela Maxwell is an artist, author and mother of two growing boys. Her craft and scrapbooking projects have appeared in numerous books and magazines. Photos by Pamela Maxwell.