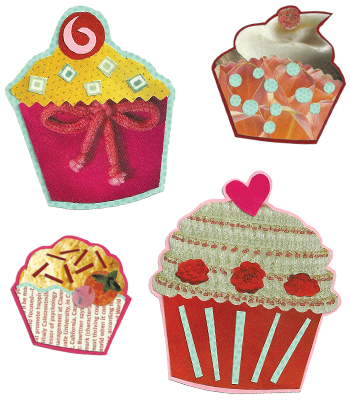 It's fast and fun to craft a cute cupcake cards for every kid in class, using simple materials you probably already have at home. Don't forget the teacher!
Supplies:
Magazines
Colored Card Stock
Pencil
Scissors
Decorative-edged scissors (optional)
Permanent glue stick

••••••••••••••••••••••••••••••••••••••••••••••••••••
Here's How:
1.| Use scissors to cut patterns, small objects (like hearts, flowers, candy and fruit) and Valentine colors from magazine pictures.
2.| After collecting a good assortment, cut out cupcake liner shapes and frosting shapes, drawing guidelines with pencil beforehand if needed.
3.| Next, cut out details like polka dots, cherries, candies and sprinkles.
4.| Arrange the loose pieces to create tasty-looking cupcakes.
5.| When pleased with the arrangements, use a glue stick to adhere them, one piece at a time, to a contrasting color of cardstock.
6.| Use scissors to trim around each cupcake, leaving a little of the cardstock color showing around the edges.
7.| Flip the cupcakes over and write a message on each one such as "You're sweet!" "Hi, Cutie Pie," "You're my sweetheart," "Will you be my cupcake?" and "Hope you have sugar and spice and everything nice on Valentine's Day!" Don't forget to write who they are "To" and "From" of course!
••••••••••••••••••••••••••••••••••••••••••••••••••••••
More ideas:
• Home and cooking magazines are great for this project; look for pictures of desserts with frosting or sprinkles.
• Instead of magazine pictures, use colored or patterned paper, felt or sheets of craft foam to make the cupcakes.
• If desired, decorate the cupcakes even more by gluing on ribbon, glitter, beads, sequins or rhinestones.
• Make cards for family members with sayings like "You're the sweetest mom."
• Make a giant version for a really special recipient.
• Make a smaller version and glue a pin-back to it to make a cute brooch.
• Punch a small hole in the top and attach a ribbon to turn the cupcake into an ornament.
• For a party, make extra paper cupcakes to use as gift tags, place markers and picks for floral bouquets, snacks and real cupcakes.
• Glue several cupcakes on the front of a traditional folded card.
• For extra fun, add faces, or even arms and legs to the cupcakes.
• For an everyday craft use this technique to make silly sandwiches or super-fancy sundaes.
• Change the colors to make cupcakes cards and decorations for other holidays like Easter, Halloween and Christmas.
---------------
Pamela Maxwell is an artist, author and mother of two busy little boys. Her craft and scrapbooking projects have appeared in numerous books and magazines. Her most recent book is "Memories in Miniature." Photo by Pamela Maxwell.