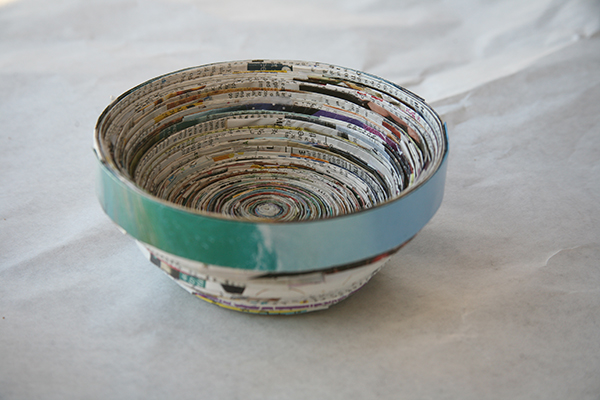 Not sure what to do with all those old magazines? Get creative and turn the pages into paper bowls or coasters! This is a great project to celebrate Earth Day – or just a fun way to spend a lazy afternoon.
Discussion Points for Parents/Teachers:
Discuss how reusing or repurposing everyday objects can create new items and reduce trash.
Explore other cultures or groups who use recycled objects to create art.
Research and discuss how paper is made.
Supplies
Two magazines (to make a small bowl)
Glue stick
Clear or masking tape
Modge Podge
Newsprint, paper grocery bag or placemat to cover workspace
Paintbrush
Directions
Neatly cut each magazine page from the binding.
Fold all the paper before assembling.
Fold a page in half lengthwise.

Open the paper and fold the long edges in to meet at the crease you just made in the center.

Fold the new outer edges in again so that they meet in the middle.
Fold in half lengthwise (on original crease) so you have one long strip. Depending on the size of the page, the finished strip will be approx. 1" x 10".
To make the folds crisp, hold the strip at both ends and rub along the edge of a table or firmly rub across the strip with a ruler.
Repeat with remaining pages of both magazines (excluding covers).

To make the bowl, take one paper strip and roll it up as tightly as you can. Run a bit of glue along the open edge to keep it folded. Add a dab of glue to the end of the roll and a piece of tape to hold the coiled center together tightly.
Take the next strip and glue it to the center roll. Wrap it tightly around and tape it. Continue to do this with each page until you have coiled a circle that is 6­–7 inches wide. This requires about 100 pages.

Once the circle is complete, gently push the coil into a bowl shape (see note #1 below before moving on).

Coat each side of the bowl with Modge Podge, allowing each side to dry thoroughly in between coats. Three coats of Modge Podge help preserve the paper and make the bowl more stable.
Note #1: If the coils are too loose when you push the bowl into shape, place the paper bowl over a ceramic bowl (to create a bowl shape and hold it in place) while you secure it with a coat of Modge Podge on the outside.
More ideas:
Create coasters by making the coils smaller (3-4 inches across) and leaving them flat.
Using colorful magazine pages and sorting by color, adds academic elements, as does talking about folding pages into halves, fourths and eighths.
This project can also be done with newspaper.
Alyssa Navapanich is an art enthusiast who teaches art to elementary school kids in North County.
Published April 2018
-------