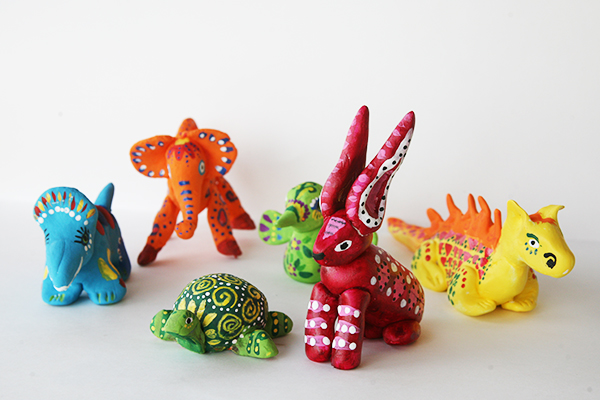 Alebrijes, familiar to those who have seen the movie "Coco," are brightly colored Mexican folk art sculptures—mythical creatures with body parts from varying animals. Making them is a fun way for families to celebrate Mexico's history and culture for Hispanic Heritage Month, Día de los Muertos (Day of the Dead), or anytime! Use your own alebrijes for storytelling, decorations place settings and more. Originally created by Pedro Linares in the 1930s, alebrijes are often carved from Oaxacan copal wood, but can be made with paper-mache or clay.
Discussion Points for Teachers/Parents
Explore myths and storytelling.
What other creatures are in familiar myths and stories?
Research Oaxacan folk art.
Discuss art concepts: sculpture, crafts, symmetry, pattern and color.
Supplies
Air-dry clay*
Acrylic or tempera paint
Paintbrushes
Water cups
Placemat to cover workspace
Permanent or water-based markers
Directions
Pinch off small bits of air-dry clay and form cylinders, spheres and triangles to make body parts. Elongated triangles and circles make ears; large cylinders or ovals make good bodies; make smaller cylinders for legs, and long, thin cylinders (snake shapes) for tails.
Attach parts by gently pressing them into the larger body shape.
Be creative! Any creature is made similarly.
Allow alebrijes to dry 24-48 hours before decorating with paint or markers.
Specific Creatures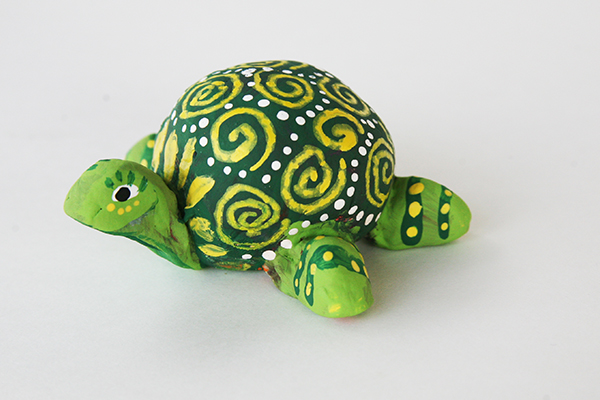 Turtle-like creature: Make a sphere by rolling clay to form a ball; similarly, make four small ovals and a longer oval to make the head and legs. Attach parts by gently pressing them into the large ball.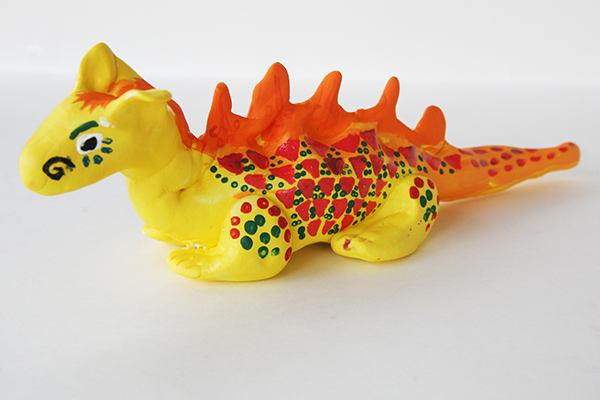 Dragon creature: Make a long, wide cylinder that tapers into a tail at the end. Make backbone spikes by gently pinching clay to form triangles. Shape the head and neck by bending and pressing one end of the body into a rectangle shape. Pinch triangles on top of head to make ears. Note: Rest the head on a small box (or other item) as it dries to prevent sagging. Form four cylinders for feet, bend and shape as desired and press them into the body.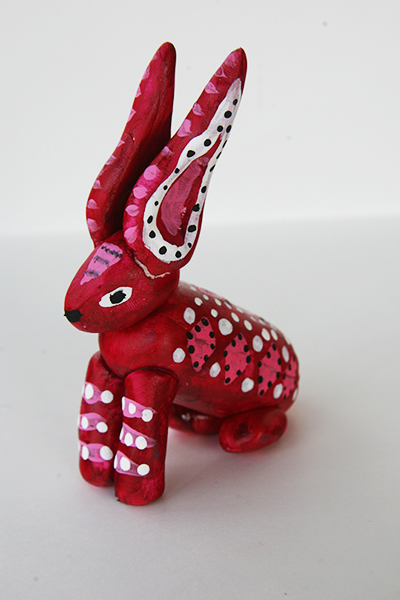 Long-eared (rabbit-type) creature: Make one large cylinder for the body, four cylinders for the legs and two tapered cylinders for the ears. For the head, press a ball into a triangular shape. Press all parts into the body.
More Ideas
Get more design ideas by looking up "alebrijes" or "Mexican folk art" online. Try sketching your creature concepts in pencil first.
Glue feathers, sequins, glitter or small gems on to finished creatures.
*The lightest and easiest air-dry clay for this project seems to be Crayola Model Magic or AMACO Cloud Clay.
–––––––––––––––––––
Alyssa Navapanich is a nationally recognized art educator who teaches art to elementary school kids in East San Diego County. She is the author of San Diego Family Magazine's "Art with Alyssa" column.
––––––––––––––––––