Earth Day Books, Products and Activities! Check out these insprining books that will help kids understand the need to support environmental protection. These products and hands-on activities allow kids to learn more about nature.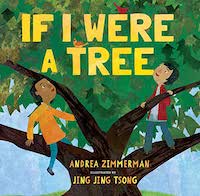 If I Were a Tree by Andrea Zimmerman
$19.95; Amazon.com
Two siblings imagine life as a tree, and envision what they would hear, feel, and see. The sister has camped in the forest many times before. The brother is nervous for his first overnight trip. As the illustrations in this multifaceted picture book show the siblings discovering the woods, the text celebrates the strength and grace of the trees that surround them, through evocative verse that speaks to all five senses. Together, Andrea Zimmerman's wise poem and Jing Jing Tsong's kaleidoscopic art show how connections with the natural world can inspire us to live fully in the present and look hopefully to the future.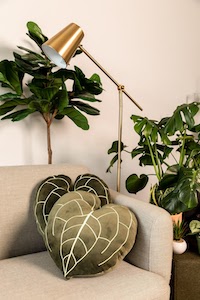 Plant Pillows
$26–$38; GreenPhilosophy.co
Lay down these plant pillows for a comfy picnic setup. Not only do they help bring the essence of outdoor life everywhere, but Green Philosophy Co. also partnered with Trees for the Future to support our outdoor spaces as well, with the motto that artistic design combined with natural plants brings life to any area.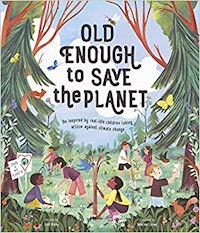 Old Enough to Save the Planet
$14.99; Amazon.com
The world is facing a climate crisis like we've never seen before. And kids around the world are stepping up to raise awareness and try to save the planet. Meet 12 young activists from around the world who are speaking out and taking action against climate change. Learn about the work they do and the challenges they face, and discover how the future of our planet starts with each and every one of us.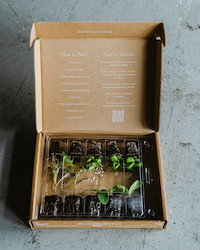 Leaf'd Box's Education Kit
$49.99–179.99; Leafdbox.com
An easy-to-follow plant kit that delivers curated starter plants along with step-by-step instructions directly to your doorstep. Paired with an online curriculum and twice weekly virtual lessons, it gives you everything you need to guide you from planting, to growing, to enjoying delicious homegrown meals. Education Kits options include the Micro Seed Kit, the Starter Kit and the Expansion Kit.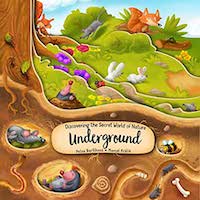 Discovering the Secret World of Nature Underground by Petra Bartikova
$9.99; FoxChapelPublishing.com
With each turn of the page, this book shows kids what it would be like to be an animal who lives underground. The rabbit, the mole, the badger, and more—all of them live underground! Some only in the winter, and some all year round. Dig down into the underground animal kingdom and see for yourself. This foldout picture book contains lots of dug-out chambers and tunnels to explore.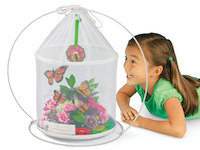 The Butterfly Nursery
$39.99; 4+
LakeshoreLearning.com
Kids watch caterpillars grow, spin silk and form chrysalises, then emerge as butterflies. Children observe the butterfly life cycle from every angle—they can even decorate it with leaves and flowers. Nursery comes with all you need: a stand for tabletop setup, feeding supplies, a coupon for 3-5 caterpillars (includes shipping), a guide, and a zippered mesh cover for easy feeding and viewing.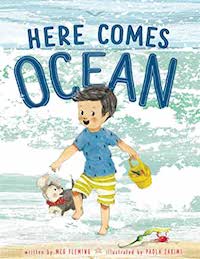 Here Comes Ocean by Meg Fleming
$17.99; SimonandSchuster.com
Grab a big bucket, your best pup pal, and a whole lot of imagination, and get ready for a day at the beach! There's endless fun to be had chasing the waves and countless treasures waiting to be discovered—first a sand dollar, then a sandpiper feather, even a sneaky little crab. What surprises will the ocean reveal next? This sandy, salty, seek-and-find picture book is perfect for families who love the water, kids who love collecting, and ocean enthusiasts of all ages.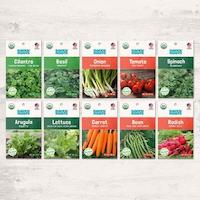 100% Organic & USA Grown seeds
$29.99; BacktotheRoots.com
These varieties have the new gardener in mind - no green thumb needed. You'll get a little bit of everything - herbs, leafy greens, and veggies - and each variety is selected to be easy to grow so you can get your garden off to a great start. They also selected plants that grow quickly, so you don't have to wait long to see (and taste) your harvests.

The Bug Girl by Sophia Spencer
$17.99; PenguinRandomHouse.com
Real-life 7-year-old Sophia Spencer was bullied for loving bugs until hundreds of women scientists rallied around her. Now Sophie tells her inspiring story in this picture book that celebrates women in science, bugs of all kinds, and the importance of staying true to yourself.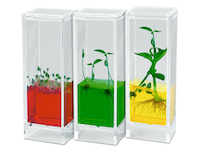 See it Grow Plant Lab
$29.99; 6+
LakeshoreLearning.com
Seeds grow right before your eyes. You get three plexiglas greenhouses containing a nontoxic gel that accelerates growth and gives children a clear view of the roots. The gel contains all the nutrients the plants need—no watering required. Lab includes all you need for 3 plants.
Harlem Grown
$17.99; SimonandSchuster.com
Harlem Grown tells the inspiring true story of how one man made a big difference in a neighborhood. After seeing how restless they were and their lack of healthy food options, Tony Hillery invited students from an underfunded school to turn a vacant lot into a beautiful and functional farm. By getting their hands dirty, these kids turned an abandoned space into something beautiful and useful while learning about healthy, sustainable eating and collaboration.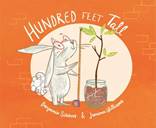 Hundred Feet Tall by Benjamin Scheuer
$17.99; SimonandSchuster.com
This book shows us that with just the right amount of care and support, even the smallest of seeds can grow to stand one hundred feet tall. A tender ode to the power of unconditional, immutable love. Because no matter how small you are now, with patience and persistence, with encouragement and devotion, you, too, will someday grow strong.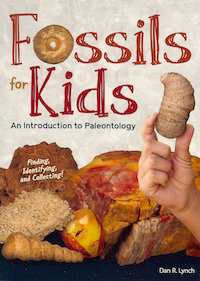 Fossils for Kids: An Introducion to Paleontology by Dan R. Lynch
$12.95; AdventurePublications.net
Great color photos help kids learn all about ancient life forms preserved in rock. Learn the rules about what you can and can't collect and have fun safely exploring fossil sites.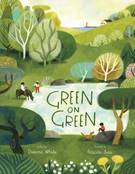 Green on Green by Dianne White
$17.99; SimonandSchuster.com
A child is on a colorful journey through the seasons, filled with yellow flowers and blue coral in spring and summer and orange pumpkins and green pine forests in fall and winter. All the while, there is another colorful change on the horizon—the birth of a new sibling. With gentle, rhyming text and vivid artwork, this book is a heartfelt celebration of family, nature, seasons, colors, and the wonder and magic of them all.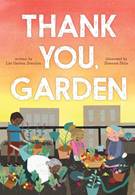 Thank You, Garden by Liz Garton Scanlon
$17.99; SimomandSchuster.com
A community garden unites children and neighbors in this celebration of all the things that grow there, from flowers and fruits to friendships. This ode to friendship, community, and working together for a better world will have young readers gathering their friends young and old to plant something together.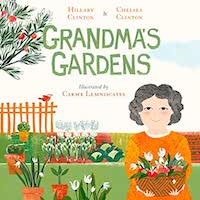 Grandma's Gardens by Hillary & Chelsea Clinton
$18.99; Penguinrandomhouse.com
From mother-daughter team Hillary Clinton and Chelsea Clinton comes a celebration of family, tradition and discovery, and an ode to mothers, grandmothers and the children they love.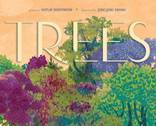 Trees by Verlie Hutchens
$17.99; SimonandSchuster.com
Every tree has its own story to tell in this evocative collection of poems celebrating the many varieties—from maple to willow to oak. There are so many different kinds of trees in the world, and each has special qualities that make it unique. This lyrical, fanciful collection of poems celebrates the singular beauty of each tree, from the gnarled old apple tree to the tall and graceful aspen.

Our House is on Fire by Jeanette Winter
$17.99; SimonandSchuster.com
Greta Thunberg is leading the conversation on climate change and sparking worldwide conversation on how to save our planet. She is showing everyone that even the smallest person can make a big difference, and this book informs and inspires young readers who are beginning to learn about the world around them.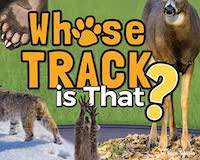 Whose Track in That? By Stan Tekiela
$14.95; AdventurePublications.com
Spotting animals in the wild is tricky, but they leave plenty of clues behind―especially tracks. Examine the evidence. Study the animal tracks. See if you can guess "Whose track is that?" Then turn the page to discover the answer. This interactive and entertaining book features the full-color photography of Stan Tekiela, a professional naturalist and award-winning author. With every reading, children get more familiar with a variety of North American critters. They might soon start seeing animal tracks on every outing.
Fighting for the Forest by P.O'Connell Pearson
$17.99; SimonandSchuster.com
Fighting for the Forest tells the story of the Civilian Conservation Corp through a close look at Shenandoah National Park in Virginia (the CCC's first project) and through the personal stories and work of young men around the nation who came of age and changed their country for the better working in Roosevelt's Tree Army.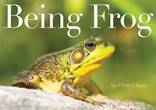 Being Frog by April Pulley Sayre
$17.99; SimonandSchuster.com
Frogs are amazing creatures, and this book offers an up-close and revealing peek at their everyday lives. Follow them from egg to tadpole to froglet crawling up onto land for the first time. Watch them resting on a favorite log, searching for food, and leaping through the air. And see how frogs are unique, individual beings with rich lives all their own in the wild.
Updated: March 2021