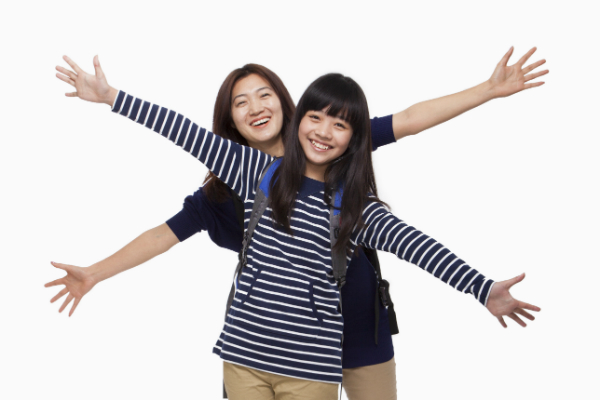 It's easy for moms to get caught up in daily obligations and never get around to talking about important issues with their daughters. Even if you do find time, sitting down for "a talk" probably isn't high on your daughter's list.

You both may find it awkward to bring up topics like dealing with mean kids, being a good friend, and handling conflict between the two of you. As your daughter grows, new issues sprout up, like resisting peer pressure, having a positive body image, eating disorders and dating. Your daughter may be reluctant to bring these issues up because she's too embarrassed or too afraid to reveal what she and her friends are doing, even if she has concerns. You may also be worried about sharing your own past if she asks questions.

There's good reason to break through the barriers. Talking can help your daughter learn about your own values while forming her own. It can also provide crucial information that may keep her safe and help her make informed decisions when peers engage in risky behavior.

This is where books can really help. When you read the same titles your daughter is reading, it gives you an entrée to talk about themes that appear in the pages—without the pressure of discussing personal details. For instance, when our mother-daughter book club read "Speak" by Laurie Halse Anderson, we were able to talk about date rape and how alcohol plays a role in it. We brainstormed ways the main character could have acted to keep herself safe while at a party. This was a non-confrontational way to discuss situations the girls may face as they enter high school and start socializing with friends more and parents less.

You also benefit when you listen to concerns your daughter has. Discussing actions by a character in a book may bring up topics you never even knew she worried about. It can be a non-threatening way to gain insight into your daughter's world.
Here are a few books I recommend to get conversations started.

Girls Ages 9 to 12

"Flipped" by Wendelin Van Draanen. Every story has two sides. Here we get to see the same events from two perspectives. Juliana loves Bryce from the minute she meets him in second grade, but Bryce thinks she's a nuisance until the tables turn a few years later.

"The Mother-Daughter Book Club" by Heather Vogel Frederick. This story of four moms and their daughters in a reading group explores how moms and daughters don't always understand each other, and how talking about books can help.

"What the Moon Said" by Gayle Rosengren. Fans of the Little House books will love this story of Esther, whose family moves from Chicago to a farm during the Great Depression. Esther's mom doesn't show love the way Esther wants her to. They struggle to get along until Esther learns things that reveal why her mom acts the way she does.

"Trauma Queen" by Barbara Dee. Marigold is the responsible one in her family, often having to mother her own performance-artist mother, a free spirit who doesn't mind offending people. How can they get along when their personalities are so different and Marigold is so embarrassed by her mom?

Girls Ages 13 and Up

"Sorta Like a Rock Star" by Matthew Quick. Despite being nearly homeless and having to take care of her alcoholic mother, Amber finds the positive as she helps a variety of society's misfits.

"Skin and Bones" by Sherry Shahan. In a six-week program for teens with eating disorders, Jack learns a lot about himself and how everyone else in the program has an obsession with food, either eating it or refusing it.

"Stargirl" by Jerry Spinelli. Stargirl is a free spirit who goes from being an outcast to wildly popular to an outcast again. Leo likes her, but can he be her friend without becoming an outcast himself?

"Little Fish: A Memoir" by Ramsey Beyer. This memoir of a girl moving from a small town to live in the big city for her first year of college explores issues of kids growing up and leaving home.
Want to start a book club? Read "Six Steps to Starting a Mother-Daughter Book Club."

----------
Cindy Hudson is the founder of two mother-daughter book clubs.