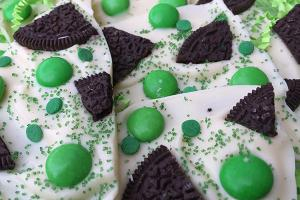 The kids are sure to catch a crafty leprechaun with this festive chocolate bark, a delicious sweet treat for St. Patrick's Day. Thank you to Deborah at www.SuperMoms360.com for sharing her ideas with us.

Ingredients
1 package white chocolate chips
1 medium bag of M&M'S - separate the green ones
1 package Oreos
Green sugar sprinkles
9x12 baking pan
Wax paper

Directions
Break Oreos into large pieces and set aside. Optional: scrape the icing out of cookies first.
In a microwave safe bowl, melt white chocolate chips on 50 percent power for 1½­–2 minutes until melted and smooth, stirring every 30 seconds.
Pour into baking pan (lined with wax paper) and smooth with spatula. Sprinkle broken Oreos over the top and press down gently. Add green M&M'S and sprinkles to the top.
Place in refrigerator for 30–45 minutes. Break into pieces before serving.
---
Find more creative and festive ideas from Deborah Stallings Stumm at www.SuperMoms360.com.