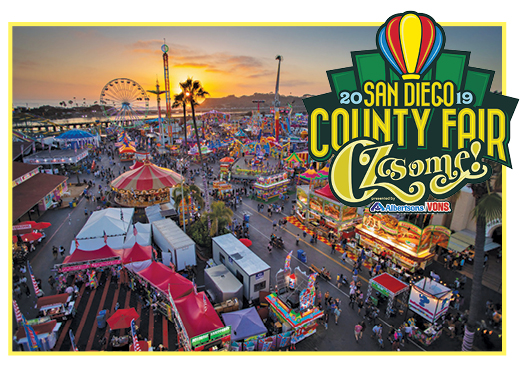 Summer fun in San Diego means sun, surf, and (usually) the San Diego County Fair, attended by over 1.5 million people annually. That tradition takes this year off in response to COVID-19, and San Diego County will deeply miss its favorite summertime festival.
"Summer won't feel the same without the fair kicking off the season, but postponing was important to keep the community safe," says Annie Pierce, communications manager for the Del Mar Fairgrounds. Fair management, however, is determined to keep the spirit alive in 2020 with several ways families can enjoy their favorite activities remotely, including eating fair food, gardening, engaging in art and learning about animals. Here's how to bring fair fun into your home this summer.
Indulge in Fair Food
Get your fair food fix at Del Mar Fairgrounds! Join the drive-thru event weekends only to enjoy favorites such as kettle corn, corn dogs, funnel cakes, turkey legs, Dole Whip and more. Get details at https://sdfair.com/#foodfix.
Plant, Grow, Eat
Learn how to grow your own green onions and celery with famous fair personality Nancy from the Wild West Turkey Stampede & Oasis Camel Dairy. Nancy and her pet parrot bring this popular program straight to home viewers. So go on, get growing! www.sdfair.com/educational-programs/plant-grow-eat

Learn About Fair Animals
Last year, the Fair's School Tours staff visited 30,000 kids throughout San Diego County. This year, they're bringing a virtual "tour" to your livingroom. Join host Karla and some of her favorite furry and scaly friends (Jackson the Under Dog, George the Python and Poppy the Super Sonic Hedgehog) to learn about their natural superpowers. www.sdfair.com/educational-programs/school-tours
Get to Know Chicken Charlie
One of the fair's most prominent icons is Charlie Boghosian, owner of the famous Chicken Charlie's. The food stand, celebrated for such fair-tastic delicacies as cotton candy ice cream sandwiches and deep-fried Kool-Aid, is a historical institution in its own right. This year would have marked 25 years at the San Diego County Fair, 37 years for Boghosian himself, if you count the summers he worked for other food vendors.
A love of cooking and invention has led Boghosian to create some of the most iconic, beloved fair treats throughout the country, not just in San Diego. "When I invented deep-fried Oreos, I had no idea how big it would really be," he says. "It changed my life." This year's invention is deep-fried saltwater taffy, which Boghosian will offer at his Rancho Bernardo restaurant starting June 5, the day with fair would have opened.
"With all that's going on this year, the gloves are off," he says. "Our menu will change to include some fun fair stuff like bacon-wrapped turkey legs, cotton candy ice cream sandwiches and the triple-decker." See his Triple Decker recipe below! Daily specials will be posted on the Chicken Charlie's social media platforms.
Chicken Charlie's Krispy Kreme Triple Decker Cheeseburger
3 beef burger patties, cooked to your desired doneness
3 slices cheddar cheese
2 Krispy Kreme glazed donuts (aka the bun)
Directions
Stack 'em, pack 'em and rack 'em into a pile of indulgent burger goodness!
Zooming Fair Fun
Fun-up your Zoom teleconference by using a fabulous fair photo as your virtual background. Here's to dreaming of next year! www sdfair.com/zoom
Did you know? This isn't the first time the San Diego County Fair has closed since its inception in 1880. It shut down during World Wars I and II, and while the festivities were suspended during WWII, activity was not. The grounds became a training facility and temporary quarters for military personnel, paratroopers bedded down in the horse stalls, and a US Marine Corps detachment trained on nearby beaches.
__________
Elisabeth Handley is a lifelong San Diego resident, freelance writer and communications consultant. She is also hopelessly addicted to deep-fried cookie dough.
__________
Want to read more San Diego County Fair inspiration? You'll love this story about one local family!
Updated: May 2020
__________________