Looking for family Halloween costume inspiration? It is SO FUN to get creative and plan a group costume! Whether you make them or buy them, start by getting inspired by these local families— San Diego Family social media followers and readers who responded to our request with tremendous enthusiasm!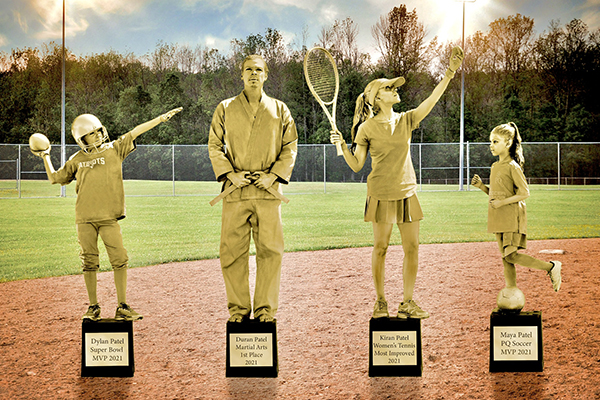 Happy Halloween from Team Patel: Dylan (11), Duran, Kiran and Maya (7) of Rancho Peñasquitos. "After the year we've had, we all deserve a trophy!" says Kiran. "This costume is dedicated to my Dad. Never give up and always have hope." #cancersucks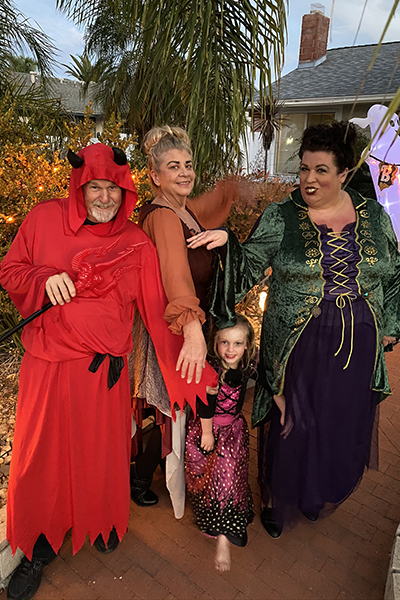 Doug, Terry, Heather and 5-year-old Emily of Santee get a kick out of dressing up for Halloween. "It's all just a bunch of hocus pocus," they say.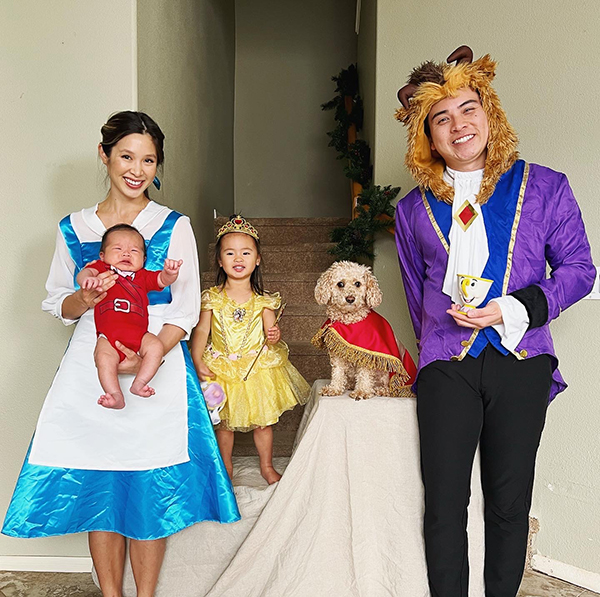 The Diep Family of 4S Ranch dress as characters from Beauty and the Beast: Elizabeth as Belle (of the village), 6-week-old Oliver as Gaston, 2-year-old Emily as Princess Belle, Thuan as Beast, and their dog Bella as Sultan. "Just wait to see what we have in store for this year!" says Elizabeth.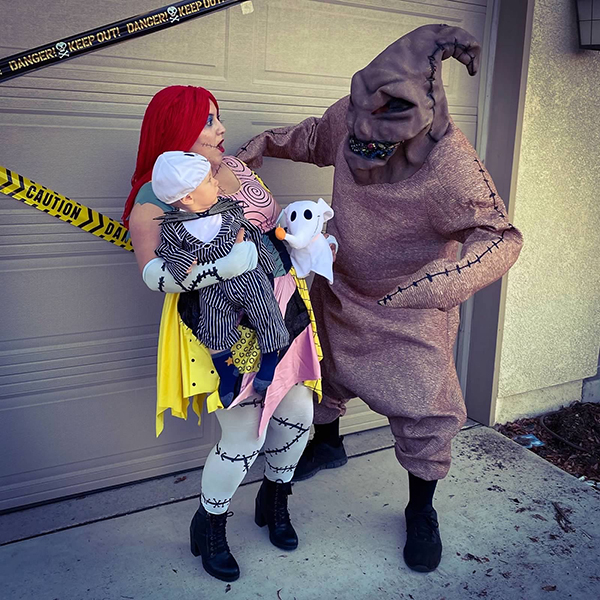 The Collins Family of Santee celebrate their first Halloween with baby Jack dressing as characters from their favorite movie, The Nightmare Before Christmas. Jack as Jack Skellington; Patsy as Sally and Mike as Oogie Boogie.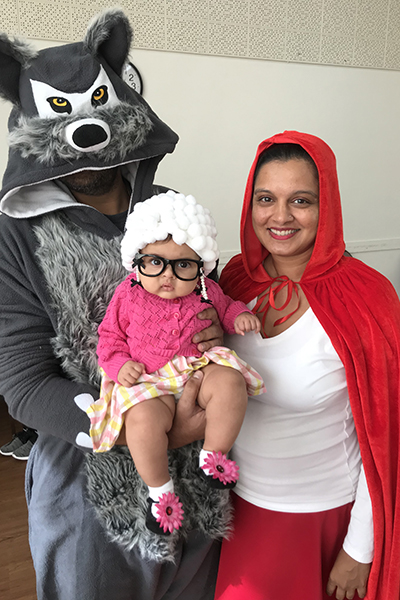 Shivan and Pooja Desai of 4S Ranch with their little one. "Halloween is such a magical time for our littles," says Pooja. "Dressing up and being a part of their imagination is priceless!"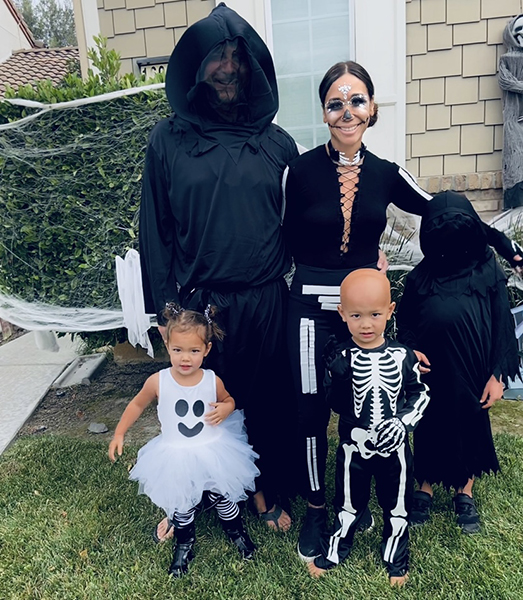 The Schwartz Family of 4S Ranch J.T., Natalie, Bradley (6), Kai (3) and Scarlett (2)

Reyn & Joy Nishii of Mira Mesa took Baby Micah (aka Mini Mario) to UTC Mall for trick-or-treating.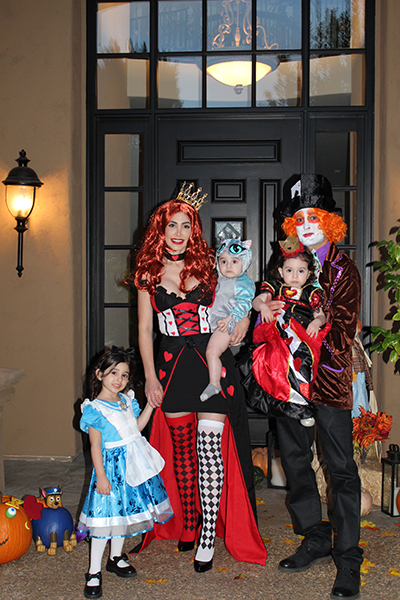 The Naimi Family of Carmel Valley share their version of Alice in Wonderland. Dion, Vanessa, Gianna (4), Malia (20 mos.) and Leonardo (9 mos.). Gianna chose the family costume!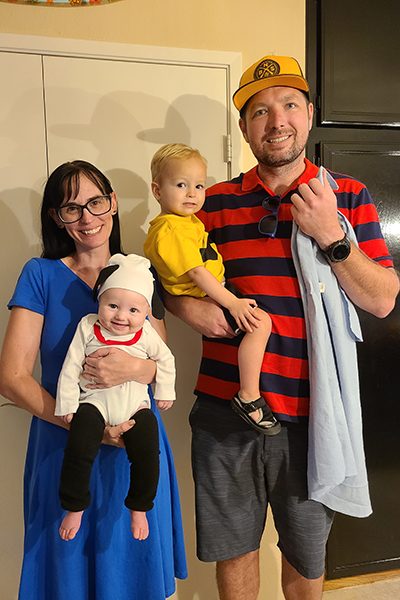 The Donahue Family of Santee dress up as the Peanuts Gang: Kevin as Linus, Amy as Lucy, Cooper (age 2) as Charlie Brown and Marigold (5 mos.) as Snoopy.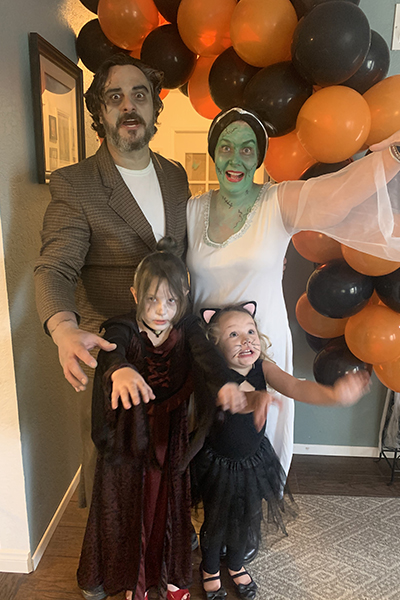 John & Sarah Scabarozi of Mira Mesa dress as Frankenstein and his bride, while kids Stella (5) & Sophie (8) are a vampire and black cat.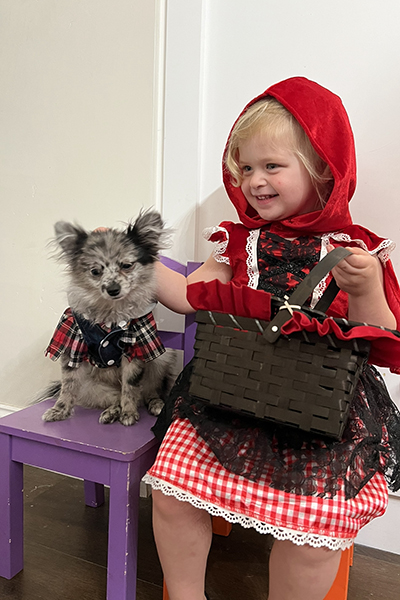 Charlotte (age 2) of El Cajon is Little Red Riding Hood; Winston (Pomeranian) is the "Big Bad" Wolf!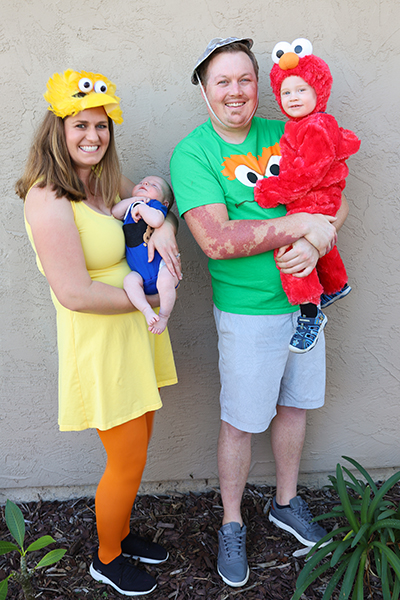 Our family Sesame Street costumes were a hit when trick-or-treating in Tierrasanta last year! Mariah as Big Bird, Jeremy as Oscar the Grouch, Jedidiah (age 2.5) as Elmo, Forrest (4 wks.) as Cookie Monster.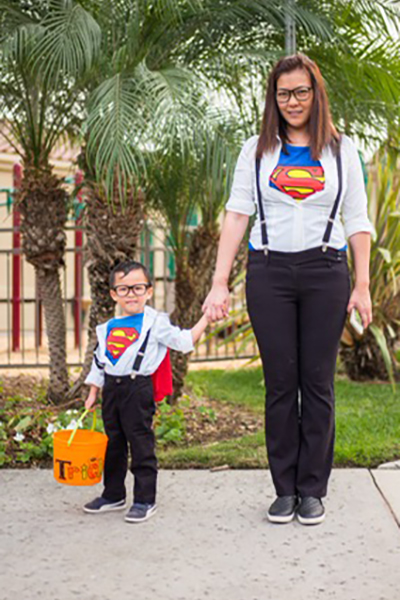 Patty Song and three-year-old Luca of 4S Ranch — superheroes to the rescue!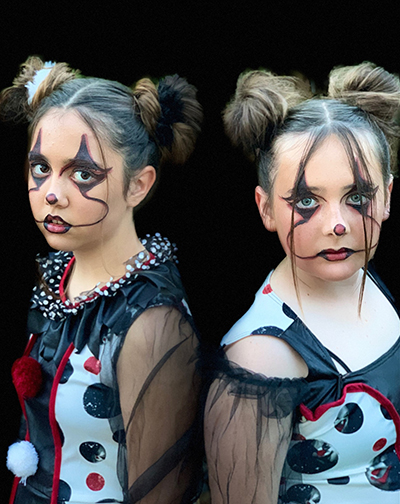 The family of Giada (11) and Brooklyn (12) of Bonita absolutely loves Halloween. They plan costumes months in advance.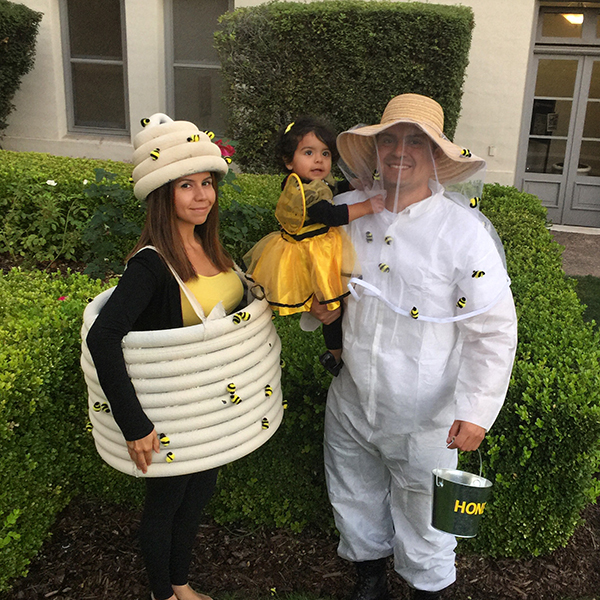 Chula Vista residents Claudia, Ariella (16 mos.) and Carlos Carballo. The beehive costume is made from foam piping and the beekeeper outfit is a painters suit (both from Home Depot).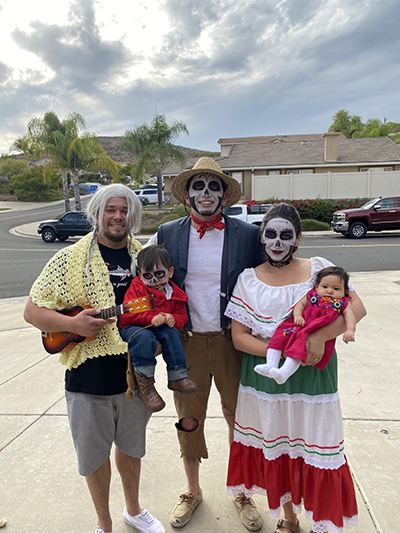 Inspired by the Disney/Pixar movie Coco, this is the Ballesteros family of Santee: Gabriel as Mamå Coco, Jimmy (age 2) as Miguel, Anissa as Mamå Imelda, Gianna (3 mos.) as Miguel's baby sister, and Aaron Gonzalez as Héctor.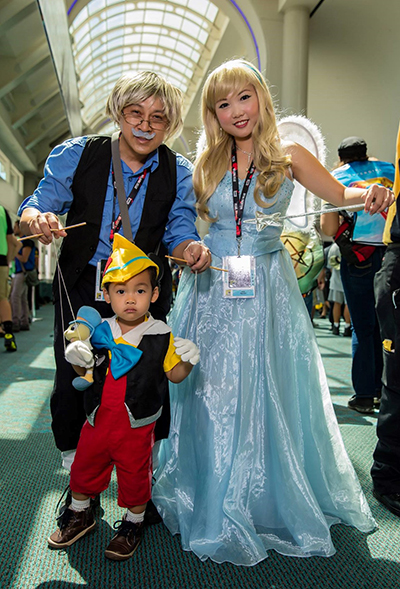 Otay Ranch residents Steve, Viva and Ethan (2) as Geppetto, the Blue Fairy and Pinocchio.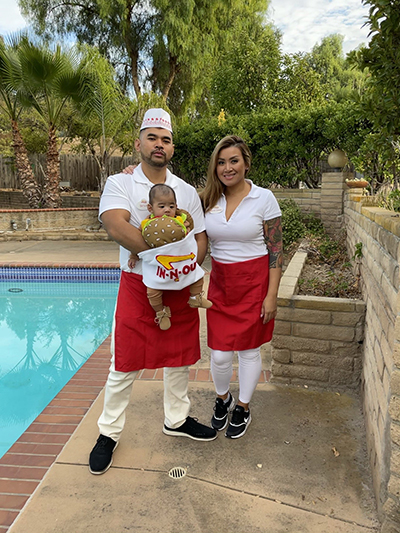 Anthony and Annabelle of Otay Ranch are serving up the cutest little burgers on the planet (Amaya, 4 mos.).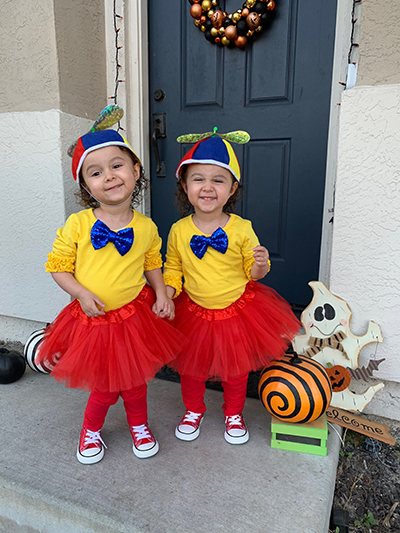 Twins Mila and Ellie (age 3) of Eastlake as Tweedle Dee and Tweedle Dum from
Alice in Wonderland (Mom & Dad dressed as the Queen of Hearts and Mad Hatter).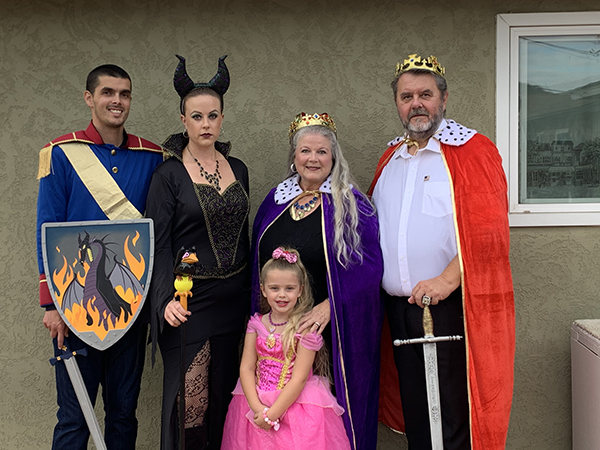 The Dixon Family of La Mesa got in the Halloween spirit by dressing as characters from Disney's Sleeping Beauty. Here is Holly (age 4) as Princess Aurora. Holly's parents (Gregory and Chandra) are Prince Phillip and Maleficent. Grandma and Grandpa are Queen Leah and King Stefan.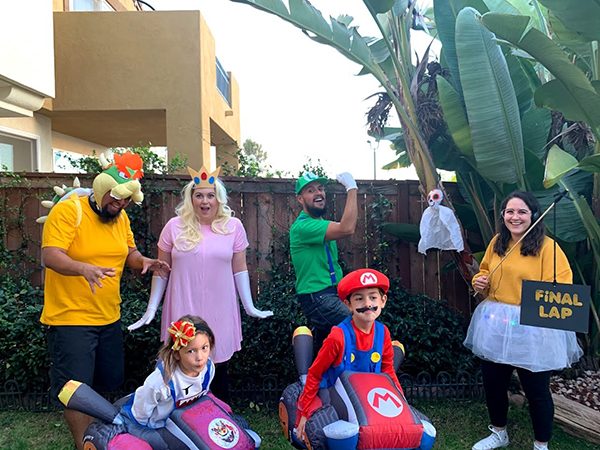 Penelope (5), Jonah (6) and the rest of the Montes family of Chula Vista having fun as characters from the Mario Kart video game series!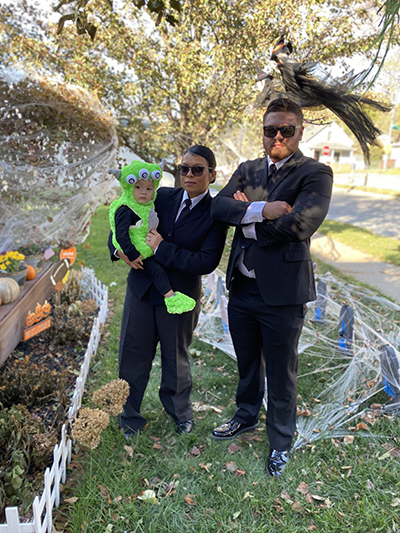 Monica and Marcus Lupkin, and their son Samuel (1) of Imperial Beach. "Dressing as Men in Black was so much fun!"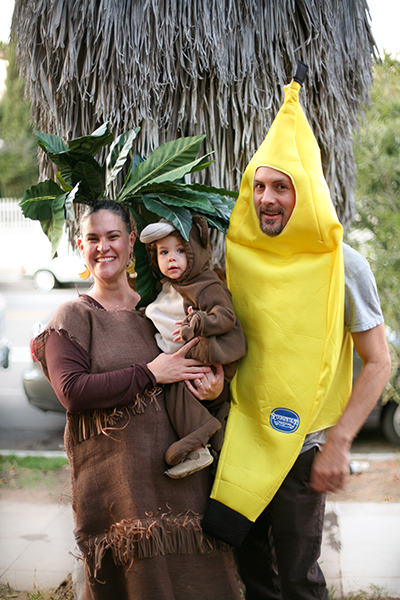 Darci Fontenot, Joni (age 1) and Ian Tordella of Golden Hill as a tree, monkey and banana.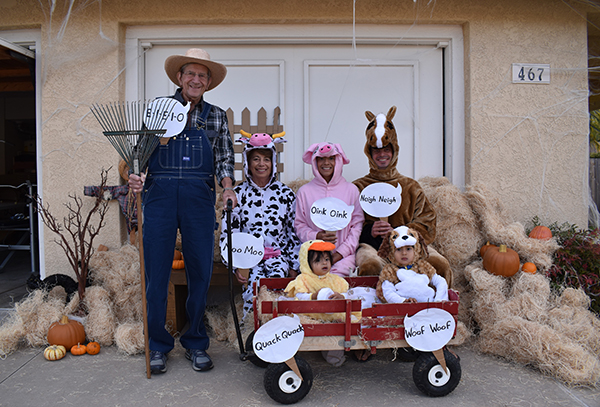 Halloween is a favorite holiday for the Dinich family of Chula Vista— they love to dress up! Here are Grandpa and Grandma (Paul & Sue) as Old MacDonald and a cow; Mom and Dad (Crystal & Paul) as a pig and horse; and kids Andrew (1) and Nathan (2) as a duck and dog.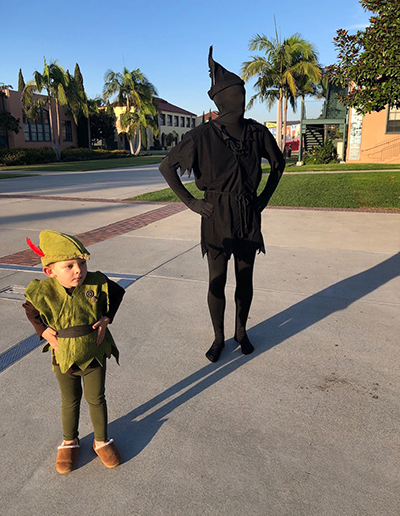 Mason (age 3) and his dad Josh (residents of Hillcrest) as Peter Pan and Shadow. "Every year my family creates a group costume, most of which is handmade. It's literally my favorite thing to do!" says Joy.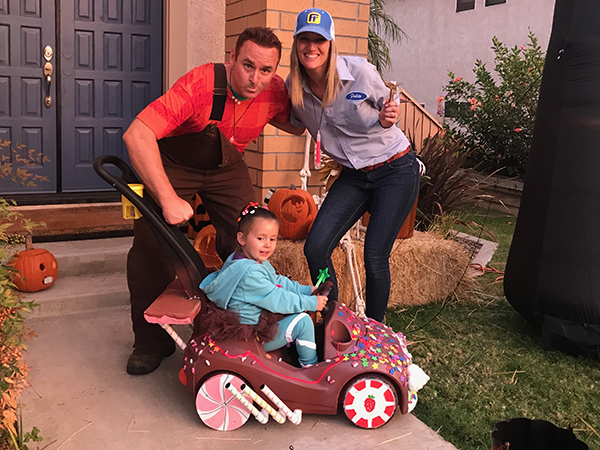 Santee residents Dean and Jesse as Wreck-It Ralph and Fix-It Felix, along with their daughter Delaney (3) as Vanellope von Schweetz.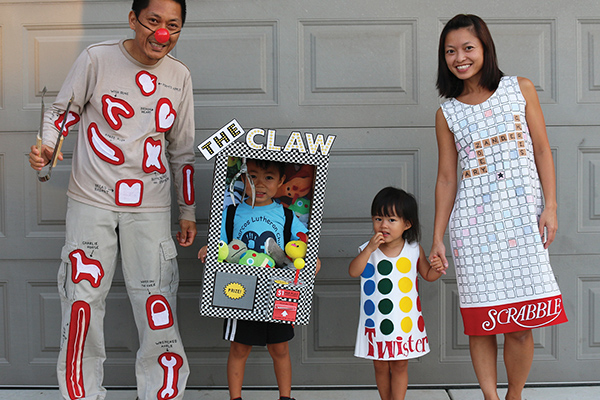 Photo credit: www.izzaroo.com
–––––––––––––––