Looking for family Halloween costume inspiration? It is SO FUN to get creative and plan a group costume! Whether you make them or buy them, start by getting inspired by these local families—our social media followers who responded to our request with tremendous enthusiasm. Shout out to residents of San Diego's South Bay area, where the Halloween spirit is clearly alive and well (kinda makes us want to go trick-or-treating in Chula Vista)!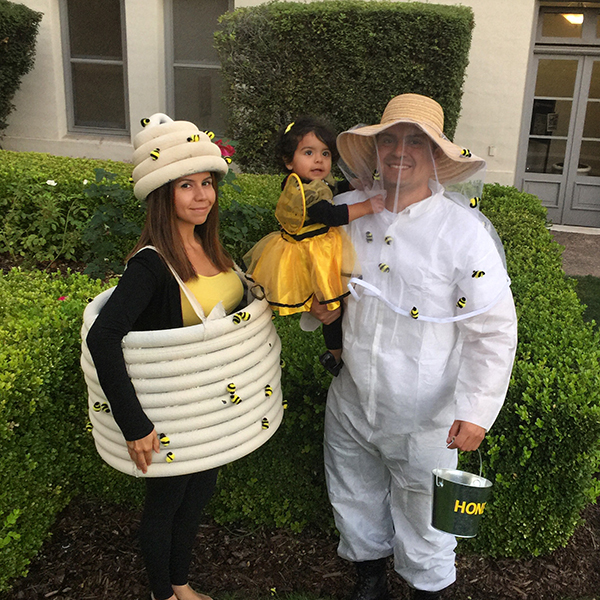 Chula Vista residents Claudia, Ariella (16 mos.) and Carlos Carballo. The beehive costume is made from foam piping and the beekeeper outfit is a painters suit (both from Home Depot).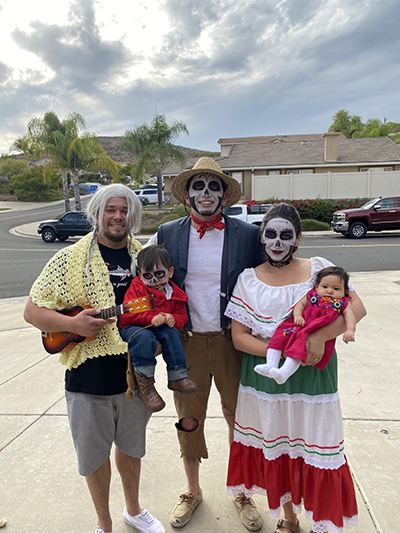 Inspired by the Disney/Pixar movie Coco, this is the Ballesteros family of Santee: Gabriel as Mamå Coco, Jimmy (age 2) as Miguel, Anissa as Mamå Imelda, Gianna (3 mos.) as Miguel's baby sister, and Aaron Gonzalez as Héctor.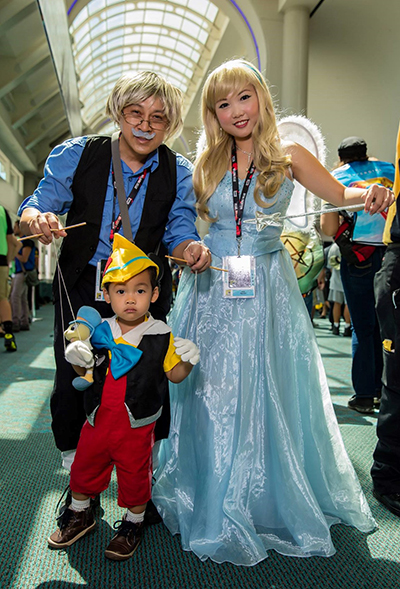 Otay Ranch residents Steve, Viva and Ethan (2) as Geppetto, the Blue Fairy and Pinocchio.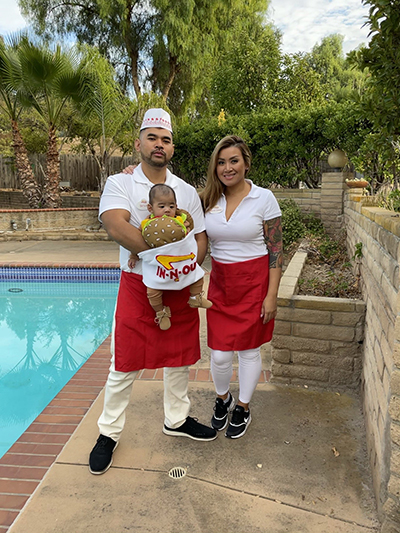 Anthony and Annabelle of Otay Ranch are serving up the cutest little burgers on the planet (Amaya, 4 mos.).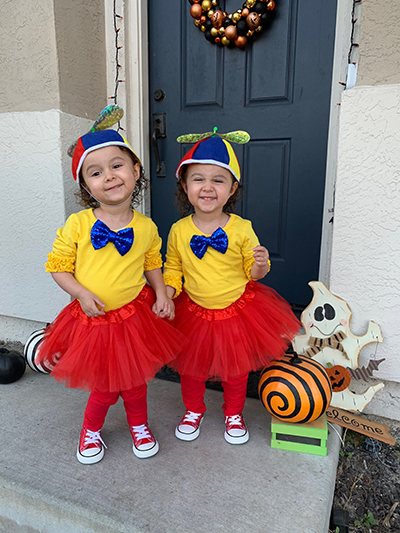 Twins Mila and Ellie (age 3) of Eastlake as Tweedle Dee and Tweedle Dum from
Alice in Wonderland (Mom & Dad dressed as the Queen of Hearts and Mad Hatter).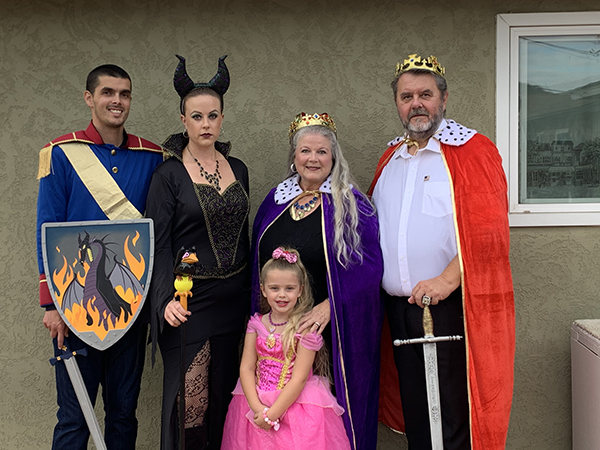 The Dixon Family of La Mesa got in the Halloween spirit by dressing as characters from Disney's Sleeping Beauty. Here is Holly (age 4) as Princess Aurora. Holly's parents (Gregory and Chandra) are Prince Phillip and Maleficent. Grandma and Grandpa are Queen Leah and King Stefan.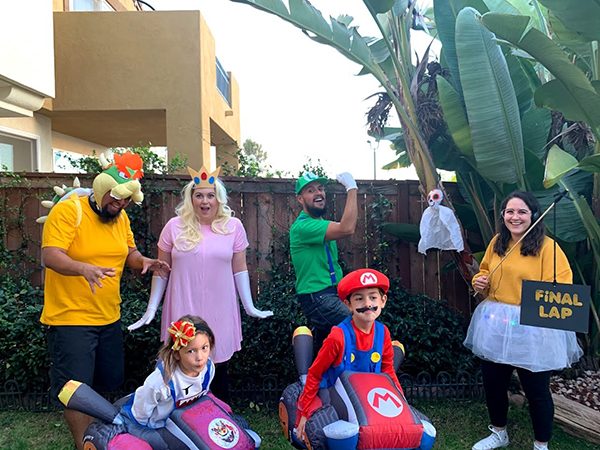 Penelope (5), Jonah (6) and the rest of the Montes family of Chula Vista having fun as characters from the Mario Kart video game series!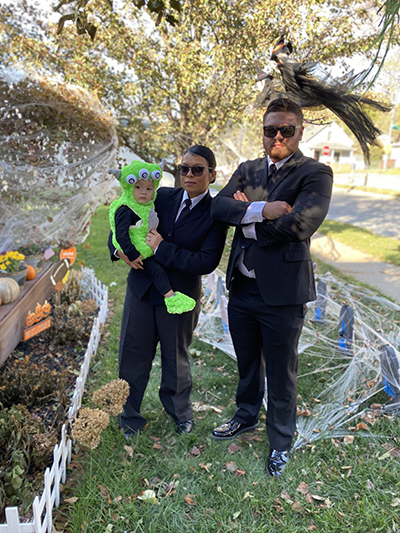 Monica and Marcus Lupkin, and their son Samuel (1) of Imperial Beach. "Dressing as Men in Black was so much fun!"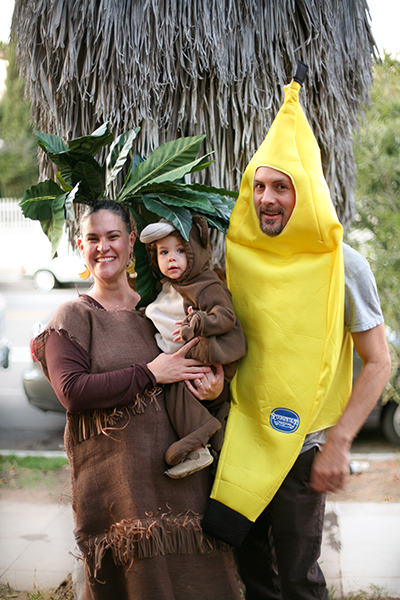 Darci Fontenot, Joni (age 1) and Ian Tordella of Golden Hill as a tree, monkey and banana.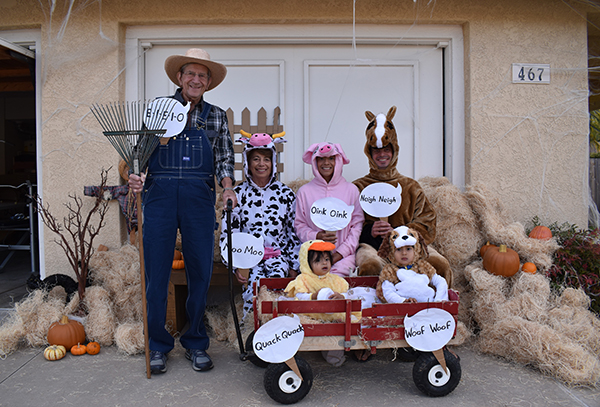 Halloween is a favorite holiday for the Dinich family of Chula Vista— they love to dress up! Here are Grandpa and Grandma (Paul & Sue) as Old MacDonald and a cow; Mom and Dad (Crystal & Paul) as a pig and horse; and kids Andrew (1) and Nathan (2) as a duck and dog.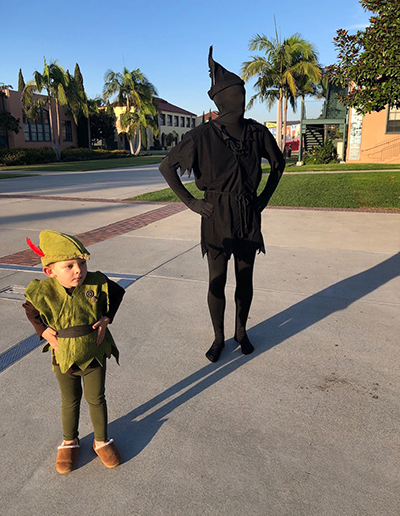 Mason (age 3) and his dad Josh (residents of Hillcrest) as Peter Pan and Shadow. "Every year my family creates a group costume, most of which is handmade. It's literally my favorite thing to do!" says Joy.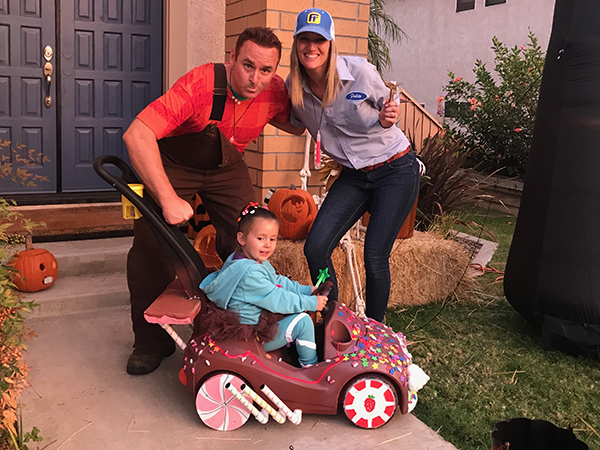 Santee residents Dean and Jesse as Wreck-It Ralph and Fix-It Felix, along with their daughter Delaney (3)
as Vanellope von Schweetz.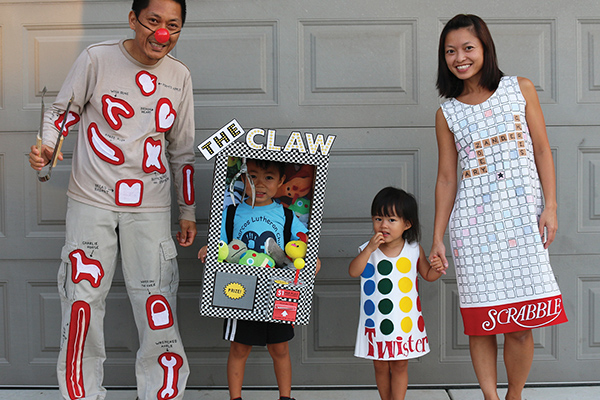 Photo credit: www.izzaroo.com
–––––––––––––––