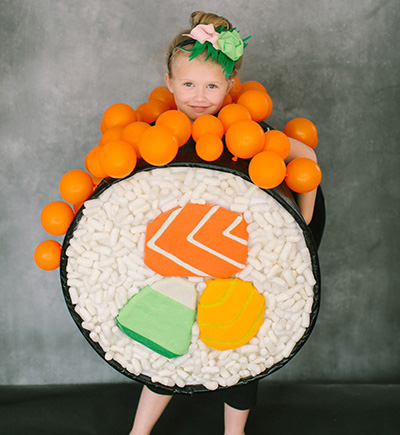 There's something fishy going on here! Craft your way to an adorable costume this Halloween with this DIY sushi roll. Your child will be the talk of the block when you go trick-or-treating!

Materials
Cardboard
White fabric
2 ½ yards ½" thick sheet foam
Black vinyl fabric
White foam packing peanuts
Felt in various colors (shades of green, yellow, orange, peach)
Black kids' headband
Scissors
Utility knife
Hot glue gun
Glue sticks
5" pearl mandarin orange balloons
Spray adhesive

Instructions
Step 1: Cut two circles out of the cardboard that will be wide enough to fit your child's torso. If you'd like them to be able to sit down, make sure the circle is not longer than their shoulders to their hips. Wrap the cardboard circles with white fabric and hot glue in place.

Step 2: Trim the width of the foam sheet to 2'. Wrap in the black vinyl fabric and hot glue in place.

Step 3: Hot glue the foam around the edge of the circles. Circles should be about 1" inside the edge of the foam.

Step 4: Cut a hole in the center of the foam large enough for your child's head. Cut a hole on the opposite side of the foam large enough for their torso. Have them try on the costume, mark where their arms are. Remove the costume and cut out holes for the arms.

Step 5: Place the roll in a large cardboard box or on a plastic drop cloth. Cover the white fabric on one side with spray adhesive. Drop the foam peanuts on top and let set for 5 minutes. Shake off the excess peanuts. Repeat for a second layer of peanuts, then flip the roll over and repeat on that side.

Step 6: Cut slices of remaining foam into jellybean-like shapes. To make the avocado, layer dark green on medium green on light green felt and hot glue together. Wrap around a foam piece, glue in place; trim excess. To make the fish pieces, draw a series of "U" or "V" shapes on orange felt. Cut out the shapes and then glue to a lighter yellow piece of felt with a 1/4" space between each shape. Wrap around a foam piece, glue in place, and trim excess. Remove some peanuts from the middle of the roll and glue the fish pieces in the center.

Step 7: Blow up about 20 orange balloons. Blow up to the fullest size, then leak air slowly until you reach the most round shape; tie off. Carefully hot glue the tied ends to the top of the sushi roll.

Step 8: Fringe a piece of dark green felt on both sides and hot glue to the headband. Cut (2) ½" wide pieces of pale peach felt and curl around each other in a bundle; hot glue to the green felt. Cut a 4" x 2" piece of pale green felt and swirl it into a bundle; hot glue to green felt.

Step 9: Get your little one dressed in black pants and shirt, help them into the sushi roll, and top with the wasabi-ginger headband.

-----------------
Costume design by Abby Larson, founder of Style Me Pretty Living, www.stylemepretty.com. Photo courtesy of Rustic White Photography.
Published: October 2014