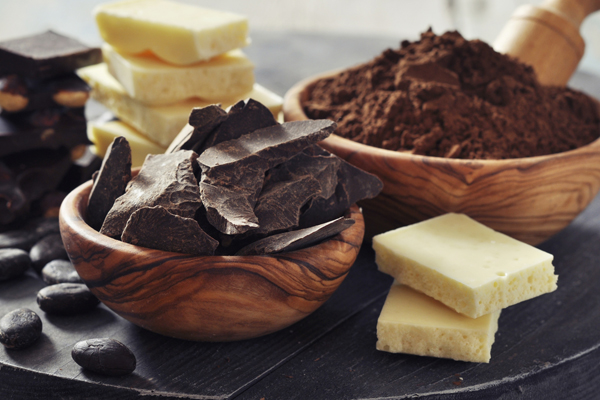 It is no big secret why people love chocolate. Rich, smooth and luxurious, chocolate can be the perfect pause in a stressful day, the secret ingredient in a favorite dish, or an edible token of our affections.
According to Nielson research, in the United States alone, 58 million pounds of chocolate is sold for Valentine's Day with $345 million in sales. Europeans consume even more chocolate than Americans, and men eat just about as much as women. In fact, chocolate consumption is up all over the world, and there is even a movement to blend chocolate with world peace, an excellent combination (search online for World Peace cookies).
---
Chocolatiers in San Diego:
Many offer classes and tastings!

Chi Chocolat
Liberty Station/Point Loma
619-546-0650
www.chichocolat.net
Chuao Chocolatier
Del Mar and Encinitas
858-755-0770 or 760-635-1444
www.chuaochocolatier.com
Läderach Chocolatier
Fashion Valley Mall
https://us.laderach.com
Dallmann Fine Chocolate Boutique
The Headquarters at Seaport Village
Downtown
619-238-0045
www.dallmannconfections.com
Eclipse Chocolate
South Park
619-578-2984
www.eclipsechocolate.com
Nibble Chocolate
Old Town San Diego and Little Italy
www.nibblechocolate.com
The Elegant Truffle
Point Loma
619-222-1889
www.trufflemaker.com
---
Why Chocolate on Valentine's Day?
The Mayans and Aztecs believed that chocolate gave them … well let's just say a boost to their love life. Modern researchers have found that chocolate does cause our brains to release endorphins that make us feel good. Combine that with how chocolate has been thought of as divine since ancient times, and you've got the perfect gift for your Valentine. Learn more at: www.history.com/topics/valentines-day
Raw Chocolate
Chocolate joins the raw food revolution to avoid the over processing that strips nutrients, adds unnecessary ingredients and alters taste. Boasting more than 300 nutritional compounds and loads of anti-oxidants, chocolate can provide a lot of health benefits when we indulge.
Gnosis Chocolate is a wonderful company that provides information on raw chocolate and other social and environmental responsibility projects on its website GnosisChocolate.com.
Why not surprise your Valentine with an afternoon at Summers Past Farms, a Gnosis retailer, and nibble on sumptuous raw chocolate within their beautiful gardens? My favorite local getaway mixed with fine chocolate—it's an unbeatable combination.
Be a Chocolate Connoisseur
There are four main types of chocolate: bittersweet, semisweet, milk and white. This seems simple enough, until you factor in percentages of cacao, which indicate the intensity of the flavor, and the more than 1500 compounds that give chocolate a specific essence, from berries to lavender.
What's an amateur chocolate connoisseur to do? Eat chocolate! Experiment with different percentages and flavors, and start by mindfully touching the chocolate, then breaking it in half and smelling the wonderful aromas. Most importantly slow down and savor each bite. Pay attention to each subtle difference. Let the chocolate melt in your mouth to experience all that it has to offer, then sit back and dream up a chocolaty heaven for your sweetheart.
---
Video: How Chocolate is Made
www.sciencekids.co.nz/videos/chemistry/chocolate.html



Check out San Diego Family's Pinterest Boards for Valentine's Day ideas, recipes and crafts!
---
-----------
Laura Pardo writes from South Park and will definitely be trying the Avocado Chocolate cookies.