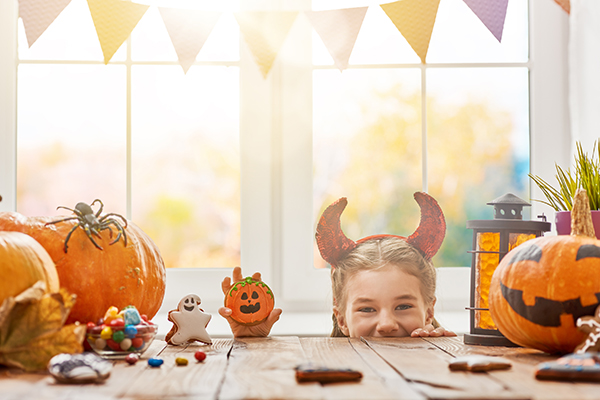 Feeling apprehensive about trick-or-treating this year? Here are alternate ways to celebrate Halloween and have an epic (and safe) experience for the whole family!
Not-So-Spooky Parade
Plan a neighborhood Halloween parade—it's outdoors, builds community and naturally offers social distancing.
How to pull it off: Emily Dolton of Clairemont suggests inviting a small group to decorate themed bikes, wagons and scooters. Encourage costumes that match the theme. Invite neighbors without kids to wave, cheer and vote for favorites from their driveways.
Pumpkin Carving
Pumpkin carving is a great activity because it's best when done outdoors with a small group.
You'll need: A few tables spaced apart, large trash bags, pumpkin carving templates, Sharpie markers, and no-cut options such as stickers and paint for little ones. Have each family bring their own pumpkins and carving tools.
Mask Decorating
Masks are the costume accessory of 2020!
You'll need: Reusable plain cotton face masks (available in bulk). Sequins, pom-poms, fabric markers and other decorations. Books or pictures (of animals, mythical creatures and favorite characters) for inspiration.
Zombie Walk
It's a Halloween parade (see above), but geared more towards tweens and teens.
How to pull it off: Invite your group to dress as zombies, vampires, mummies or in other creepy attire. This parade could take place at sundown, but make sure there are street lights so everyone can see the characters. Don't forget to invite neighbors to watch from the driveway!
You'll need: Teen-appropriate treat bags or gift cards to favorite local spot.
Door Decorating Contest
Local mom Darla Pieters is inviting neighbors to decorate their front doors (or garage doors). It's budget-friendly and perfect for creative families who enjoy decorating for Halloween.
You'll need: Rolls of butcher paper, wrapping paper or large pieces of construction paper. Get door decoration ideas and directions at www.sandiegofamily.com/for-the-kids/crafts-for-kids/best-halloween-door-decoration-ideas-family (there's even a door for Dia de los Muertos!).
For each of the above, award prizes for various categories: cutest, scariest, funniest, most creative. Support local businesses by awarding prizes (such as pizza delivery) to the winning child or family.
Backyard Movie
Show an outdoor Halloween movie for a few friends or neighbors—this offers a festive atmosphere and social distancing.
You'll need: Projector, blank wall or screen, chairs, blankets, pre-made bags of popcorn and wrapped candy.
Themed Scavenger Hunt
"A scavenger hunt with a small group of families works well as a creative Halloween alternative," says Pieters, who hosted a memorable "Night at the Museum" birthday scavenger hunt for her daughter. Party hosts dressed in historic costumes from the movie. The event began with a Kona Ice truck bringing shaved ice to party guests. To keep kids occupied and distanced while in line, kids created chalk art on the sidewalk with a local artist, then took off in shifts to search for clues.
To pull it off: Coordinate with several neighbors whose front or backyards will be on the scavenger hunt map.
You'll need: A theme, clue sheets, baskets of themed treats, and adults or teens to escort kids or provide supervision between homes.
Drive-by Candy Distribution
It's been done for birthdays and graduations, so why not decorate the car with a Halloween theme and drive to several houses to gather treats. Go all out with lights, glow sticks and streamers.
How to pull it off: Establish participants and kick-off time. Email a map of participating addresses. Make sure one family member stays home to distribute treats from the sidewalk to each passing car.
Drive-in Movies
Share a bit of childhood nostalgia with the kids and support local venues like the Santee and South Bay Drive-ins (check that movies are kid-friendly). Or, support the arts at the recently relocated drive-in hosted by California Center for the Arts, Escondido—now at Cal State San Marcos. Buy presale tickets online at www.artcenter.org. Don't forget popcorn, candy, blankets and cocoa.
Virtual Bake-Off
"One of the most fun things my family has done during quarantine is create our own version of Netflix's 'Nailed It'," says Lisa of Kearny Mesa. "We hold a bake-off and then attempt to decorate a super fancy cake in a short amount of time. The results are hilarious and it keeps us connected."
How to pull it off: Invite family and friends online with a Zoom link and list of supplies: cake ingredients, a variety of frostings and colorful sprinkles. Browse Pinterest to find a challenging Halloween-themed cake as inspiration. At your virtual gathering, share the cake image. Each team tries to recreate the same cake in a short time period. The idea is not perfection, but laughs and creativity.
Ultimate Night In
Carve jack-o-lanterns with your family and put on a favorite movie. Construct a pillow fort with twinkle lights. Make Halloween themed snacks or support a local restaurant or bakery by ordering takeout or splurging on amazingly decorated treats.
Share Some Love
This year is extremely difficult for many. Consider giving back by inviting families to donate to a cause that is important to you. Decorate a box for donation drop-offs.
Health & Safety Tips
Distribute toys rather than candy to prevent eating before hand-washing.
Have a daytime celebration since Halloween falls on a Saturday this year.
Agree on safe handling of items ahead of time.
Keep your celebratory group small with families of similar risk level.
Wear masks – everyone will be in style on this day in particular.
Practice social distancing.
Keep the celebration outdoors.
____________
Cherie Gough is a local writer whose family loves creating unique Halloween costumes and decorations.
Discover more Halloween crafts, recipes, games and fun in our Halloween Round-Up.
____________