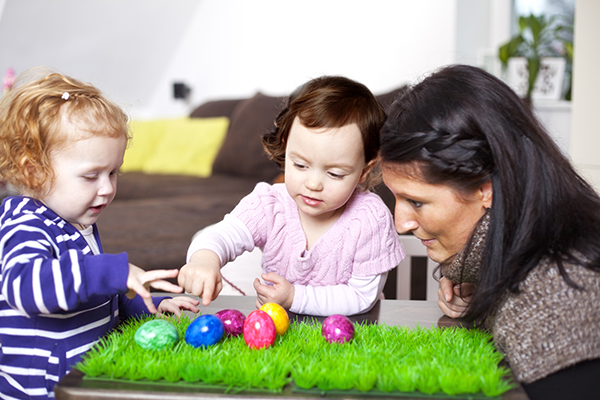 Have you ever considered having an Easter-themed playdate for your toddler and his friends? Easter egg hunts are fun, but they can be overwhelming for toddlers, especially if older children are involved. So why not plan your own playdate with fun activities that are sure to actively engage your toddler?

Here are five simple, fun ideas for an Easter-themed playdate for toddlers.

Be Silly
Start the playdate with some silliness. Toddlers love to giggle, so start with some silly songs, a dance (do the bunny hop!), or put on a silly sock puppet show.

Bring Out the Sensory Bin
Fill a large bin with pastel-colored items (blocks, shapes, balls, plastic eggs, etc.). Then, fill it with green Easter basket grass to make it soft, and let the toddlers enjoy finding and exploring the different items.

Make an Easy Craft
A perfect craft for toddlers that makes no mess is a tissue paper Easter egg collage. You'll need multi-colored tissue paper, cut into a bunch of small squares, a colored piece of cardstock cut into the shape of an egg with the center cut out, and sticky-backed paper. Stick your egg onto the sticky back paper, and show your toddler how to place the pieces of tissue paper onto the sticky back paper. When finished, you have a beautiful "stained glass" egg to display.

Decorate Easter Eggs
Allow toddlers to decorate previously dyed Easter eggs with crayons and stickers. This allows them to decorate without moms worrying about getting dye everywhere.

Make a Fun, Festive Snack
• "Paint" Easter egg shaped sugar cookies. With just a few small brushes and colored frosting, children can paint their own sugar cookies and eat them!

• Make Easter Chex mix. Combine Chex cereal, mini marshmallows and jellybeans in a bowl. Melt pastel-colored candy melts and drizzle over the top. Serve in cupcake holders.

• Make Easter Peep Pops. Stack different colored marshmallow Peeps on long lollipop sticks. These are fun to make and eat!
---
For more toddler playdate ideas, check out 8 Fun, Educational Activities Using Jellybeans.
---
---------------------
Alexa Bigwarfe, mother to three small children, enjoys gathering with other moms and watching their children play.