Carmel Mountain Ranch | Escondido | Poway | Ramona | Rancho Peñasquitos | San Marcos
Click on the Name or Address links to go to Google Maps for directions.
This original content is created and maintained by San Diego Family Magazine. Unauthorized use of this content is prohibited.
Fairway Village, east and west sides of Stoney Gate Pl. 100+ homes decorated in "Holiday Magic." Dec. 15–Jan. 1.
ESCONDIDO 92025
340 N. Escondido Blvd. Peace Family Light Show at the California Center for the Arts, as featured on ABC's "The Great Christmas Light Fight." Musical lights and new interactive Harry Potter display. Nov. 27–Jan 2.
www.peacefamilylights.com
Northern Lights. California Center for the Arts, Escondido will be transformed into a fantasy of light. After sunset, enjoy tunnels of twinkling lights, LED Christmas trees, light shows and a Hogwarts Platform 9¾-themed light extravaganza at the historical train depot. Free. Nov. 26–Jan. 3. 340 N. Escondido Blvd. www.artcenter.org
Wild Holidays at the Safari Park offers a wild wonderland with twinkling lights, holiday music and seasonal treats. Weekends in Dec. & Dec. 26–Jan. 2. 15500 San Pasqual Valley Rd. www.sdzwa.org
POWAY, 92064
12631 Stoutwood St. Off Twin Peaks Rd. & Deerwood St. Nicknamed "The Griswolds." Dec. 1–Jan. 1.
Hickory Ct., Hickory St., Butterwood Ct., Rockrose Ct. All off Twin Peaks Rd. & Silverset St. named "Candy Cane Lane." Entire cul-de-sacs are lit up. Dec. 1–25.
RAMONA, 92065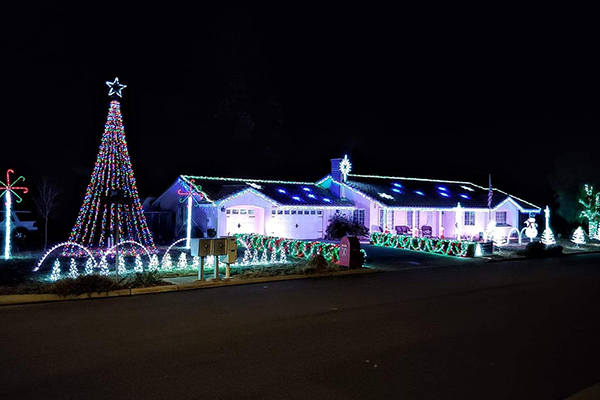 23542 Bassett Way. "Happy Lights Ramona" light show with 30,000+ lights animated to music on 106.9 FM. Nov. 27–Jan. 1.
RANCHO PEÑASQUITOS, 92129
Oviedo St. off Black Mountain Rd. "Christmas Card Lane." Also enter off Twin Trails Dr. & Carmel Mountain Rd. or park at Sunset Hills Elementary School and walk. Dec. 1–31.
SAN MARCOS, 92078
2516 Rockdale Pl. Known as "The Griswold's," over 21,000 lights decorate this home and entire cul-de-sac. Come enjoy a candy cane and check out the lights. Wear your sunglasses! Nov. 27–Jan. 2, 5:00–9:30 pm.
251 Glendale Ave. A 'classic' look with warm white lights, garland and clean lines with classic Christmas tunes on 89.9 FM. Dec. 1–25.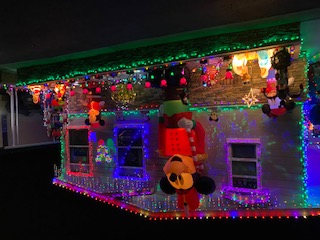 1145 E. Barham Dr. #211–212. Two Disney homes side by side with thousands of lights, animation, blow up characters and a 14-ft. Mickey toy solider. Dec. 1–Jan. 1.
For even more fun on your Christmas lights tour, print out San Diego Family's free Christmas Lights Scavenger Hunt!

___________


You are encouraged to share this page with friends! If you wish to reproduce San Diego's Map of Christmas Lights (or related content) for any reason, please obtain permission by emailing This email address is being protected from spambots. You need JavaScript enabled to view it.. The "map" and all related content are created and maintained by San Diego Family Magazine. We are happy to share current, updated information as long as proper credit is given to San Diego Family Magazine. Unauthorized use is prohibited.
______________

Would you like your decked out house or neighborhood included in next year's Map of Christmas Lights? Email your name, address and photos to This email address is being protected from spambots. You need JavaScript enabled to view it. for consideration.