El Cajon | Lakeside | La Mesa | Lemon Grove | San Carlos | Santee | Spring Valley
Click on the Name or Address links to go to Google Maps for directions.
This original content is created and maintained by San Diego Family Magazine. Unauthorized use of this content is prohibited.
EL CAJON, 92019, 92020, 92021
1552 Cajon Greens Pl. Thousands of lights plus yard decorations synchronized to holiday music on 97.7 FM. Nov. 25–Jan. 2.
Jingle Bell Hill (also known as Pepper Dr. Lights). Solomon Ave./Pegeen Pl. and surrounding area. Off 67 & Bradley. Dec. 2–25.
11456 Pegeen Pl. "Nightmare Before Christmas" theme, complete with Jack, Sally, Zero, the Mayor & Oogie Boogie. Santa may make a surprise visit through Christmas Eve. Nov. 26–Jan. 2.

9777 Valley Ranch Rd. Houses of lights programmed to 87.9 FM. Giant dazzling trees and a winter wonderland of computerized lights and music show. Nov. 27-Dec. 26.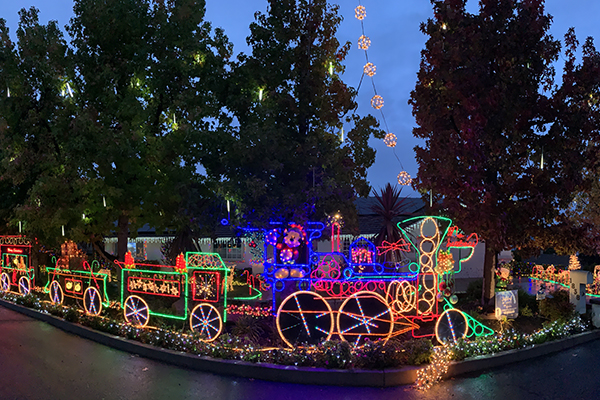 1838 El Pico Dr. Off Hacienda Dr., Fletcher Hills. The 57th year decorating the 18-ft. star sitting on top of an 80-ft. twinkling tree of over 4,000 lights overlooking El Cajon Valley. Also experience over 70,000 programmed lights, a 55-ft. automated train and a view into Santa's Workshop. Dec. 5–31.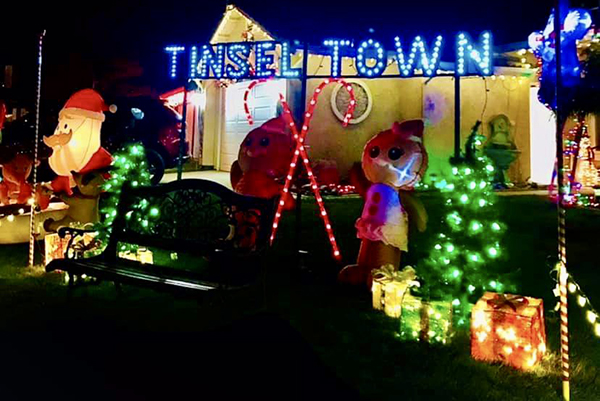 10248 Paseo Palmas Dr. 20+ houses nicknamed "Tinsel Town." Dec. 7–25.
6266 De Camp Dr. Magical lights and music display featuring a 22-ft. tree of twinkling lights with synchronized music that you can tune into on your car radio. Dec. 1- 25.
2034 Ensenada St. A "Winter Wonderland" theme. Nov. 25–Jan. 1.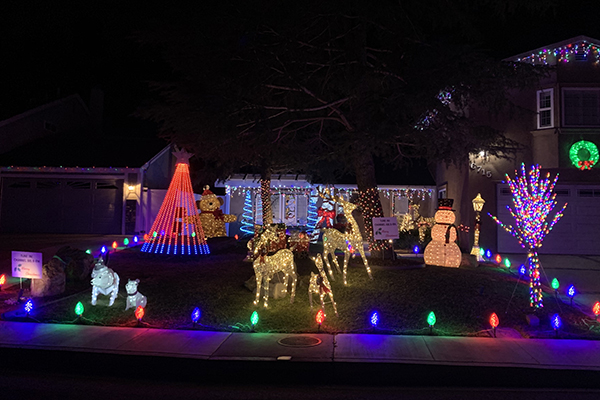 6715 Tuxedo Rd. A Winter Wonderland with an RGB musical tree synchronized to holiday music. Nov. 28–Dec. 26.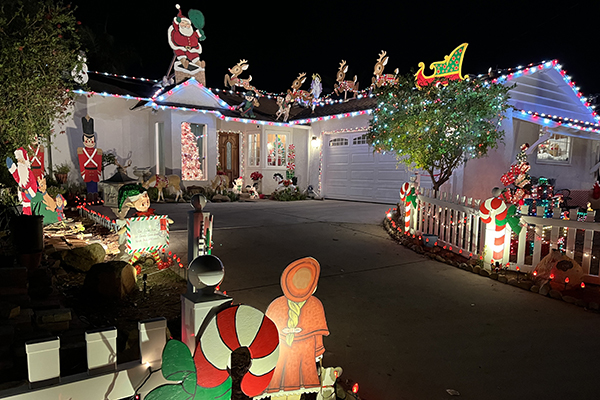 6296 Lake Arrowhead Dr. See Santa jumping down the chimney while his reindeer wait nearby, six animated window scenes, toy soldiers, a snowman nativity scene and more. Dec. 1–25.
SANTEE, 92071
Starlight Circle/Sunburst Santee. Tomel Court, off North Magnolia Ave. 75 homes lit up in an easy-to-drive circle. Dec. 1–31.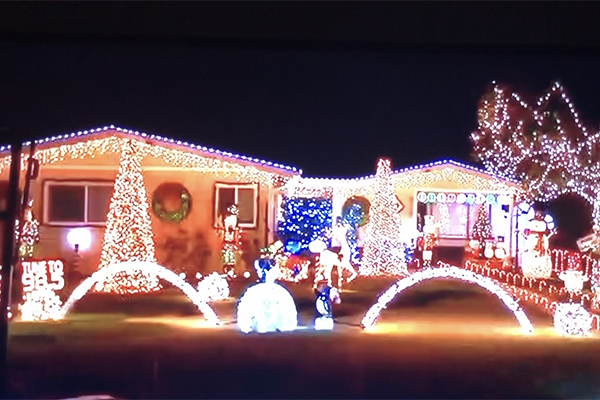 8728 Lind Vern Ct. 38,000 lights synchronized to music on 98.5 FM. Nov. 26–Dec. 31.
9325 Pebble Beach Dr. Full light display on home and yard set to music. Dec. 1–31.
8575 Shanes Way. The sights and sounds of Christmas with a 25-ft tree of light and more. Thousands of lights dance to over 30 Christmas songs on 91.3 FM. Dec. 1–31.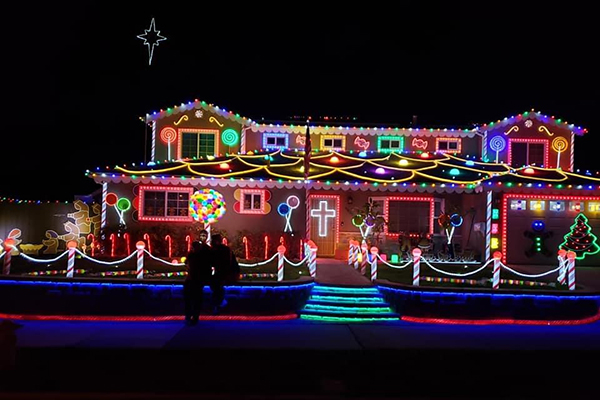 9435 Saint Andrews Dr. The Santee gingerbread house with over 16,000 LED lights. Nov. 29–Jan. 1.
SPRING VALLEY, 91977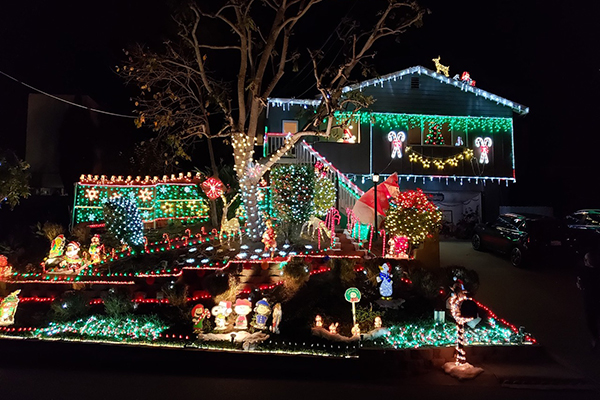 4037 N. Bonita St. Lots of lights, music, penguins, Snoopy, Mickey, Minnie and Santa in the window. Dec. 10–Jan. 3.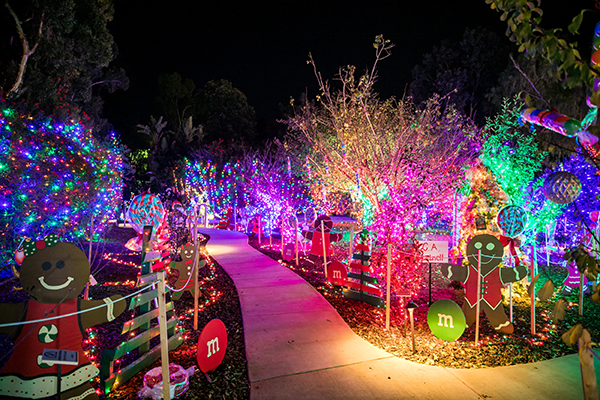 Noah Homes Enchanted Village. 8-acres of brilliantly lit trees, magical cottages, light tunnels, giant candy canes, over 200,000 lights, interactive displays and more. Dec. 17–22, 5–8 p.m. $9.99–$19.99. All proceeds benefit Noah Homes. 12526 Campo Rd. www.enchantedvillage.org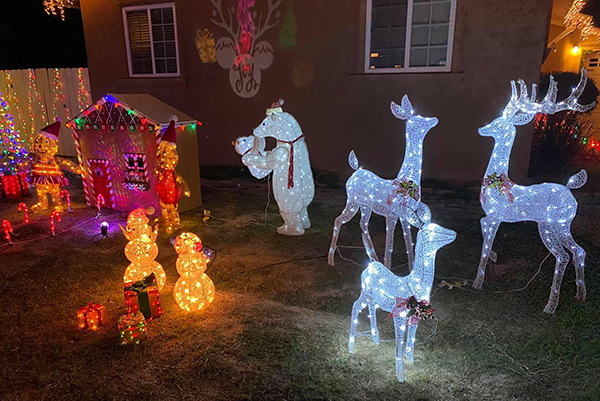 1333 Darby St. Gingerbread lane. Dec. 1–25.
For even more fun on your Christmas lights tour, print out San Diego Family's free Christmas Lights Scavenger Hunt!

___________
You are encouraged to share this page with friends! If you wish to reproduce San Diego's Map of Christmas Lights (or related content) for any reason, please obtain permission by emailing This email address is being protected from spambots. You need JavaScript enabled to view it.. The "map" and all related content are created and maintained by San Diego Family Magazine. We are happy to share current, updated information as long as proper credit is given to San Diego Family Magazine. Unauthorized use is prohibited.
___________
Would you like your decked out house or neighborhood included in next year's Map of Christmas Lights? Email your name, address and photos to This email address is being protected from spambots. You need JavaScript enabled to view it. for consideration.