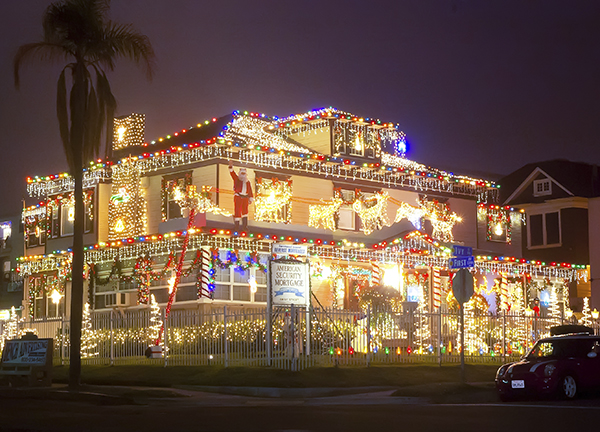 Click on the Name or Address links to go to Google Maps for directions.
The Forward House in Bankers Hill. 22nd Annual Holiday Lighting Display at The Forward House, built for San Diego Mayor John Forward, Sr. in 1905. Santa promises to remain socially distant by making a pre-Christmas stop upon the roof in his sleigh on Dec. 19 between 6-8 pm. All visitors receive a candy cane. 108 Ivy St. (1st & Ivy). Nov. 26- Dec. 31, 5–10 pm. americansecuritymortgage.net


South Park's Luminaria Season.

Trees, lamp posts, roofs and courtyards all decorated with lights. Along 30th St. and Fern St. from Juniper to Grape to Beech. Nov.23-Jan. 8. southparksd.com
For even more fun on your Christmas lights tour, print out San Diego Family's free Christmas Lights Scavenger Hunt!

___________
You are encouraged to share this page with friends! If you wish to reproduce San Diego's Map of Christmas Lights (or related content) for any reason, please obtain permission by calling San Diego Family Magazine at 619-685-6970 or emailing This email address is being protected from spambots. You need JavaScript enabled to view it.. The "map" and all related content are created and maintained by San Diego Family Magazine. We are happy to share current, updated information as long as proper credit is given to San Diego Family Magazine. Unauthorized use is prohibited.
___________