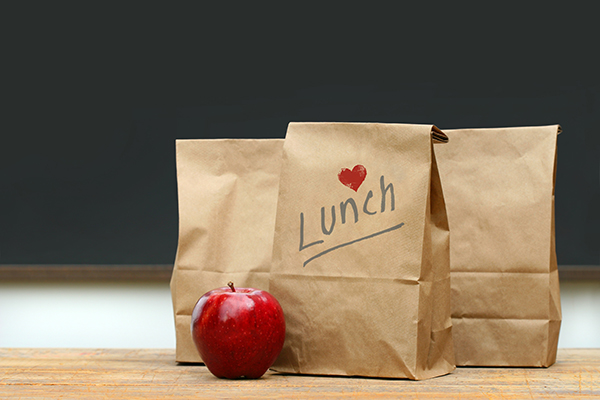 Get kids excited about taking lunch to school by offering plenty of variety. Tailor this list of 52 lunchbox ideas to your child's preferences. Discover her favorites and plan them once a week. Consider planning school lunches one month at a time, using a dry-erase calendar or typing and printing a list. Have fun and make school lunches something your child looks forward to eating. Be sure to consider accessibility to a refrigerator and microwave.


DIY "lunchable": Whole-wheat crackers, chunks of cheese and slices of meat


Bagel and cream cheese


Mini pizza: English muffin, pizza sauce, cheese, pepperoni


Banana slices and peanut butter with a handful of popcorn


Ants on a log: Celery sticks with peanut butter (or cream cheese) and raisins on top


Apple sandwiches: Slice apples into rings and spread peanut butter on each piece


Cottage cheese mixed with fruit


Hot dog cut into bite-sized pieces with ketchup for dipping


Hard-boiled egg and a smoothie


Bacon, lettuce and tomato (BLT) sandwich


Sliders (mini hamburgers with cheese)


Hummus and vegetables


Pita pocket stuffed with sliced meat, lettuce and mayonnaise


Chili with cheese sprinkled on top


Soup packed in a Thermos to stay warm


Salad with your child's favorite toppings. Put dressing in a separate container.


Fruit kabobs with yogurt for dipping


Turkey and cheese sandwich


Peanut butter and marshmallow creme (fluff) sandwich


Pancakes or waffles (syrup in a separate container)


Mini muffins with fruit


Omelet


Breakfast casserole (hash browns, eggs, meat, cheese)


French toast sticks (syrup on side)


Yogurt parfait with homemade granola (rolled oats, chia seeds, flax seeds, brown sugar & salt)


Macaroni and cheese


Pasta with frozen peas and carrots (they'll thaw by lunchtime)


Zucchini bread, applesauce bread or pumpkin bread with a side of applesauce or yogurt


Cereal and fruit (buy milk at school)


Chicken nuggets with dipping sauce


Grilled cheese (add tomatoes or bacon) with cup of tomato soup


Quiche with side salad


Baked potato with cheese, broccoli and/or bacon


Tuna sandwich and chips


Cheese quesadillas with side of refried beans


Burrito with tortilla chips & salsa


Sliced chicken breast with rice and vegetables


Cheese plate (variety of cheeses with crackers, olives or fruit)


Egg salad sandwich and pretzels


Ham and cheese croissant sandwich


Pigs in a blanket (hot dogs baked in crescent roll dough)


Spaghetti with meatballs

Tacos (assemble at school)


Fish sticks with tartar sauce


Panini and chips


Lettuce wraps (bib lettuce with toppings that can be rolled up inside)


Stir fry and rice


Calzone (pizza dough stuffed with cheese, pepperoni and sauce)


Chicken salad sandwich and grapes


Pulled pork sandwich


Nachos


Sloppy joe
---
Meagan Ruffing is a freelance writer. She was inspired to write this article when her son kept coming home from school with lunch still in his bag.


Discover 6 Grab-and-Go Breakfasts for Hurried School Mornings.