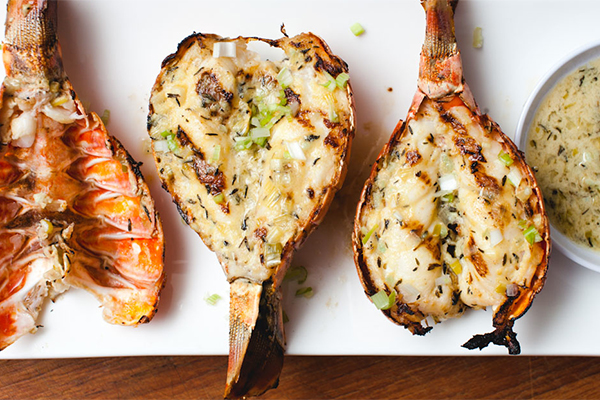 Father's Day at my house is centered around the backyard—and that means grilling. A special day requires special food, and that means lobster tails. Simple and delicious, you can eat them right off the grill or—even better—with warm tortillas for a ridiculously good taco.


Serves: 4

Ingredients
1/3 cup butter
1 tablespoon fresh thyme, chopped fine
2 tablespoons Dijon mustard
Juice of one lemon
2 cloves garlic, minced
1/3 cup green onions, finely diced
4 lobster tails

Directions
1. Mix all ingredients (except tails) in small pot over low heat until melted.
2. Using kitchen shears or really good scissors, cut right up the middle of the shell towards the tail, but don't cut through the tail.
3. Using the cut as your guide, take a good knife and cut down through the meat but do not cut through the bottom shell.
4. Pull back the sides of the shell to expose the meat and brush well with the butter mixture.
5. Heat grill to medium high and grill meat-side down for approximately 5 minutes, then turn over and cook another 3-4 minutes or until done.

Serve with extra butter sauce.
---------------
Find more recipes and classes by Sam the Cooking Guy.