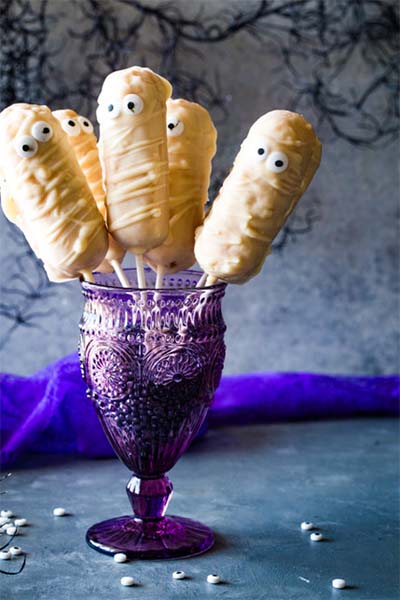 Mummy Pops
These no-bake treats from local food blogger, The Seaside Baker, are frighteningly delicious! Mummy Pops are perfect for a Halloween party, neighborhood block party or to give to friends and classmates. Find more Halloween-themed desserts from The Seaside Baker at www.theseasidebaker.com.
Servings: 12
Ingredients
2 cups white melting chocolates
1 teaspoon coconut oil
12 Twinkies, unwrapped and chilled
12 lollipop sticks
24 candy eyes
Directions
Melt white chocolate wafers and coconut oil in a tall and narrow glass for 1 minute. Allow to sit for one minute, then stir until smooth.
Dip each lollipop stick tip into chocolate then insert 1/3 into a Twinkie.
Dip entire Twinkie into chocolate to coat. Place on a lined cookie sheet to dry.
Pour remaining chocolate in a plastic baggie and snip the corner. Drizzle lines onto coated Twinkies. Add candy eyes.
Store in an airtight container for up to two days.
More No-Bake Halloween Treats
______________________