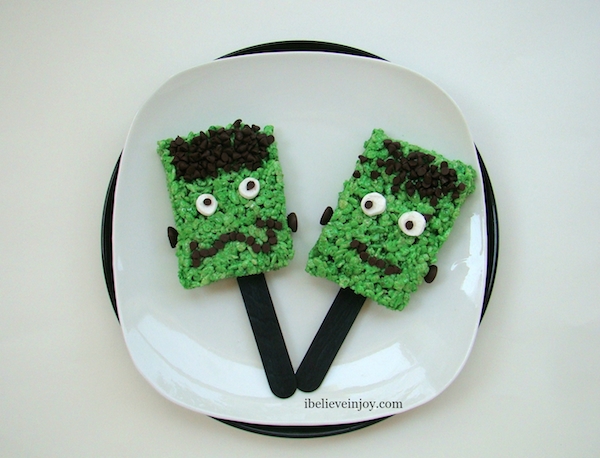 My great grandma always made crisp rice treats for special occasions. As a tribute to her memory, my girls and I created a Halloween treat that everyone will enjoy. See below for instructions on an allergy-free version of the spooky snack.
Ingredients for Frankenstein Pops
3 Tbs. organic coconut oil
10 oz. bag regular-size marshmallows + one mini marshmallow*
Green food coloring*
6 cups crisp rice cereal*
Mini chocolate chips*
Directions
Grease a 9x12 dish. Put coconut oil, regular-size marshmallows and food coloring into a large microwave-safe bowl. Stir to coat the marshmallows (helps them melt). Microwave the mixture for about 60 seconds; carefully stir, heat another 15­–30 seconds, or until fully melted. Immediately add rice cereal and stir until color is fully blended. Pour mixture into dish and press down (with spoon) evenly. Allow to fully cool. While still soft, cut into rectangles. (Optional: insert black craft stick.) Slice the mini marshmallow and press onto treat for eyes. Press a chocolate chip into the center of each eye. Press chocolate chips into treat to make a smile, Frankenstein's hair, and bolts on both sides of head. (Tip: point chocolate tips downward for a secure hold.)
Did you know? You can make green food coloring using natural ingredients. Chop 1 cup of fresh spinach, put in a saucepan and add water to cover. Bring to a boil, simmer until concentrated and strain out spinach leaves. Use the liquid as a substitute for green food coloring.
Note: Adults should do the cooking and verify ingredients for your own allergies.
*To make a healthier, allergy-free version of this recipe, substitute marked ingredients with Dandies Vegan Marshmallows (regular and mini), Barbara's Organic Brown Rice Crisps Cereal, Enjoy Life Mini Chocolate Chips and make your own food coloring (see "Did you know?" above).

Mom blogger Joy Brownlee enjoys creating allergy-friendly snacks for her three daughters. Follow her at www.ibelieveinjoy.com.