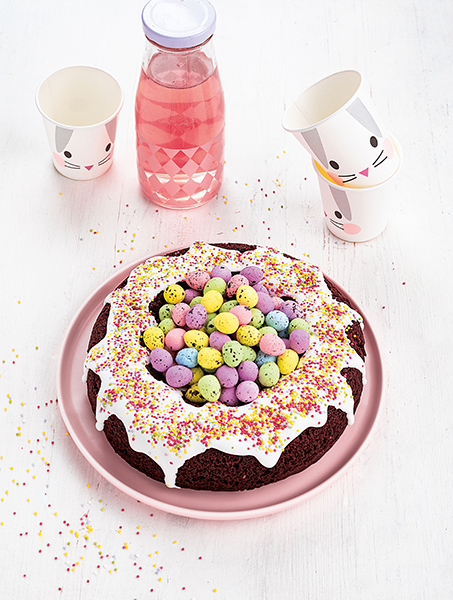 Easter "Nest" Bundt Cake
The kids will love filling this cake "nest" with festive mini chocolate eggs or candy in spring colors. Find more great recipes, designed especially for kids, in Cakes for Kids: 40 Easy Recipes that Will Wow!
Serves 6–8
Prep: 40 mins.
Baking time: 35 mins.
Ingredients
7 oz. dark chocolate
1/2 cup unsalted butter + more for pan
4 eggs
2/3 cup granulated sugar
3/4 cup all-purpose flour + more for pan
1 ½ tsp. baking powder
Pinch of salt
– To decorate
1 egg white
1¼ cups powdered sugar
5 drops lemon juice
Multicolored sprinkles
1 bag mini chocolate eggs or spring-colored, egg-shaped candies
Directions
Preheat oven to 350 degrees.
Break dark chocolate into pieces, cut butter into cubes. Transfer both to a measuring cup and melt in the microwave.
Separate egg yolks and whites into two separate bowls.
Beat sugar and egg yolks until the mixture is light in color. Add melted chocolate and mix well.
Sift the flour and baking powder together, then whisk into the chocolate mixture.
Add salt to egg whites and whisk until stiff peaks form. Gently fold egg whites into the cake batter.
Butter and flour a Bundt pan; then pour cake batter into pan.
Bake for 35 minutes. Keep baking for a few minutes if the cake isn't done.
Cool cake to room temperature before removing it from the pan.
Make royal icing: whip one egg white, powdered sugar, and lemon juice together until smooth. Add more powdered sugar if the icing looks too thin, or a few drops of lemon juice if it looks too thick.
Pour the icing over the top of the cake, letting it drip down the sides, but without covering it completely.
Add sprinkles right away so they stick to the icing. Let the icing set for 1 hour at room temperature.
Transfer the cake to a serving plate and fill the center of the cake with chocolate eggs or candies.
_________
Recipe from "Cakes for Kids: 40 Easy Recipes that Will Wow!" by Juliette Lalbaltry. Photography by Delphine Constantini. Reprinted by permission of Gibbs Smith.
_________