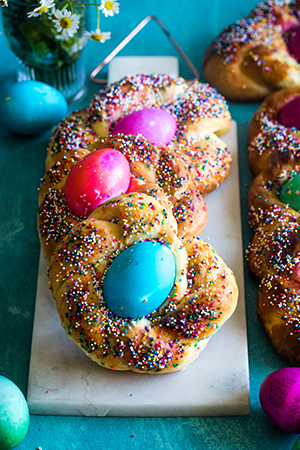 As a child, my grandfather always made this beautiful braided bread for Easter, just as his mother did throughout his childhood. I was always fascinated with the colorful eggs tucked so delicately in between the braids.
Prep: 35 mins.
Chill: 8 hours
Rise: 3 hours
Bake: 22 mins. for small rounds; 40 mins. for large braid
Ingredients
– Sponge
1 cup all-purpose flour
2¼ tsp. yeast
½ cup milk, warm
– Brioche Dough
6 large eggs
½ cup sugar
1 tsp. salt
3 cups all-purpose flour
1 cup butter, softened
8-10 RAW colored eggs (dye eggs as you would normally)
– Egg Wash
1 large egg
1 tsp. water
Nonpareils (colored sprinkles)
Directions
In electric mixer or large bowl, mix "sponge" ingredients: flour, yeast and warm milk. Cover with a cloth or plastic wrap and let sit for 45 minutes.


Once the sponge has rested, add eggs, sugar, salt, and remaining flour. Fit mixer with hook attachment (unless kneading by hand) and knead until dough pulls away from the sides of the bowl and becomes shiny and elastic.


Add butter and knead on medium speed for another 5-10 minutes on or until smooth again.


Transfer dough to a well-greased bowl, cover and place in a dark spot in your kitchen for one hour or until it doubles in size.


Once doubled, punch down, then chill for 8 hours.


Line baking sheets with parchment paper or foil.


Once chilled, begin to form the dough.


For the small rounds, roll out a long rope of dough (about 18" long and 2" thick).


Pinch one side of the edges together then twist and roll the dough into a coil. Place on the prepared baking sheet and tuck the end of the twist under the coil.


Place no more than 4-6 on a parchment-lined baking sheet and space them 2 inches apart. Place one raw, colored egg carefully in the center of each coiled round.


For the large braid, roll out two 18" long ropes of dough, place on parchment lined baking sheet in a cross position with the vertical rope underneath the horizontal rope. Lift the lower side of vertical rope up and over the horizontal rope. Lift the left side of the horizontal rope up and over to the right, followed by the right horizontal rope up and over to the left. Repeat steps again until the end of the braid. Pinch together the ends to secure. Gently push raw colored eggs into the braid.


Cover the rounds and/or braid, allow dough to come to room temperature and rise for one hour.


Preheat oven to 350 degrees.


Whisk together egg and water. Brush the breads with egg wash, then sprinkle with colored nonpareils.


Bake bread until golden brown, about 22–25 minutes for the small rounds and 40–45 minutes for the large braid. Cool to room temperature and enjoy!
To see photos of the process step-by-step, visit Jackie's post at www.theseasidebaker.com.
Jackie Bruchez is an Oceanside mom and food blogger at www.theseasidebaker.com.
________