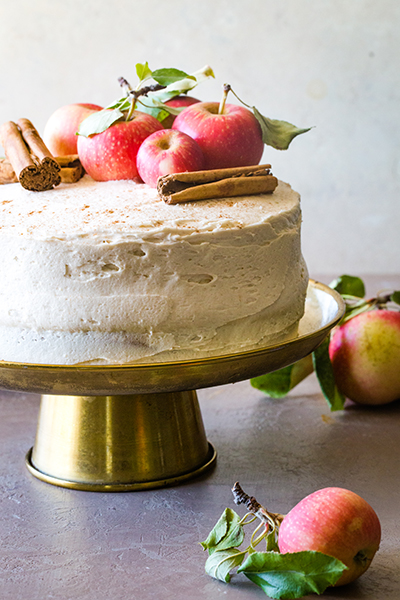 Your family will love this delicious autumn treat—rich, moist apple cider cake, frosted with apple cinnamon frosting. Thank you to local food blogger, The Seaside Baker, for sharing your recipe with us!
INGREDIENTS
CAKE
3 cups all-purpose flour
1 Tablespoon baking powder
1 teaspoon cinnamon
¼ teaspoon ground nutmeg
⅛ teaspoon ground allspice
⅛ teaspoon ground ginger
⅛ teaspoon ground cardamom
½ teaspoon salt
½ cup unsalted butter, room temperature
½ cup vegetable oil
1½ cups granulated sugar
4 large eggs, room temperature
1 Tablespoon vanilla extract
1¼ cups buttermilk, room temperature
¼ cup boiled apple cider (store-bought, or see recipe below to make your own)
APPLE CIDER FROSTING
1 cup unsalted butter, room temperature
1 teaspoon vanilla extract
1 teaspoon cinnamon
⅛ teaspoon salt
4 cups powdered sugar
3 Tablespoons boiled cider (store-bought, or see recipe below to make your own)
Preheat oven to 350 degrees.
DIRECTIONS
To Make the Cake:
Grease and flour two 8-inch or three 6-inch round cake pans.
Sift together flour, baking powder and spices in a large bowl; set aside.
In the bowl of your mixer, beat together butter, oil and sugar until pale and fluffy (2-3 minutes).
Scrape down sides of bowl and add eggs, one at a time, beating thoroughly before each addition.
Stir in vanilla extract.
In a separate bowl, combine buttermilk and boiled cider.
Gradually alternate adding the dry mixture and the buttermilk/cider mixture to the butter/egg mixture (3 flour additions, 2 buttermilk additions), mixing only until just combined. After all ingredients have been added, stir batter a few more times with a wooden spoon or spatula.
Evenly spoon batter into prepared pans. Bake 8-inch cakes 25-27 minutes (6-inch cakes 20-22 mins.) or until inserted toothpick in center comes out clean.
Cool cakes in pans for 10 minutes then invert onto a cooling rack to cool completely.
To Make the Frosting:
Beat butter, vanilla, salt and cinnamon until light and fluffy.
With the beaters running on low, gradually add powdered sugar and boiled cider.
Increase mixer speed too high and beat frosting until airy, about 5 minutes.
Assembly:
If necessary, cut off cake domes using a serrated knife to level.
Place one layer of cake on a cake stand or serving plate.
Top cake with ⅔ cup frosting. Repeat with remaining layers then frost the outer sides of the cake.
If desired, use remaining frosting to pipe around the top of the cake. Sprinkle with a bit of cinnamon and top with apples, if desired.
Chill for 20 minutes before serving.
How to Make Boiled Apple Cider
Every September The Seaside Baker purchases a bottle of Boiled Apple Cider to use for baking and cocktails, until she has time to make it herself. Making boiled cider is quite easy as it requires only one ingredient—fresh apple cider. Put the cider into a pan, set on low heat, and cook until it becomes a syrupy consistency (about 5-6 hours). It does not require constant attention or stirring. Optional: Add cinnamon sticks for extra flavor. One gallon of fresh cider boils down to about 2 cups of boiled cider/syrup. Store boiled cider in a glass jar in the refrigerator for up to two months.
Recipe and photos published with permission from Jackie Bruchez. Find more of her awesome recipes at www.TheSeasideBaker.com.
____________