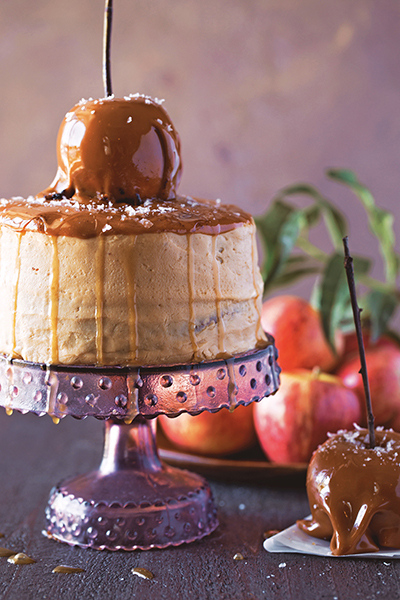 "Fall is one of our favorite times of the year, because it means Halloween and my family's birthday season is just around the corner. This cake is like our inauguration into fall — when it's on the table, our season of fun and celebration has begun!" – Jackie Bruchez, Oceanside mom, cookbook author, and food blogger at www.TheSeasideBaker.com.
Makes: 12 to 15 servings
Apple Cake
3 medium-sized apples (Granny Smith, Honey Crisp or Braeburn), peeled and cored
1 Tbsp. lemon juice, fresh or bottled
2¼ cups all-purpose flour
½ tsp. allspice
1 tsp. ground cinnamon
1 tsp. baking powder
¼ tsp. baking soda
½ tsp. salt
¾ cup unsalted butter, room temperature
1 cup light brown sugar, packed
½ cup granulated sugar
¾ cup vegetable oil
3 large eggs
1 tsp. vanilla extract
¼ cup homemade dulce de leche (recipe below)
Dulce de Leche Swiss Meringue Frosting
3 large egg whites
¾ cup light brown sugar, firmly packed
¾ cup unsalted butter, cubed and softened
¾ cup salted butter, cubed and softened
½ cup homemade dulce de leche, divided (recipe below)
1 tsp. vanilla extract
Filling
Homemade Dulce de Leche
1 (14 oz.) can sweetened condensed milk
½ gallon water, approximately
Garnish (optional)
Homemade or store-bought caramel apple
A pinch of sea salt (I prefer Maldon Sea Salt Flakes)
Directions for Dulce de Leche
To make the dulce de leche, place the unopened can of sweetened condensed milk in the bottom of your slow cooker. Fill the slow cooker with water until it's about 2 inches (5 cm) above the can. Set the slow cooker to low and cook for 8 hours. Once done, carefully remove the can from the water and set it aside to cool completely.
Directions for Apple Cake
Preheat oven to 350 degrees. Grease and flour three 8-inch or two 9-inch round cake pans.
Grate the peeled apples using a metal cheese grater. Place them in a bowl and toss with lemon juice; set it aside.
In a small bowl, whisk together the flour, allspice, cinnamon, baking powder and soda and salt; set it aside.
In a large bowl, beat the softened butter, brown sugar, granulated sugar and oil until it's well incorporated, about 5 minutes.
Add the eggs and vanilla; mix until it's combined.
With the mixer running on low, gradually add the flour mixture, mixing until it's only just combined. Fold in ¼ cup of the homemade dulce de leche to the cake batter, mixing until it's only just combined.
Divide the batter evenly into the pans. Slightly tap them to remove air bubbles. Bake 8-inch cakes for 20 to 22 minutes and 9-inch cakes for 22 to 25 minutes or until a knife inserted in the center comes out clean. Remove them from the oven and allow the cakes to cool completely in the pans on a wire cooling rack. Once cooled, remove the cakes from the pans.
Directions for Dulce de Leche Swiss Meringue Frosting
Combine egg whites and brown sugar in a clean glass bowl over a pan of simmering hot water. Whisk the mixture constantly until the brown sugar has dissolved and is no longer grainy and the mixture is warm to the touch. Transfer the mixture to a stand mixer fitted with a whisk attachment and beat the whites until stiff peaks form and it is no longer warm. Switch to the paddle attachment and gradually add the softened salted and unsalted butter cubes. Once all the butter has been added, add ¼ cup of homemade dulce de leche and the vanilla. Increase the mixer speed to high and mix for 10 minutes or until the frosting is smooth. Spoon the frosting into a large pastry bag.
Cake Assembly
To assemble the cake, trim the tops of the cakes using a serrated knife to create a level surface and place one layer on a cake stand.
Pipe a round of frosting along the outer edge of the cake layer to create a dam. Spread a thick layer of apple butter inside the frosting, then top it with a light layer of frosting over the apple butter. Repeat the layers (if using three 8-inch cakes).
Once the cake has been filled and stacked, frost the top and outside of the cake. Refrigerate it for 1 hour before serving.
If you're topping the cake with additional homemade dulce de leche, heat ¼ cup of it in a microwave-safe bowl for 15 to 30 seconds or until it is smooth, but not hot. Drizzle it onto the cold cake.*
If desired, garnish with a caramel apple and a sprinkle of sea salt.
*Note: I made the caramel apple and spread some extra caramel over the top of the cake after the cake chilled. I drizzled extra ducle de leche over the caramel.
––––––––
Reprinted with permission from Decadent Fruit Desserts by Jackie Bruchez, Page Street Publishing Co. 2019. Photo credit: Jackie Bruchez.
––––––––