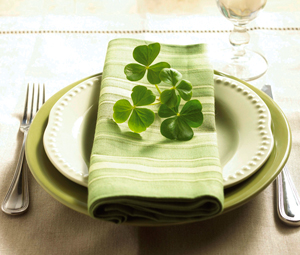 My family loves themed dinners, so it's no surprise that an Irish feast is requested every March 17. My kids know all about St. Patrick and how he was a young boy on the British coast when he was kidnapped and enslaved by Irish raiders. After his escape, he returned to the Emerald Isle to share the Christian gospel with the Celts. While a slave, Patrick worked as a shepherd, so stew was common fare, along with rustic bread and a bit of cheese. That's what we eat at our house on St. Patrick's Day. Apples and oats were also common in that time period, so we modernized dessert by making a delicious apple crisp.
Most kids can help with some aspect of this meal's preparation. Tossing beef cubes in flour, kneading and shaping the soda bread, or stirring apple crisp are all tasks that even small children can help with. Prepare a scrumptious meal together and make sweet memories in the process! Use your best judgment as to the age and maturity of your children and when they should be able to use knives or cook at the stovetop.
---
Irish Stew
2 pounds chuck roast, cut into 1-inch cubes
1/4 cup flour
1 teaspoon salt
1/2 teaspoon pepper
2 T. vegetable oil
1 small onion, finely chopped
1/2 cup beef broth
bay leaf
2 cups baby carrots
4 medium potatoes, peeled, and cut into 1-inch chunks

Place beef cubes, flour, and salt and pepper in a large zip-top bag. Seal and shake to coat all cubes with flour. In large skillet, heat oil until shimmering. Add beef cubes and brown on all sides. Do not crowd meat in pan. Do this in batches if your pan is not large enough to accommodate all the meat at one time. As meat browns, remove it to Crock Pot. Add onions to the drippings in skillet and sauté until tender. Add onions to the Crock Pot. Stir in beef broth and bay leaf. Cook on low for four hours. Add carrots and potatoes and stir gently to combine. Cook on low another four hours or until meat and vegetables are tender. Season with salt and pepper to taste.

*If you are not able to add the vegetables halfway through the cooking time, you may add them at the beginning. Reduce your total cooking time to six hours so that the vegetables do not overcook.
---
Soda Bread
1 cup whole wheat flour
1 cup unbleached white flour
1 teaspoon baking soda
3/4 teaspoon salt
2 Tablespoons oil
1 cup buttermilk

Preheat oven to 375 degrees. In large mixing bowl, combine flours, baking soda and salt. Add oil and buttermilk. Stir until a sticky dough forms. Turn out onto lightly floured surface. Knead dough lightly and shape into a 6-inch round. With a sharp knife, cut an X in the top of the dough. Place on a greased cookie sheet and bake for 25 minutes. Crust should be brown and will give a hollow sound when thumped. Enjoy warm with butter or a bit of cheese.
---
Apple Crisp
4 large apples, peeled, cored, and thinly sliced
1/2 cup brown sugar
1 tablespoon lemon juice
1 tablespoon flour
1/4 cup butter
1/2 cup flour
1/4 cup brown sugar
1/2 cup quick-cooking oats

Preheat oven to 375 degrees. Grease a 1-quart baking dish. In large bowl, combine apples, 1/2 cup brown sugar, lemon juice and 1 Tablespoon flour. Stir gently to combine. Pour apple mixture into prepared baking dish. In small mixing bowl, combine butter, 1/2 cup flour, and 1/4 cup brown sugar. Use pastry blender or two table knives held together to cut butter into flour and sugar until large crumbs form. Stir in oats. Sprinkle mixture evenly over apples. Bake for 45-50 minutes or until apples are tender and bubbly and topping is browned.
---
Find more ideas in our St. Patrick's Day Round-Up!
---
Jessica Fisher is a wife, mother of six, and a freelance writer, making her home near San Diego. She regularly writes about family fun and home management at www.lifeasmom.com.