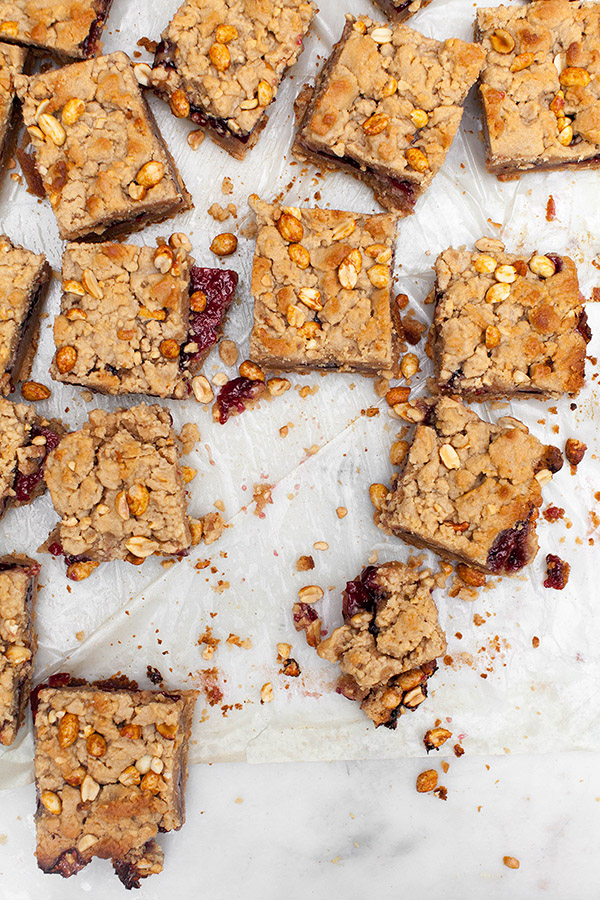 Peanut Butter and Jelly Squares are an elevated and fun twist on the classic sandwich—they make perfect after-school treats! Substitute any nut butter for peanut butter, if your family has food allergies or prefers other nuts.
Makes 12 servings.
INGREDIENTS
3 oz. butter
¾ cup sugar
1¼ cups peanut butter (or your favorite nut butter)
1 egg
2 tbsp. Colavita Extra Virgin Olive Oil
½ tsp. vanilla
1½ cups flour
¾ tsp. salt
½ tsp. baking powder
12 oz. grape jelly
½ cup chopped, salted peanuts (or your favorite nuts)
DIRECTIONS
Preheat oven to 350 degrees.
Beat butter, using a hand mixer or stand mixer, with sugar and nut butter until creamy. Add the egg, and beat until combined. Add olive oil and vanilla, beating until incorporated and smooth.
In a separate bowl, whisk together flour, salt and baking powder; then add to peanut butter mixture, mixing until just combined.
Lightly grease a 9" x 13" pan with olive oil and put parchment paper up the sides to prevent jam from sticking.
Spread half the mixture into pan. Press the dough until it is flat and covers the bottom of the pan. Reserve the remaining dough in the fridge until later.
Place foil and baking weights on top or foil and another tray to keep the crust flat. Bake 10-15 minutes; Remove weights/tray and bake another 5 min or so, until the crust has turned light brown.
Remove from oven, and while still warm, spread the jelly on top of the crust.
Crumble remaining peanut butter mixture on top, then sprinkle with chopped nuts.
Return the pan to the oven and bake another 10-15 minutes until the jam bubbles, and the top crust has turned light golden brown.
Cool, cut into squares and serve!
Recipe published with permission from Colavita. Colavita products can be purchased at San Diego retailers such as Whole Foods Market, Albertsons, Sprouts Farmers Market and Ralphs.
____________