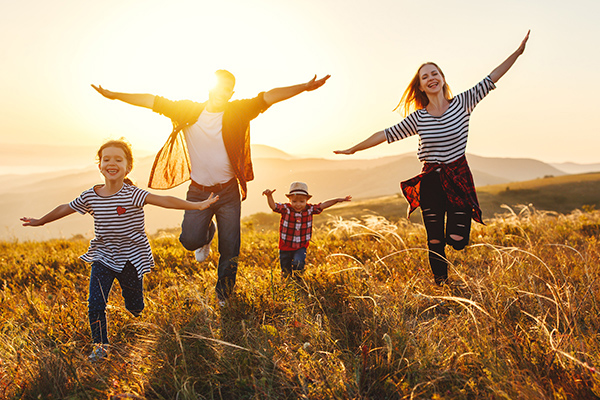 Parents may be feeling overwhelmed with uncertainty, daily news, quarantined kids at home, the prospect of homeschooling and more. San Diego Family is here to help parents navigate the new "norm", which may be scary, but IS temporary. Here's a list of unique things to do with kids, many of which double as educational activities. Don't miss the free, printable blank schedule below! Fill in with your own selected daily activities.
In the Kitchen (it's math in disguise)
Have a cooking competition
Bake brownies
Enlist the kids' help with dinner prep
Make creative snacks (get inspiration from "Snacking with Joy" posts at www.sandiegofamily.com/things-to-do/dining-and-recipes)
Fun, Educational Activities (writing, reading, STEAM)
Have a read-a-thon
Check out eBooks from the library
Write a gratitude list
Start a book club with friends (FaceTime each other to have book discussions)
Build with LEGOs
Go on an alphabet scavenger hunt (indoors or outside)
Do science experiments (find great ones at www.sandiegofamily.com/for-the-kids/family-science)
Invest Time in Others
Write letters to friends & family
Write thank-you notes to healthcare workers, first responders and grocery store employees
FaceTime Grandma
Deliver cookies to the doorstep of an isolated neighbor
Write chalk messages on the sidewalk or driveway to encourage passersby (this counts as creativity and outdoor time as well!).
Take a Virtual Field Trip
Check out the live web cams at the San Diego Zoo: https://zoo.sandiegozoo.org/live-cams
Take a virtual tour of the British Museum: https://britishmuseum.withgoogle.com/
Explore Yosemite: www.virtualyosemite.org/
Be Creative
Work on a scrapbook
Do arts & crafts (find tons of cute projects at www.sandiegofamily.com/for-the-kids/crafts-for-kids)
Paint rocks with inspirational messages and place around the neighborhood for others to find
Get Outside
Breathe fresh air
Take a walk
Go for a hike
Lay on a blanket and watch clouds
Camp out in the backyard
Bonus Tech Time
Create a fun family video to share with friends
Have a PlayStation tournament
Playtime
Have a dance party
Plan a family pajama party
Organize a tea party
Designated Family Time
Build a fort and camp out in the living room
Watch a family-friendly movie
Play board games
Have a family check-in meeting or brainstorming session
Plan a vacation to look forward to in the future
Have the kids pick a few activities that sound fun and supplement with downtime or free play. Then print the blank fill-in-yourself daily schedule (below) and post where the kids can see it. It helps minimize confusion and questions about what to expect during the day. Try to make the most of this incredibly unique opportunity for togetherness!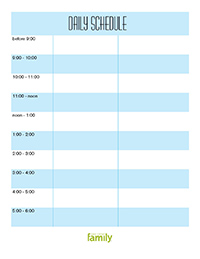 _________
Lisa Gipson is the managing editor of San Diego Family. She's working from home while quarantined with a graduate student and a Class of 2020 high school senior.
_________