San Diego is indeed spectacular—and the best way to see this gorgeous city is from up high. Enjoy beautiful panoramic vistas when your family discovers the best bird's eye views in San Diego.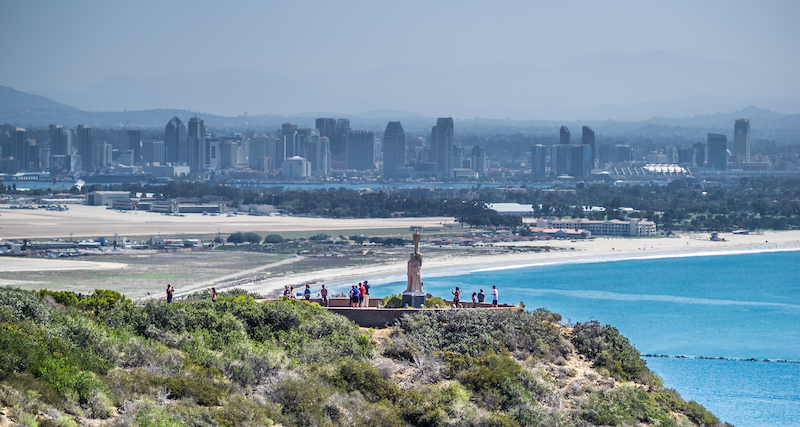 California Tower at the Museum of Us

Balboa Park

The California Tower opened for public tours in 2019 for the first time since 1935. While accompanied by a museum tour guide, climb seven stories and 125 stairs to a spiral staircase that leads to an outdoor viewing deck. With Balboa Park below and the harbor, mountains and city beyond, San Diego is an inspiring canvas of sight and color. You may even see a red-tailed hawk soar overhead. On a clear day, you may even see all the way to Mexico. Purchase tickets and reserve your time slot online.
Skyfari at the San Diego Zoo

Downtown
Before embarking on your animal adventure, take a trip across the treetops of the Zoo and Balboa Park. The gondola-like ski lift transports riders high above the trees with great views of the Zoo's lush landscape and animals below. From our swaying perch, we spotted the California Tower and magnificent San Diego skyline beyond. Free with Zoo admission.
Cabrillo National Monument

Point Loma

Cabrillo National Monument offers spectacular views of the bay, Pacific Ocean, downtown skyline, Navy ships and the Coronado Bridge. Use the educational boards located throughout the park to spot different types of Navy and civilian ships, aircraft and landscape features. Telescopes provide opportunities for closer views or borrow binoculars from the visitor's center. Check website for entrance fees, discounts and hours of operation.
Torrey Pines State Natural Reserve

La Jolla

We refer to the views from the top of Torrey Pines as "seeing to forever" because the trails offer scenic overlooks and sweeping, endless vistas of the Pacific Ocean. The paths at Torrey Pines feature miles of undeveloped coastal areas with windswept cliffs and unspoiled coastal beaches. Thank goodness we packed binoculars, as a pod of dolphins happened to swim by, giving the kids an unexpected thrill.
Mount Soledad

La Jolla


Mount Soledad (822 ft.) offers unbelievable 360-degree views of the ocean, La Jolla, north coast and Mexico. Kids love a good story, and Mount Soledad has several. One 1930s urban legend claims a group of little people who appeared in Hollywood films like The Wizard of Oz, built miniature houses on the slopes of Mount Soledad. Asked if it was true, we could not confirm or deny. What we do know is that Mount Soledad is the last known residence of Theodor Seuss Geisel, aka, the famous Dr. Seuss.
USS Midway Museum

Downtown

If the planes and helicopters of the USS Midway aren't exciting enough, the views of the busy San Diego harbor from the lofty flight deck will do the trick. Sailboats gliding by, the Coronado Bridge in the distance, and one of the best vantage points of North Island's massive Navy aircraft carriers. Visit the website for admission fees and information.
Mr. A's

Bankers Hill


Located on the 12th floor, the award-winning Mr. A's is a special occasion dining venue. Plenty of window seating provides beautiful skyline and bay views. As we sat on the outdoor balcony, the kids got excited when huge jetliners swept past us, seemingly at eye level.
Noreen L. Kompanik is a freelance writer and San Diego resident.
---

Find more family-friendly adventures in San Diego at www.SanDiegoFamily.com/out-and-about/over-600-things-to-do.
---
Do you know of an awesome place to view San Diego from above? Tell us about it! Email details to This email address is being protected from spambots. You need JavaScript enabled to view it.. Put "Bird's eye view of San Diego" in the subject line.