Wondering where to go for a delicious cup of hot chocolate? Here are San Diego shops and eateries that are worth a visit.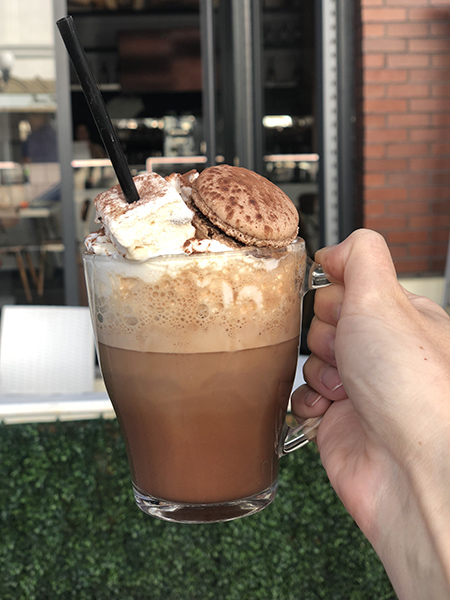 Le Parfait Paris
www.leparfaitparis.com
Liberty Public Market, 2820 Historic Decatur, Point Loma (and other San Diego locations)
Don't miss the Toasted Marshmallow Hot Chocolate topped with a chocolate macaron, a marshmallow and whip cream. So good!
Creme & Sugar
www.cremeandsugardelmar.com
2646 Del Mar Heights Rd., Del Mar
It's unlikely you'll find a more over-the-top hot chocolate experience in San Diego other than Creme & Sugar. Try one of their epic cocoa creations such as the Unicorn, Cookie Monster, Butterbeer or Wonka's River for an indulgence that is both delicious and Instagram-worthy.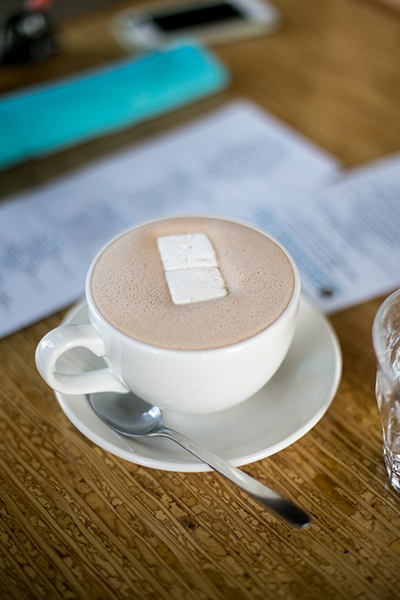 Eclipse Chocolate Bar & Bistro
www.eclipsechocolate.com
2145 Fern St., South Park
Join Eclipse Chocolate for a delicious cup of drinking chocolate. Kids love the Double Dark Cocoa, Orange Peel Vanilla and Smoked Brown Sugar drinking chocolate, but there are dozens of flavors to choose from. Bonus: Try the handmade marshmallows. Eclipse has been featured on Travel & Leisure's top 10 list of "America's Best Hot Chocolate" and the chef won an episode of "Guy's Grocery Games" on Food Network.
The Mission
www.themissionsd.com
3795 Mission Blvd., Mission Beach
2801 University Ave., North Park
1250 J St., SoMa East Village
The Mission is a local favorite breakfast spot where you'll find Mexican Hot Chocolate with Ibarra chocolate sprinkles or a traditional cup of hot cocoa. There are plenty of delicious coffee drinks for parents who prefer it. Organic soy or natural almond milk can be substituted in any drink.

Hash House a Go Go
www.hashhouseagogo.com
3628 5th Ave., Hillcrest
Hash House is the go-to place for awesome hot chocolate. The delicious blend is served in a ginormous cup with several full-sized marshmallows. It's sure to satisfy your cocoa cravings!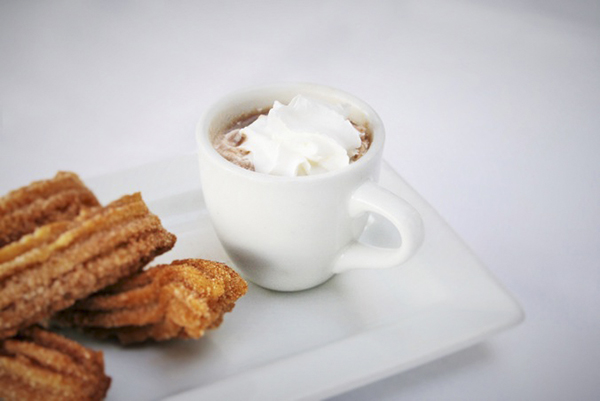 Romesco Mexiterranean Bistro
www.romescomexmed.com
4346 Bonita Rd., Bonita
Romesco's offers classic Ibarra Mexican-style hot chocolate, served with an order of churros. Tijuana's Border Churros (on the dessert menu) also include dulce de leche dip and vanilla ice cream.
Ghirardelli Ice Cream & Chocolate Shop
www.ghirardelli.com
643 Fifth Ave., Downtown San Diego
A family outing to the famous Ghirardelli Chocolate Shop is a must. Well known for ice cream sundaes, Ghirardelli also specializes in hot chocolate (of course!), such as Sea Salt Caramel Hot Cocoa, topped with whipped cream, caramel sauce and sea salt; Decadent Drinking Chocolate, made with dark chocolate chips; and classic Ghirardelli Hot Cocoa topped with whipped cream.
Farmer's Table
www.myfarmerstable.com
8141 La Mesa Blvd., La Mesa
3055 Clairemont Dr., Bay Park
550 Date Street, Suite #A, Little Italy
Family-friendly dining with farm-inspired, upcycled fixtures, Farmer's Table is a comfy setting to enjoy a rich cup of house-made hot chocolate or a Mexican Mocha.
Lazy Hippo
www.lazyhippobreakfast.com
416 Third Ave., Downtown
Rich and creamy hot chocolate is served in a tall mug and topped with a swirl of whipped cream and chocolate syrup drizzle. Sure to be the perfect addition to breakfast.
Chocolat Cremerie
www.chocolatesandiego.com
509 5th Ave., Downtown
Choose from a variety of velvety hot chocolates, traditional or mixed with spices. Yum!

Do you have a favorite place in San Diego to get hot chocolate? Tell us about it! Email the details (including what makes it special) to This email address is being protected from spambots. You need JavaScript enabled to view it..