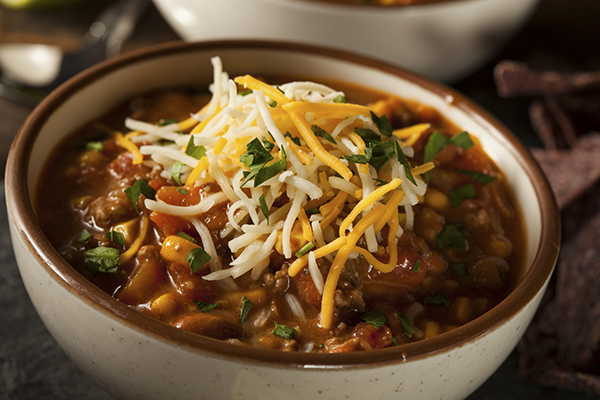 Packing fresh produce into your recipes is a great way to boost your family's vitamin intake and sneak vegetables into your kids' diet! Here's a hearty chili recipe your family will enjoy.

Serves 4

Ingredients
2 tablespoons vegetable oil*
1 large yellow onion, chopped
3 cloves garlic, minced
3 cups water*
3 cups canned no salt added canned tomatoes*
2 yellow peppers, seeded and finely chopped
2 carrots, chopped
12 oz of low sodium meatless veggie protein crumble*
1/8 teaspoon cayenne
½ teaspoon cumin
2 tablespoons chili powder
heaping ¼ teaspoon salt
2 cups canned low-sodium black beans, rinsed and drained*
¼ cup cheddar cheese (optional)
1 avocado, diced for garnish
* By choosing the meatless veggie protein crumble instead of ground beef, vegetable oil instead of butter, low sodium canned black beans, water instead of broth, and no salt added canned tomatoes instead of full sodium options, you save 199 calories, 13 grams of fat and 1272mg of sodium.

Directions
Lightly spritz a large heavy bottomed stockpot with cooking spray. Heat over medium heat. Add the onion and garlic and cook until golden brown, about 8 minutes, stirring regularly.

Add the water, tomatoes, peppers, carrots, cayenne, cumin, chili powder, salt, beans, and meatless veggie protein crumble. Stir and bring to a boil.

Reduce heat to low and simmer for 30 minutes.

Divide into 4 bowls and top each with ½ tablespoon of cheese and avocado.

Nutrition Facts (per serving):
Calories: 386; Total Carbohydrates: 45g; Total Fat: 18g; Protein: 20g; Fiber: 18g; Sodium: 590mg
---------------
This recipe was developed by the folks at Farm Fresh To You, a California company that delivers fresh, seasonal organic produce from their family farm to your doorstep. Find more information at www.farmfreshtoyou.com.