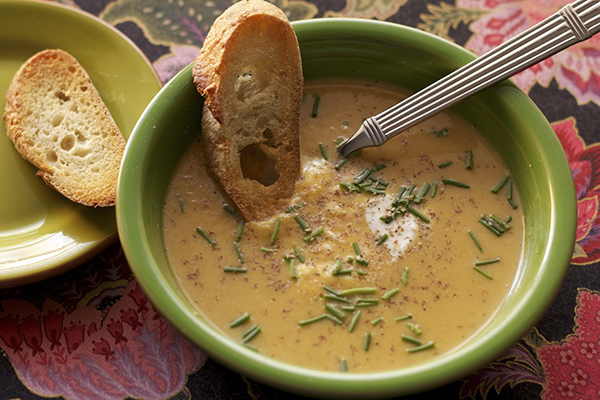 The sweetness of the potato and the tartness of the apple join forces with the aromatic spiciness of the cinnamon and nutmeg for a beautiful and soul satisfying soup.

Serves 8


1 cup diced yellow onions
3 cloves garlic, minced
1 Granny Smith apple, peeled, cored and diced
1½ Tbs. unsalted butter
2 cups low-sodium chicken broth
1 cup peeled and diced sweet potatoes
1 cup whole milk
¼ tsp. kosher salt
¼ tsp. freshly ground black pepper
1/8 tsp. ground cinnamon
2 Tbs. fresh chives
Sour cream and freshly grated nutmeg for garnish

In a large heavy pot heat butter over medium heat until the bubbles subside. Add onions, garlic and apple to the pan and sauté until soft, about 3­–5 minutes.

Add the potatoes and chicken broth to the pot and cook until tender over medium-high heat, about 15 minutes.

Transfer the contents of the pot to a blender or food processor. It you have an immersion blender this is a great time to use it so you won't mess up another container. Purée the mixture until smooth. If you used a blender or food processor pour the mixture back into your pot and add the milk, salt, pepper and cinnamon.

Adjust seasonings to taste. Heat over medium heat until starting to bubble.

To serve, divide between eight soup bowls, top with a tablespoon of sour cream, sprinkle on the chives and grate a dash of nutmeg over it.
---

Chef Sandy Axelrod has more than 40 years experience in the kitchen. She is the author of the cookbook Affairs to Remember and her blog www.foodandfondmemories.com.