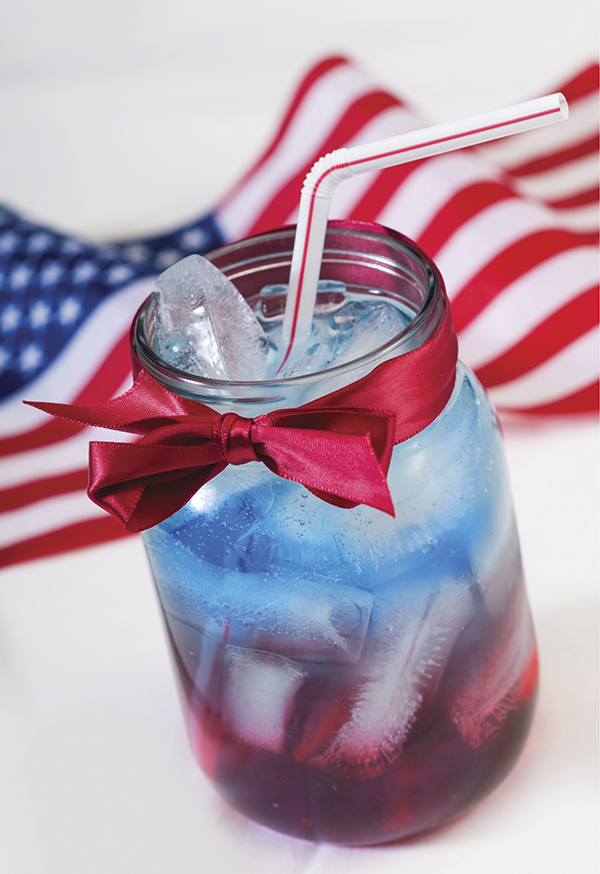 Star-Spangled Soda
Doubles as a refreshing drink and a great science experiment! It's a great addition to any cookout—Memorial Day, 4th of July or any summer celebration.

Ingredients
Cranberry juice or fruit punch (not diet or light, you need the most sugar in this section)
Blue sports drink (such as Gatorade or Powerade)
Diet 7Up (diet is necessary for this part)
Ice

Directions
Fill a cup completely with ice. Do not skip this step or the drink will not layer correctly. Slowly pour the drinks in equal amount into your glass. Start with the cranberry juice (the bottom layer should be the beverage with the most sugar). Next, gently pour the blue sports drink and then top with the clear Diet 7Up. Add a cherry for fun!

Super Mom Says: The trick to this magical drink is relative density. The beverage with the most sugar stays on the bottom and the one with the least sugar content floats at the top. You can make this cool concoction using different color combos as long as you layer your drinks correctly.
------------
Excerpted with permission from The Super Mom's Guide to Simply Super Sweets and Treats for Every Season: 80 Cakes, Cookies, Pies, and Snacks for Perfectly Imperfect Moms by Deborah Stallings Stumm. Copyright 2014, Skyhorse Publishing, Inc.