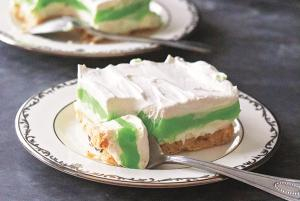 This Pistachio Torte is an easy green treat the kids can help make for St. Patrick's Day or any springtime occasion — it's one of many delicious desserts featured in The Ultimate Kids Baking Book, by Tiffany Dahle. Aren't we LUCKY — she shared her festive recipe with us! With pistachio pudding and ingredients you probably already have on hand, you'll be able to whip it up in no time.
Ingredients
1⁄2 lb. (2 sticks) salted butter, cold
2 cups all-purpose flour
1⁄2 cup chopped pecans
8 oz. cream cheese, softened
1½ cups powdered sugar
1 (8 oz.) container frozen whipped topping, thawed, divided
2 (3.3 oz.) boxes pistachio-flavored pudding mix
2 cups milk
Directions
Preheat oven to 350 degrees.
Cut the butter into small cubes with a butter knife and place them in a medium bowl. Add the flour and use two forks to mush the flour into the butter. You can also pinch the butter and flour together, using clean hands. Continue to press and blend until the dough looks like coarse crumbs and all the flour is moist. Stir in pecans.
Pour the crumb mixture into a 9 x 13 baking pan and use your fingers to evenly press into a smooth crust along the bottom. You can also use the bottom of a drinking glass to press the crust into place.
Bake for 18–20 minutes, or until crust is lightly toasted. Remove from the oven and let it cool completely to room temperature.
Place the cream cheese in a large mixing bowl. Beat with a mixer on medium speed until smooth. Stop the mixer and scrape the bowl. Add sugar and beat until well combined. Scrape the bowl again.
Add 1 cup (only) of whipped topping and gently fold it into cream cheese. Carefully spread the mixture over the prepared crust. Smooth it out with a spatula.
In a medium bowl, combine the pudding mix and milk. Beat together for 2 minutes on high speed. Use a spatula to spread the pudding mixture evenly over the cream cheese layer.
Top with the remaining whipped topping and spread evenly. Chill the torte in the refrigerator for 1 hour before serving.
Reprinted with permission from The Ultimate Kids Baking Book by Tiffany Dahle, Page Street Publishing Co. 2019. Photo credit: Tiffany Dahle.
Looking for more St. Patrick's Day fun? Find fun crafts, DIY leprechaun traps, Irish legends, traditional foods and festive treats in our St. Patrick's Day Round-Up.
_________