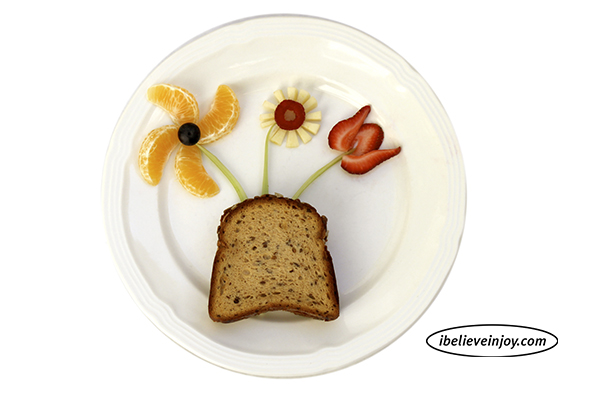 Looking for ways to jazz up snacktime at home? Have fun making healthy snacks with the kids. Let them get creative and design their own flowers made with fresh fruit. Have plenty of cut fruit available in varying colors, shapes and sizes. Some call this playing with your food, but we like to say "Snacking with Joy." This recipe is allergy-friendly.
Ingredients
orange
blueberry
apple
raspberry
strawberry
celery
sunflower seed butter (or your favorite nut free spread)
gluten-free bread
Directions
The flower box is a sandwich made with sunflower seed butter and gluten-free bread. Use a mini loaf or cut a sandwich in half. Center it at the bottom of the plate.

Flower stems: Cut a celery stalk lengthwise into 3 sections and trim to fit the plate.

Flower 1: Section an orange and arrange the slices. Place a blueberry in the center.

Flower 2: Cut apple chunk "petals" and arrange in a circle. Place a raspberry ring in the center.

Flower 3: Slice a strawberry lengthwise. Place one slice point up as the center of the rose. Cut another strawberry slice in half and arrange (as shown) to make rose petals.
Please note: All steps that involve cutting should be done by an adult.
----------
Recipe and photo by mom blogger Joy Brownlee, who likes making allergy-friendly snacks for her three daughters.