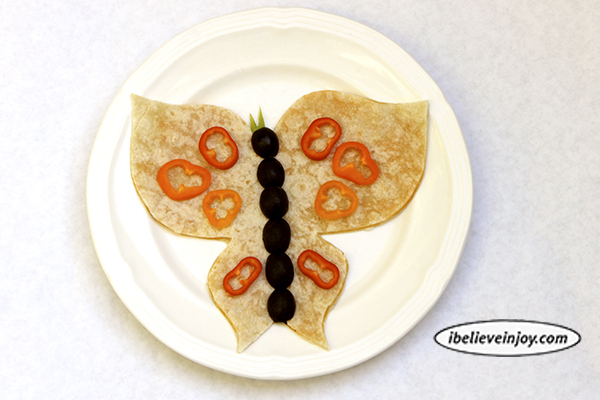 I designed this healthy butterfly fiesta snack for my girls, who are allergic to nuts. We enjoy creating afterschool snacks together and making food allergies fun! I like to call it "Snacking with Joy."
Please note: all steps that involve cutting and cooking should be done by an adult.

Fly like a butterfly with this snack that's fun to make and eat! Contains no nuts and no eggs.
Ingredients
shredded cheese
tortillas
black olives
celery
sweet mini peppers (red, orange, yellow)
Directions
1. Melt shredded cheese between two tortillas to make a quesadilla. Let cool.

2. Cut out a butterfly shape with kitchen scissors. Tip: for an easy wing design, cut the tortilla in half; then cut two "B" shapes.
-Cut olives in half and place in a row down the butterfly center.

3. Cut mini pepper rings in different colors and sizes. Create beautiful patterns by placing them on the wings. 

4. Trim a bit of celery for the butterfly antennae.
----------
Recipe and photo created by San Diego mom blogger, Joy Brownlee, who likes making allergy-friendly snacks for her daughters (ages 7, 4 and 18 months). Follow Joy at www.ibelieveinjoy.com.