Hey, foodie parents. Skip the dollar menu this weekend. These local restaurants feature real chefs, great food and play spaces for kids.
Officine Buona Forchetta
2816 Sims Rd., Liberty Station
This chef-driven spot for Neapolitan pizzas and pastas offers fresh, authentic flavors and family fun. Sip sangria on the back patio while kids play in a grassy park. They'll be busy with the teeter-totter, slide and swings while you enjoy your antipasti—but don't worry—everyone will come running when the pizza arrives. If you're feeling hungry, try the Pizza Al Metro, a two-foot long pie customizable for sharing. Whatever you do, don't skip dessert! Chef Francesca's Cremoso al Cioccolato e Nocciola will make all your chocolate dreams come true.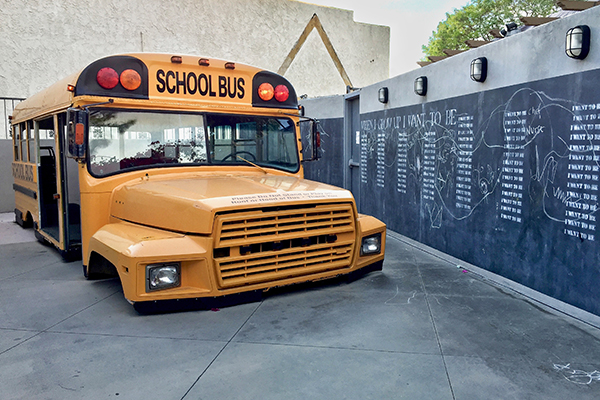 BO-Beau Kitchen + Garden
8384 La Mesa Blvd., La Mesa
Experience casual French fare in charming downtown La Mesa. Request a table in the idyllic covered courtyard, where a decommissioned school bus and chalkboards set the stage for imaginative play. While you await your entrée, indulge in Bo-Beau's legendary Brussels sprouts, prepared with pancetta and a balsamic reduction. Every selection is a good one on this small, thoughtful menu.
The Patio on 101
345 S Coast Hwy 101, Encinitas
The Patio on 101 features a special area for kids that includes outdoor games and pint-sized seating for little ones. During daily happy hour (closed Mondays), parents can enjoy drink and appetizer specials while kids entertain themselves in the designated fun area. The Santanico Pandemonium is a delicious cucumber, jalapeño, lime cocktail that won't disappoint. There's even an outdoor space for adults nearby, featuring games and comfy furniture. The menu offers a variety of American-style cuisine and share plates. Not to be missed: Crispy Brussels Sprouts with bacon and maple syrup, creamy Mac & Cheese with Andouille sausage and bao buns! That's right — The Patio on 101 offers menu items from "sister" property, Bao Beach (popular Asian fusion restaurant in Mission Beach), which means North County residents can indulge in Shrimp Bao, bulgogi, Karaage and pork belly right in Encinitas. During weekend brunch, kids can order breakfast from the kids menu.
Station Tavern
2204 Fern St., South Park
Nothing sets the tone for a relaxing weekend like burgers and beer in the heart of South Park. Station Tavern boasts a spacious "backyard" with picnic tables and dirt floors. The restaurant is dog friendly and offers an enclosed play space for children. The area includes chalkboards and a half-scale wooden trolley. While the kids play conductor, enjoy a remarkably fresh, well-seasoned hamburger, or a marinated chicken sandwich with delightful house-made barbecue sauce. Don't forget a plate of the restaurant's famous tater tots—perfectly crisp with a generous dusting of spices.
Waypoint Public
794 30th St., North Park
Come for the beer and stay for the food at this family-friendly hipster hangout in North Park. The play space is enclosed with a mini picket fence, and is often packed with new friends. Kids can lounge on beanbags while they sample an assortment of books, toys and movies. The weekend brunch menu offers a creative selection of benedicts, including the must-try Southern Belle, featuring perfectly poached eggs, a thick slice of bacon-scallion cornbread and a cheesy IPA sauce. Yum!

The Rabbit Hole
3377 Adams Ave., Normal Heights
Check out the back patio at this high-energy sports bar in Normal Heights. You'll find an inviting patch of turf and family friendly games to intrigue your little ones. Challenge the kids to cornhole, or watch as they compete in a life-sized game of connect four. The whole team will be glad you came, especially if someone orders the otherworldly pork belly tacos.
Corvette Diner
2965 Historic Decatur Rd., Point Loma
San Diego's standby for burgers, shakes and poodle skirts is still rocking after three decades. Kids love the 50's themed diner with onsite arcade. The "Gamer's Garage" offers more than 60 games from classic air hockey to new favorites like Fruit Ninja and Guitar Hero. Nostalgic décor, do-wop music, and sassy waitresses make the experience complete.
Mendocino Farms
12873 El Camino Real, Del Mar
This hip spot for next-level sandwiches offers a kid-friendly patio with cornhole, foosball and a toasty fireplace. Try the "Not So Fried" chicken sandwich with free-range chicken, crispy polenta bites, herb aioli, pickled red onions and chipotle barbecue sauce. They offer a quality kids menu, plus gluten-free and vegan options.
The Crack Shack
Little Italy and Encinitas
Fried chicken gets a huge upgrade at this family-friendly spot. Try the Coop Deville sandwich with pickled Fresno chilies, lime mayo and Napa cabbage on brioche. The outdoor seating area boasts open space for family lawn games like bocce ball and cornhole.
Soda & Swine
2750 Dewey Rd. #104, Point Loma
It's all about the meatballs at this grub-food haven. The menu boasts eight flavorful meatball choices—including vegetarian and vegan options. They're served in a sizzling skillet, over spaghetti, or stuffed in a sandwich. Pair with a craft soda, and finish with homemade apple pie. Family activities include an oversized foosball table and cornhole.
Kid-Friendly Breweries
Want to grab a drink with the kids in tow? No problem! Just remember to pick a designated driver.
Stone Brewery
Escondido and Liberty Station
Known for its ultra-hoppy IPA and classy kids' menu, Stone Brewing boasts two spacious locations for gourmet dining and family fun. Both locations offer open, outdoor spaces and lawn games like bocce ball.
Alesmith Brewing Company
9990 AleSmith Ct., Miramar
This brewery features a kids' area with toys and puzzles. Don't miss the onsite Tony Gwynn museum. Food trucks available on rotation.
Plan 9 Alehouse
155 E. Grand Ave., Escondido
If you like pub food with your beer, this brewery is your spot. A cozy corner is stocked with toys and a chalkboard to keep the little ones entertained.
Second Chance Beer Company
15378 Avenue of Science, Rancho Bernardo
Challenge your big kids to oversized Jenga and cornhole at this Rancho Bernardo brewery. Food trucks onsite in case you get hungry.
Anne Malinoski is a freelance writer and mother of two boys. Eating out is her favorite hobby.
Updated Aug. 2018
----------