A Showy, Snowy Holiday Pie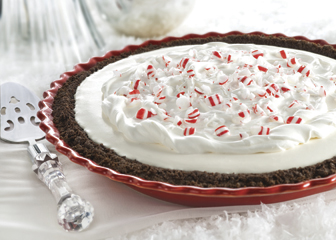 This Peppermint Snow Pie is just such a dessert - gorgeous to look at, scrumptious to eat, and very easy to make.


CRUST
1 1/4 cups chocolate graham cracker crumbs (8 crackers)
2 tablespoons granulated sugar
1/3 cup butter, melted

FILLING
1 envelope (7 grams) unflavored gelatin
2 tablespoons boiling water
1 can (12 fluid ounces) Nestle Carnation Evaporated Milk
1 cup (6 ounces) Nestle Toll House Premier White Morsels
1/2 teaspoon peppermint extract
1 container (8 ounces) frozen whipped topping, thawed, divided
1/2 cup coarsely chopped hard peppermint candies (about 24), divided
••••••••••••••••••••••••••••••••••••••••••••••••••••••••••••
PREHEAT oven to 375 degrees F. Grease 9-inch deep-dish pie plate.

FOR CRUST:
COMBINE crumbs and sugar in pie plate. Stir in butter. Press crumb mixture onto bottom and up sides of prepared pie plate.

BAKE for 8 minutes. Cool completely on wire rack.

FOR FILLING:
PLACE gelatin in small bowl; stir in water. Let soften for 1 minute.

HEAT evaporated milk and softened gelatin in small saucepan over medium heat; stirring constantly with whisk until mixture is dissolved and hot. Remove from heat; stir in morsels and peppermint extract until completely melted and smooth. Pour into medium bowl. Refrigerate uncovered for 30 minutes, stirring occasionally, until cool to touch. Gently whisk in 2 cups whipped topping. Sprinkle 1/4 cup candies over bottom of crust. Pour filling over pie crust.

REFRIGERATE for 2 hours or until set. Spread remaining whipped topping over center of filling. Sprinkle with remaining 1/4 cup candies. Serve immediately.

Jenny Harper is Consumer Test Kitchen Project Manager for the Nestle Test Kitchens and VeryBestBaking.com.