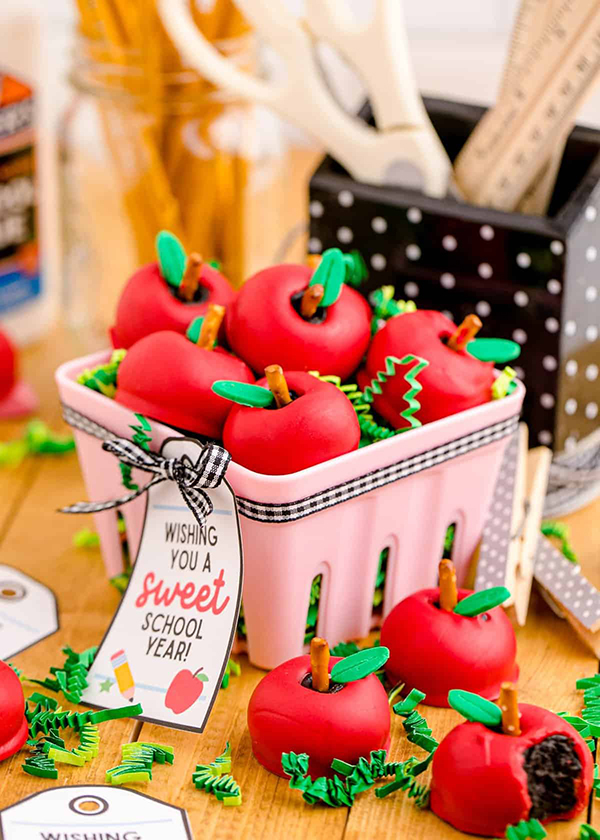 Our favorite Oreo Cookie Truffles from The Seaside Baker are dressed up for back to school! Note that no apples were harmed in the making of these adorable miniature "apples;" they're made with chocolate sandwich cookies and cream cheese. A perfect celebratory no-bake sweet or gift for the teachers, parents or school staff. More good news—they taste as good as they look!
Makes 32 truffles
INGREDIENTS
48 Oreo cookies (one family-size package), chocolate or whatever flavor you prefer
8 oz block cream cheese, softened
½ tablespoon butter, softened
½ teaspoon vanilla extract
16 pretzel sticks
2 bags red candy melts
Premade green fondant
DIRECTIONS
Place Oreos in a food processor and pulse until they become fine crumbs.


Add softened cream cheese, softened butter and vanilla to crumbs and blend together thoroughly. Scrape down the sides of the bowl as you go.


Chill the truffle mixture for 10 minutes in the freezer, which makes it easier to form balls.


Use a 1-inch scoop to measure out each truffle; roll into a ball and place on a baking sheet lined with wax paper.


Make a small indent at the top of each ball, like you would see on an apple.


Break each pretzel stick in half, as evenly as possible.


Push the broken end of half a pretzel stick into each indentation. Make sure there is enough of the pretzel stick showing that you can use it as a "handle" to dip truffles in candy melts later.


Place the truffles (on the baking sheet) in the freezer for 20 minutes.


While truffles are chilling, roll out the green fondant and use a little leaf-shaped cookie cutter or knife to cut out tiny leaves for the apples. Set these aside.


Use a microwave-safe bowl to melt red candy melts, according to package directions (do not overheat).


Remove the truffles from the freezer and begin to coat in red chocolate.


Work in batches and make sure to add the fondant leaves to each apple before they harden.


Once you cover all of the truffles and assemble the apples, put them in the fridge for at least 20 minutes to fully harden.
RECIPE NOTES
Use a bit of vanilla and softened butter to make the truffle consistency a more shapeable, if needed. The balls settle and create a flat bottom that looks more like an apple.


Keep refrigerated until you serve them. The oils from the truffles can release if they get too hot. If you plan to make little bags to hand out, those can also be stored in the refrigerator until you deliver them. They'll keep in the fridge for up to three weeks.


Find assembly tricks, storage tips and substitutions at https://theseasidebaker.com/oreo-apple-balls-back-to-school-treats.
Jackie Bruchez is an Oceanside mom food blogger at www.theSeasideBaker.com.
_____________