Mummy Cupcakes!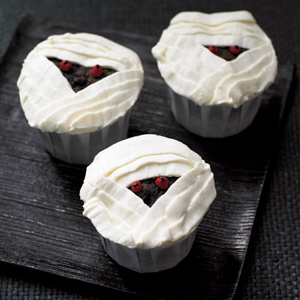 This is a really simple but effective design: you just need a piping bag and a couple of different tips. This recipe requires a slightly thicker, whiter frosting than usual to create a firm shape that stays in place.
•••••••••••••••••••••••••••••••••••••••••••••••••••••
ONE BATCH OF CHOCOLATE CUPCAKES
1⁄2 cup (30g) unsalted butter, at room temperature
2 cups (300g) confectioner's (icing) sugar, sifted
1⁄2 teaspoon vanilla extract
pinch of salt
2 tablespoons milk
1⁄2 teaspoon white powder coloring
red and black food coloring
•••••••••••••••••••••••••••••••••••••••••••••••••••••
1. In a medium bowl, using an electric hand mixer, beat the softened butter on medium speed until smooth. Add the sugar, vanilla extract, and salt and beat the mixture on low speed just until combined. Increase the mixer speed to medium and beat until smooth. Add the milk and coloring and beat the frosting until light and fluffy, about 2 minutes.
2. Fit a piping bag with a number 47 tip, then fill with the frosting, having set aside 2 tablespoons of frosting for the eyes. Pipe long bands in three overlapping sections (top and two sides) on the top of the cupcake. Leave a small gap in the center for the eyes.
3. To create the eyes, tint the remaining frosting with red food color. Using a piping bag fitted with a number 8 tip, pipe two balls in the central gap. Color 2 tablespoons frosting black and, using a piping bag fitted with a number 4 tip, pipe the pupils.
To scare up some more Halloween recipes and ideas, visit A Zombie Ate My Cupcake! by Lily Vanilli.