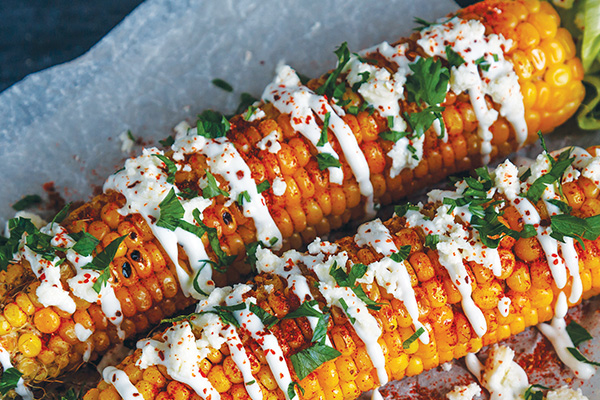 This Mexican Street Corn is made by grilling corn on the cob and coating it with a mixture of mayonnaise, sour cream, Cotija cheese, chili powder and lime. Also known as elote, this easy-to-make Mexican corn is a perfect side dish or party food for an outdoor gathering. Note: Olivio butter alternatives are made with California olive oil.
Makes 6 servings
Ingredients
6 ears yellow corn on the cob
2 Tbs. melted Olivio Original Buttery Spread or use Olivio Buttery Spray
¼ cup mayonnaise
¼ cup sour cream or plain yogurt
½ tsp. chili powder
1 Tbs. lime juice, plus lime wedges for serving
½ cup crumbled Cotija cheese
3 Tbs. fresh cilantro, chopped
Directions
1. Fold the husk of each corncob back leaf by leaf and tie them with a kitchen twine. Lightly brush corncobs with melted Olivio Buttery Spread or spritz with Olivio Buttery Spray.
2. Heat a grill pan or an outdoor grill. Grill corn, turning occasionally, until it is browned in spots. Keep an eye on it, as this happens rather quickly.
3. While corn is grilling, combine mayonnaise, sour cream, chili powder and lime juice in a bowl. For a lighter version, substitute sour cream with plain yogurt.
4. Remove corn from grill; brush with mayo mixture, sprinkle with Cotija cheese, garnish with cilantro and lime wedges, and serve.
Olivio products are delicious butter alternatives, made with California olive oil. Learn more at https://olivio.com.
–––––––––––